Today saw the AWS re:Invent Global Partner Summit Keynote delivered by Doug Yeum, Head of Worldwide Channels and Alliances at Amazon Web Services.  After showcasing partner solutions from Amdocs and partner successes with BP, there were a number of announcements, as you would expect from a Keynote!   Don't have time to view the whole keynote?  Here is a quick summary of the key announcements.  
1. BP Going All-In on AWS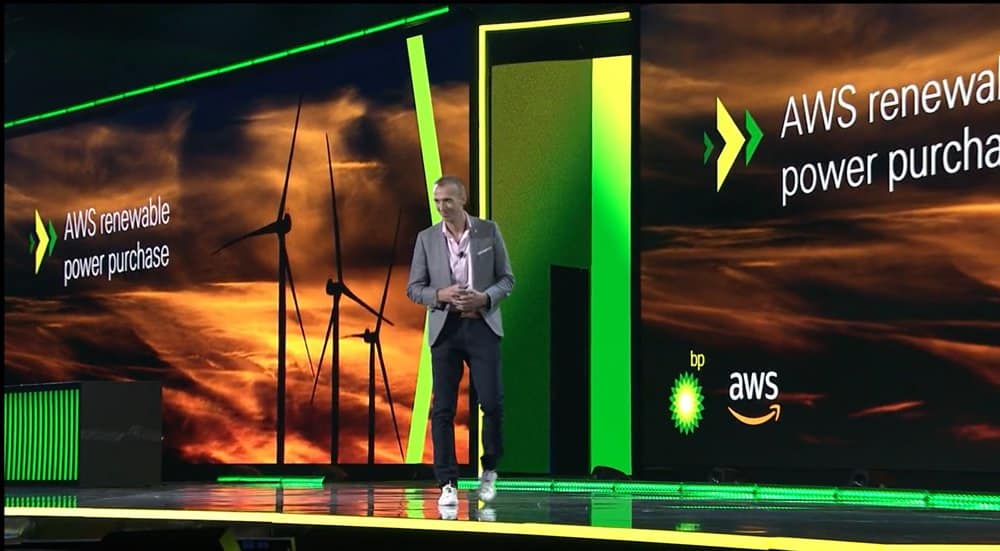 BP have announced that they are going 'All In' on AWS.  Additionally, they announced a renewable power purchase agreement between AWS & BP which strengthens both companies' commitment to supporting a rapid transition to a low carbon future.
2. APN Global Startup Program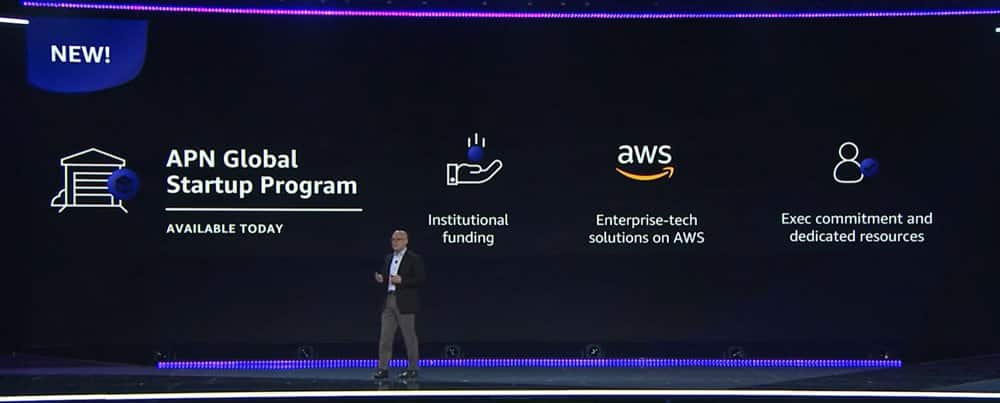 AWS announced the APN Startup Program which is an invitation only accelerator for startup organizations.  In order to qualify, startups need to:
Raise Series A Institutional Funding from a recognized source
Offer Enterprise Tech Solutions on AWS
Offer executive commitment and dedicated resources
The program offers technical validation, go to market support and sales enablement to help APN startup partners to become enterprise ready.
3. Seller Private Offers available to all ISVs on AWS Marketplace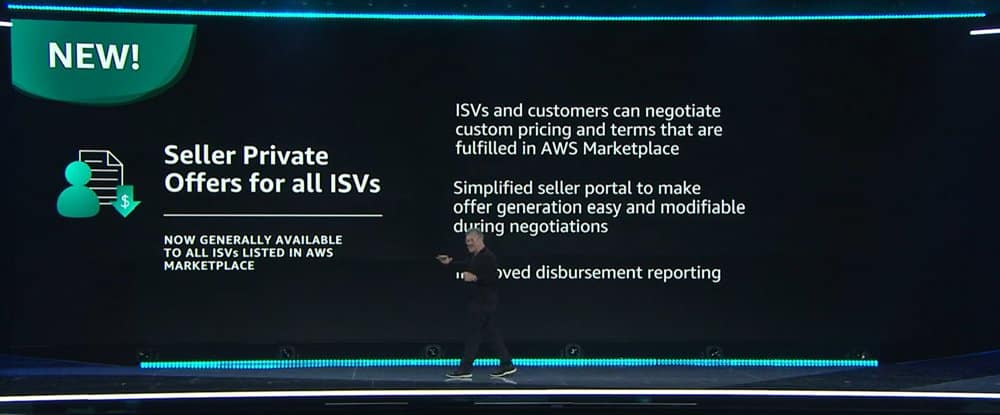 As of today, all ISVs selling their software via AWS Marketplace can now negotiate custom pricing with AWS customers via the 'Private Offers' feature.  This enables software providers to negotiate individual deals with customers.  Sellers will now have simplified and reduced listing fees when making a custom offer to their customers.
4. AWS Service Ready Program
The AWS Service Ready Program will leverage AWS Solutions Architects to validate partner technology solutions.
APN Technology Partners will benefit from:
Product Promotion on AWS Service Pages
Increased visibility to AWS Sales Teams
ACE program eligibility for marketing leads and sales opportunities
5. AWS Retail Competency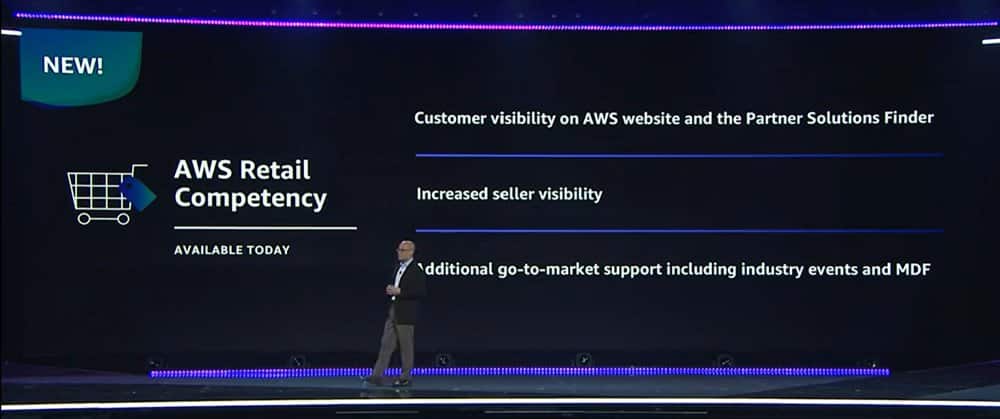 The new AWS Retail Competency is now available to APN partners.  Partners achieving the Retail Competency will benefit from:
Customer visibility on AWS website and the Partner Solutions Finder
Increased seller visibility
Additional go to market support including industry events and MDF
6. AWS Public Safety and Disaster Response Competency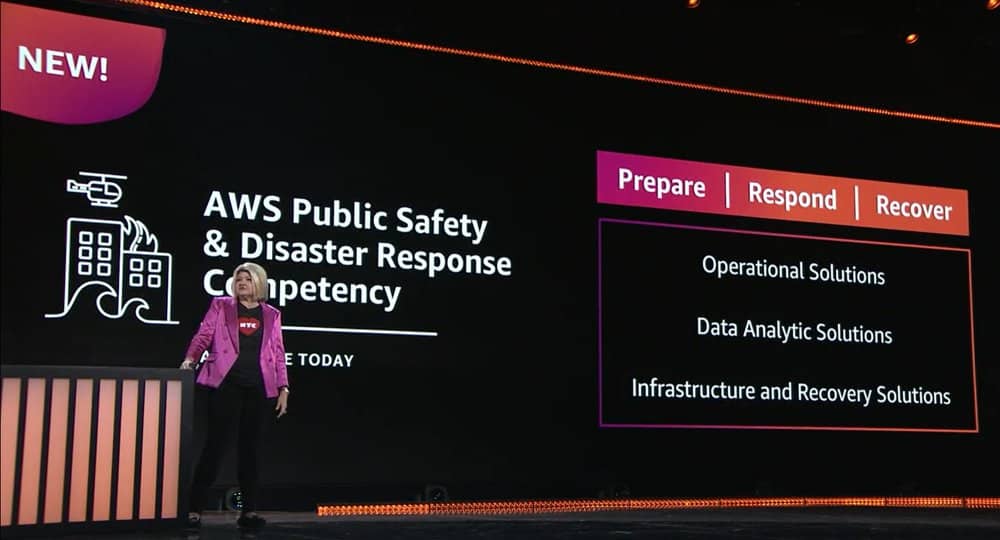 Sandy Carter, Public Sector VP at AWS, announced the new AWS Public Safety  & Disaster Response Competency.  AWS already has 17 Partners qualified at launch.  The competency will validate an APN Partners ability to offer Operational Solutions, Data Analytics Solutions and Infrastructure & Recovery Solutions to public sector organizations who help prepare for, respond to and recover from public safety and disaster incidents. 
Andy Jassy's Tips for Maximizing Value from re:Invent
When Doug Yeum asked Andy Jassy how partners can maximize their attendance at AWS re:Invent, he offered the following tips:
Invest in learning
Invest in training
Get people certified
Speak to peers
Learn from peers
Get together as a team and figure out what you can do differently going forward
What are the key things that AWS customers look for in an APN Partner?
Doug Yeum shared what he believes the key things are that customers look for in APN partner:
Dedicated team of AWS experts with deep & specialized skills
Industry Expertise
Intellectual Property
Customer Successes
All of the above enable APN Partners to build the right differentiated offerings for their customers.
Those are my key takeaways from today's keynote – let's see what Werner Vogels has in store for us tomorrow!