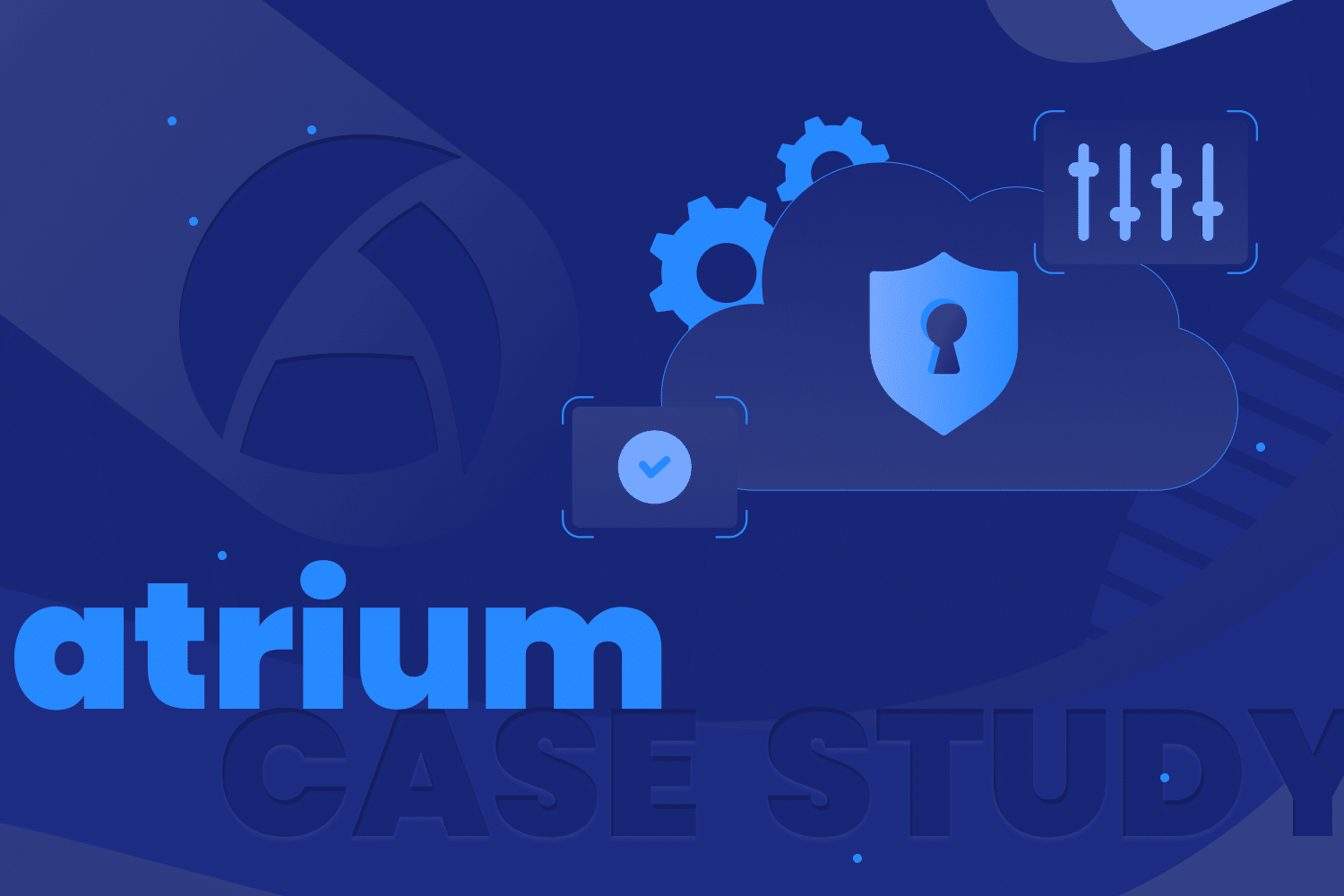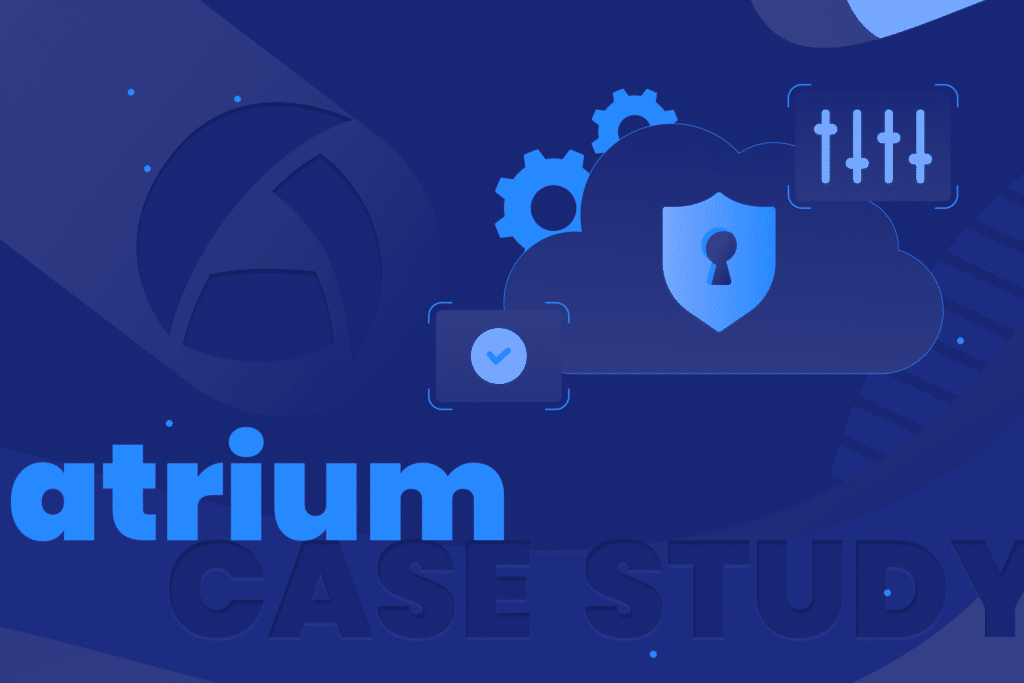 With 33% of the market, AWS is the go-to cloud service provider for high-traffic EdTech businesses looking to scale, but migrating from a legacy host can feel daunting without experienced AWS engineers on your team.
In this case study, we will cover the technical and logistical challenges that Atrium Campus faced as it transitioned from a privately hosted infrastructure to an AWS cloud-based offering, how these issues prompted the company to seek out Logicata as its AWS Managed Service Provider (MSP), and the reasons it continues to work with Logicata today — which include significant cost savings, a high level of customer support, and first-rate AWS expertise.
Today, university and college campuses need to provide mobile-first digital experiences for their students, most of whom are young and tech-savvy. Atrium Campus is a Boston, Massachusetts-based company that helps higher education institutions meet these students' expectations by providing mobile-first, cloud-based college campus card management systems instead of traditional physical campus cards that are no longer cutting it in the modern world.
Atrium Campus is a leading provider of these identification, meal plan, attendance, and access management systems. Its platform offers seamless integration with all systems that use a student's campus ID — including resident access management software, point-of-sale systems for student purchases, printing credits, and student information systems. By combining these functions into a single solution, Atrium Campus empowers educational institutions to efficiently manage their campus ecosystems.
Campus card management software explained
At the forefront of Atrium Campus's suite is its cardholder-facing app, named Connect. This app offers a mobile version of a college campus card that is secure and virtually guaranteed to be on a student's person at all times.
The Connect app has gained immense popularity with students on the campuses that use it — it attracts millions of users each year and is an essential tool in the day-to-day lives of college students. Connect serves as a centralized hub, allowing users to access their account details and review their transaction histories with just a few taps.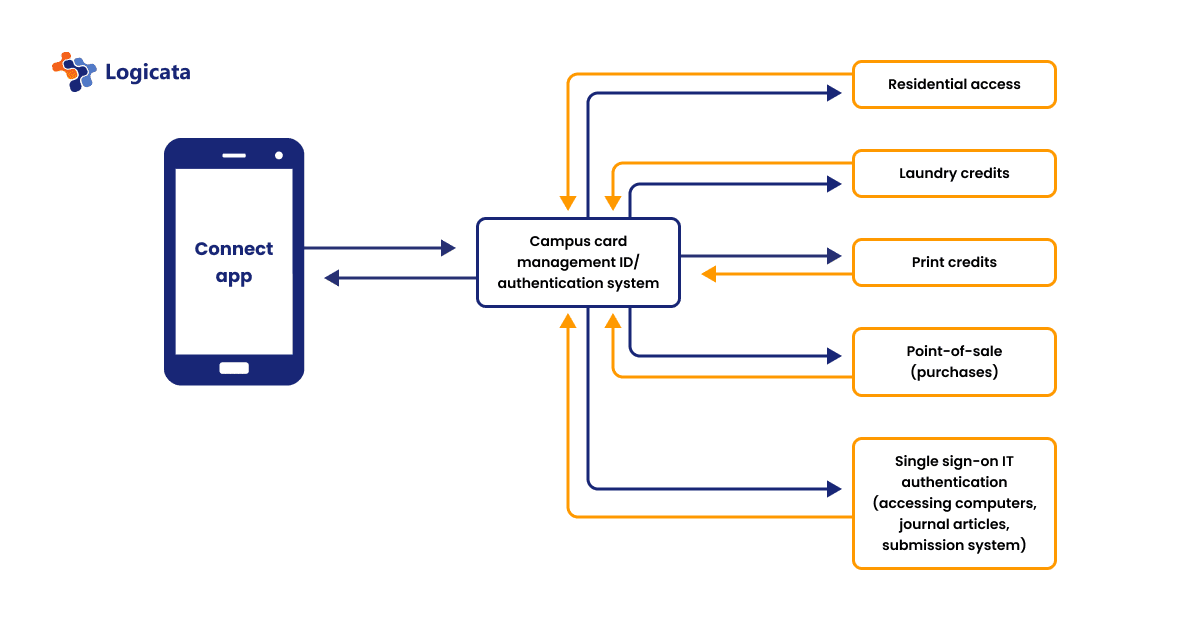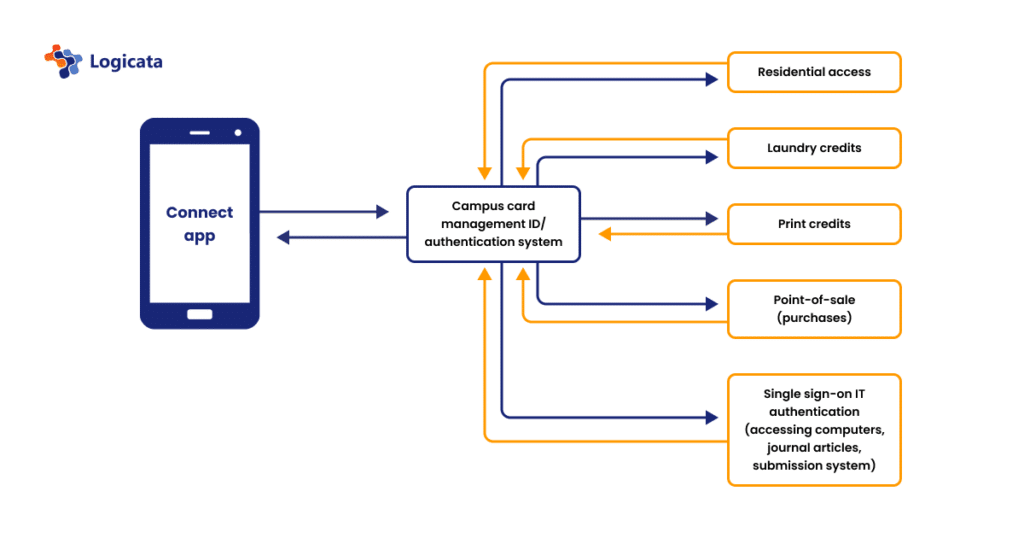 Caption: Atrium Campus's software involves a front-end mobile interface (the Connect app) that students interact with and a back-end system responsible for authenticating the user via their campus card ID and handling access to multiple different college systems.
Behind the scenes, Atrium Campus uses a tech stack that is mostly based on LAMP (Linux, Apache, MySQL, PHP) technologies. However, it also has a Java app and uses Python for scripting.
Driving the success of Atrium Campus is a team of dedicated professionals who bring their expertise and passion to the forefront. Matt Stapleton, the company's site reliability engineer, has been instrumental in maintaining the optimal performance and resilience of Atrium Campus's systems for the past two years. Complementing his expertise is Dawn Roberts, the product manager of the Connect app, whose invaluable experience and vision have shaped its evolution over the years.
The challenge: migrating to AWS
Atrium Campus had recognized the need to upgrade its hosting environment. Its current private cloud setup had begun to show its age, prompting the company to consider migrating to a public cloud hosting platform like AWS. However, this transition posed a series of challenges:
Data security: Atrium Campus is a PCI DSS level 1 credit card provider. As such, they needed to ensure that the new platform in AWS would meet the stringent PCI-DSS requirements during and after the migration. Furthermore, any MSP (such as Logicata) would also need to be PCI-DSS compliant.
High availability: Atrium Campus's software plays a vital role in facilitating access to essential facilities such as dorm rooms and IT services (including journal access, submission systems, and virtual learning environments). All these systems require constant availability. Therefore, it was vital for Atrium Campus to avoid downtime during the migration process (and when the new platform became live) as any interruptions could have been highly disruptive.
Scalability: Like many EdTech companies, Atrium Campus experiences fluctuations in user traffic throughout the year, including significant spikes in August and September when new students are enrolling and big drop-offs in usage during breaks and holidays. To optimize costs and accommodate these varying traffic patterns, Atrium Campus needed the flexibility to easily scale its hosting environment up and down based on demand.
AWS skills: The Atrium Campus team are software developers and specialists in their field. The legacy infrastructure was fully managed by the data center provider and so the new AWS platform would require a similar MSP.
Atrium Campus fell out of love with its existing MSP
Atrium Campus already had an MSP at this time, which helped the company manage its private cloud environment. However, despite approaching its MSP multiple times about migrating to AWS, Atrium Campus felt frustrated by the lack of progress. The MSP's knowledge and price estimates were underwhelming, and its wider communication and support had been subpar for some time.
Atrium Campus takes pride in delivering excellent support and prefers working with other companies that also offer a personal touch and hands-on assistance. Initially, its MSP had met these expectations. However, due to several buyouts by larger corporations, the level of support had gradually declined. Matt and Dawn even recall hanging up when certain first-line support representatives answered, as they knew from previous experience that talking to those individuals would be futile. This lack of reliable support was particularly concerning during after-hours emergencies.
Consequently, Atrium Campus needed to find a new MSP that could facilitate the company's migration to AWS while providing the level of customer support it needed.
The search
The first companies Atrium Campus considered were quite large, as household names are usually the first that spring to mind. However, it soon became evident that while these companies could handle the migration, they lacked the ability to deliver the personalized and ongoing support that Atrium Campus was looking for. This prompted Atrium Campus to expand its search to focus on companies that had consistently received positive feedback from their clients.
The company performed a comprehensive search, scouring various sources on the web to try to find useful recommendations and testimonials. One of these sources was the AWS Partner Network.
After careful consideration, Atrium Campus created a shortlist of certified AWS Partners, which included Logicata, among others. It then proceeded to conduct interviews with these potential partners, aiming to make an informed decision about which ones could meet their unique requirements.
First date
During the initial call with Logicata, Matt and the team immediately noticed a big difference compared with the other AWS Partners they had been interviewing. It was evident from the outset that Logicata shared similarities with Atrium Campus in terms of company size and a genuine commitment to providing personalized customer care.
What stood out most was Logicata's promise to offer one-on-one technical support, meaning that Atrium Campus wouldn't have to navigate through multiple tiers of support representatives who knew nothing about their problems. Instead, the team would have direct access to the core team of engineers at Logicata, ensuring that they'd immediately get the right assistance.
Atrium Campus and Logicata discussed migrating to AWS and Atrium Campus's future hosting needs. They also explored the advantages that AWS could offer compared with the current hosting environment.
Why Logicata came out on top
Logicata emerged as the top choice for several reasons:
Impressive AWS knowledge: Logicata showed an exceptional understanding of many different AWS services, which left a lasting impression on Atrium Campus.
Software engineering expertise: Logicata's engineers immediately understood the nature of Atrium Campus's highly technical product, as well as the specific requirements and challenges associated with its migration.
Meticulous attention to detail: Atrium Campus could tell by talking to Logicata that the MSP was thorough, with good attention to detail.
Exceptional customer care: One standout quality that differentiated Logicata from Atrium Campus's current MSP was its genuine concern for delivering high-quality work. Logicata's commitment to providing excellent customer care and dedication to the success of the project resonated strongly with Atrium Campus.
The results of working with Logicata
Significant cost savings: Atrium Campus have experienced infrastructure savings of 80% each month since moving to AWS and working  with Logicata, compared to their spend with their previous provider. Logicata also helped them to secure AWS credits, available to Partners, which help to minimize the financial burden of managing both old and new environments simultaneously during a migration process.
Flexibility of operations and speed: Matt said it took some weeks to provision new virtual machines at their current provider and he had to request it. Now new instances can be spun up in minutes, by Matt. New ideas can quickly be tested by cloning an existing machine and then destroying it later.
Compliance benefits: These were achieved by virtue of a best practice landing zone built by Logicata, leveraging the tools and facilities provided by AWS. This includes proper separation of Dev, Staging and Production workloads.
Infrastructure-as-code: Logicata set up the new environment using Terraform, thereby converting the whole infrastructure into infrastructure-as-code. Because the Staging and Production environments are now managed by code, it's much easier to verify whether or not configurations for the different environments match.
Customer support: As anticipated, Logicata provided excellent support. Dawn was particularly impressed with Logicata's assistance in setting up Atrium Campus's VPNs and its level of support in establishing stable connections, which involved close collaboration with Atrium Campus's clients.
The hours of customer support have also been wide-ranging, as Logicata has resources in both the US (Eastern and Central time zones) and the UK. Having support engineers working UK hours meant that maintenance work was completed outside of Atrium Campus' core office hours, while queries and immediate support could be relied upon throughout the working day.
Conclusion
Since hiring Logicata, Atrium Campus has enjoyed a seamless migration process and achieved a fully automated AWS infrastructure. This automation not only streamlines their operations but also saves significant time during upgrades, both in the short and long term. Atrium Campus continues to rely on Logicata, which now provides it with ongoing AWS support through its InfrAssure AWS Managed Services.
Matt rates Logicata's service as 10/10 and wholeheartedly recommends Logicata to other small or medium-sized companies that are seeking a personalized level of support. Logicata's team of AWS experts excels in facilitating smooth migrations and managing and automating AWS infrastructure.
If you are considering a migration to AWS or require assistance with your AWS infrastructure, contact us today to learn more about how our expertise can benefit your organization.