Today, AWS CEO Andy Jassy launched the first online AWS re:Invent conference via live stream from Seattle.  With a lively 30 minute set from Zach Person, the online event kicked off on as much of a high as the Vegas conferences.  Awesome production quality as we've come to expect from AWS events.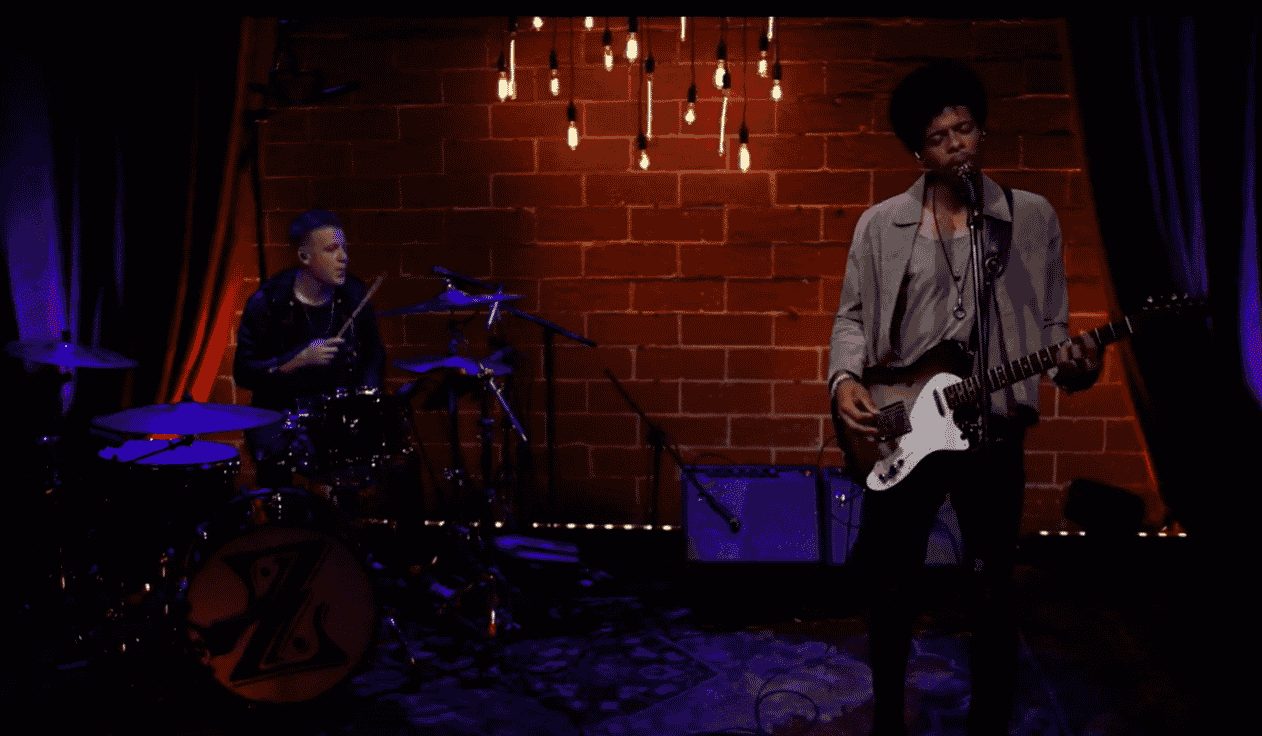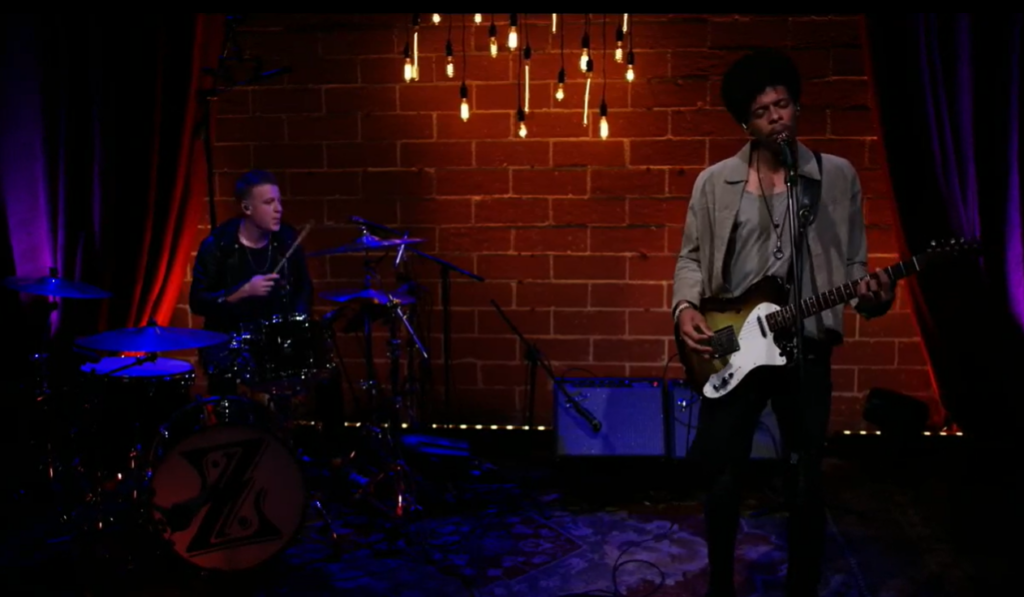 Before getting to the announcements, Andy acknowledged the Black Lives Matter movement, and stated that the USA still has a long way to go in terms of the way that they treat black people.  First Oracle dig came at around 6 minutes in to the keynote!  And of course no keynote in 2020 would be complete without mentioning Covid – Andy confirmed that Covid has accelerated cloud adoption by several years.  Don't have time to watch the 3 hour replay?  Here are the key product launch announcements.
1. Habana Gaudi Based Amazon EC2 instances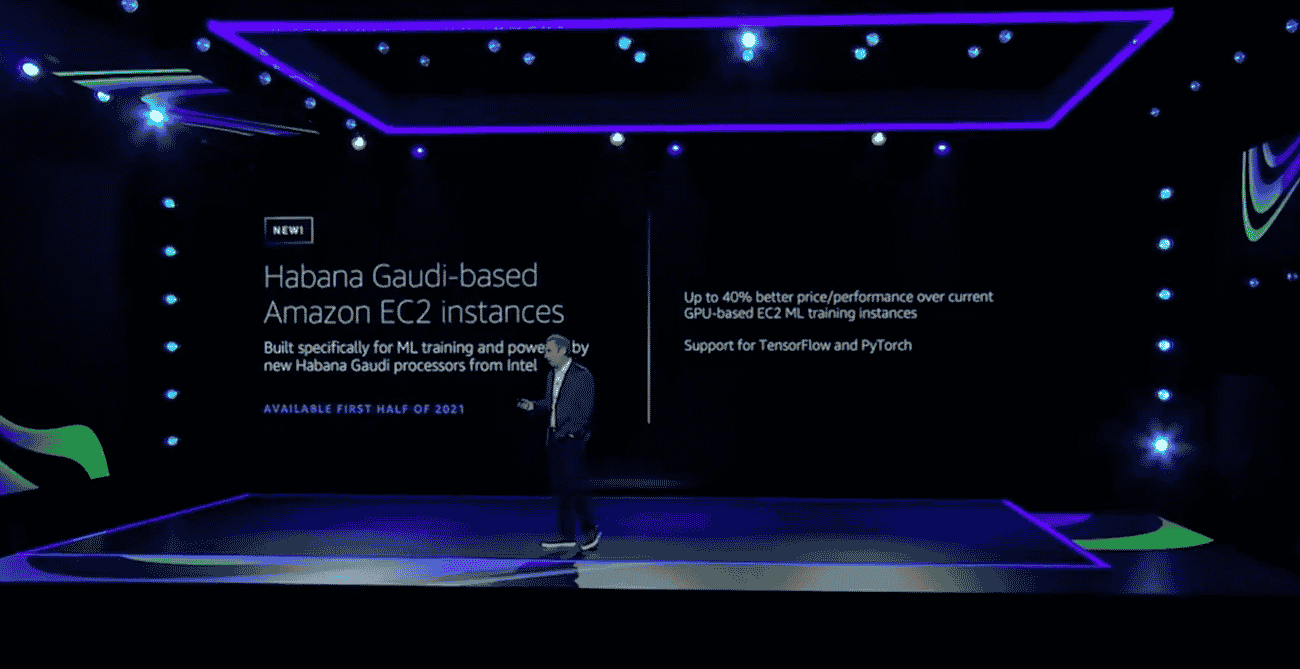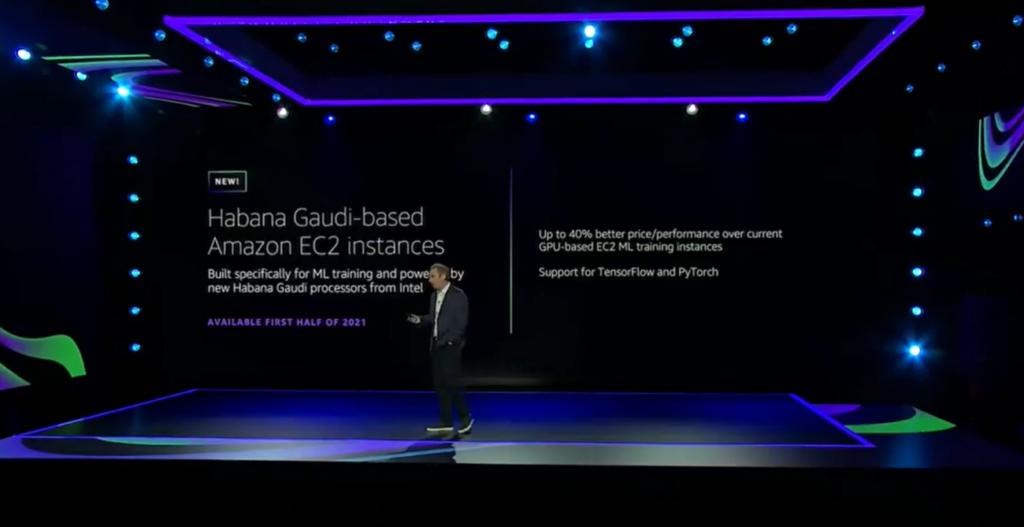 First up were the Habana Gaudi based Amazon EC2 Instances which will be availablein H1 2021.
Built specifically for ML training and powered by new Habana Gaudi processors from Intel, these instances will offer:
Up to 40% better price/performance over current GPU based EC2 ML training instances
Support for TensorFlow and Pytorch
2. AWS Trainium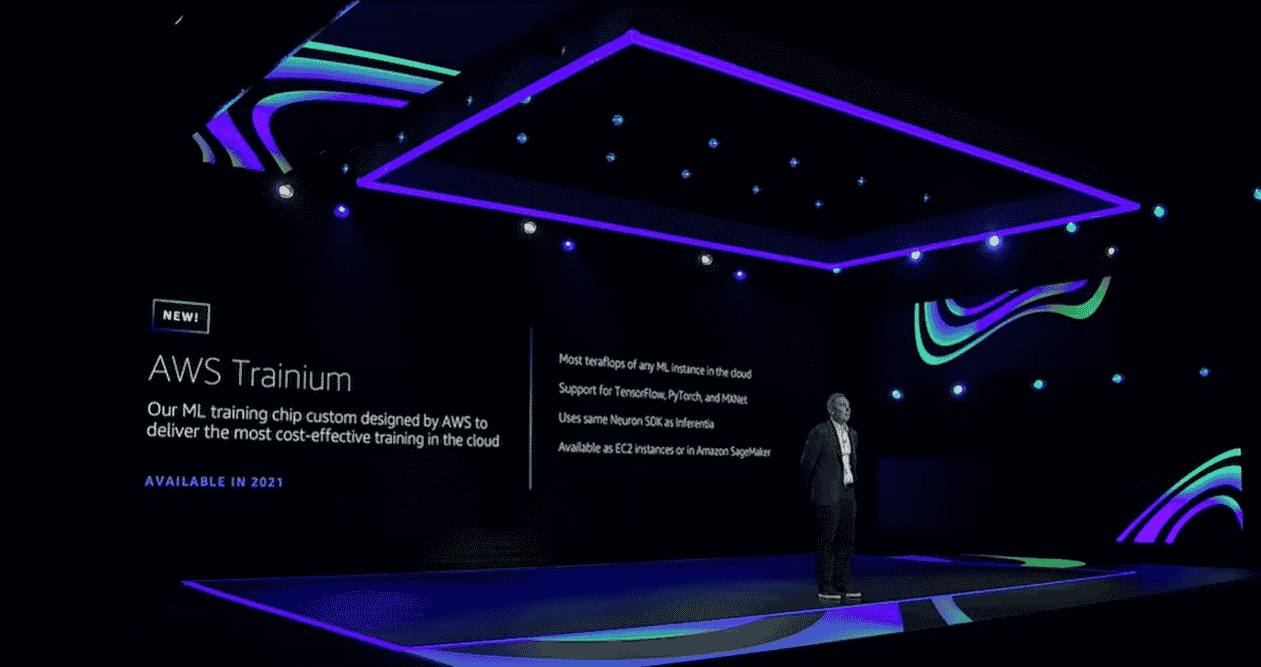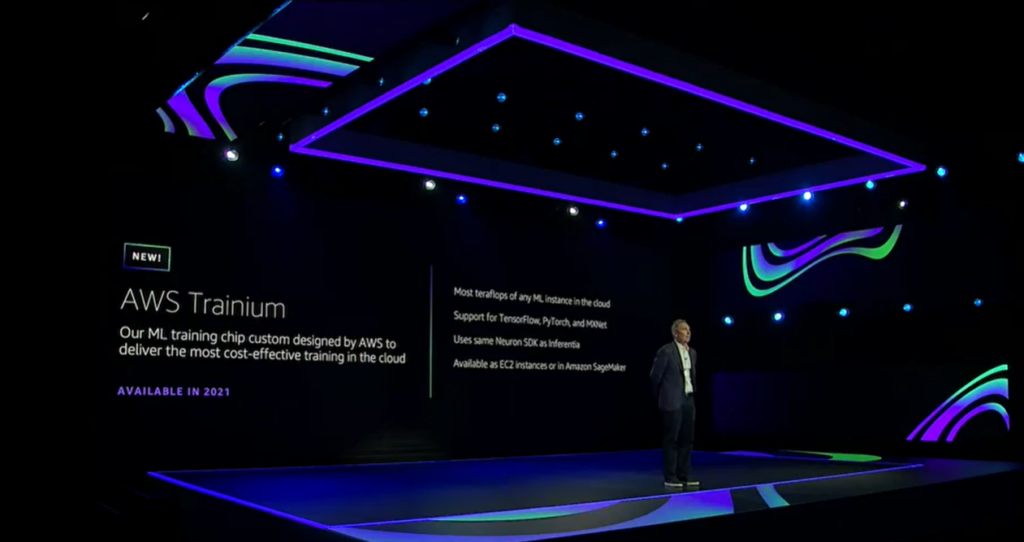 Andy then went on to announce AWS Trainium – an ML training chip custom designed by AWS to deliver the most cost-effective training in the cloud.  AWS Trainium will be available in 2021 and will offer:
The most teraflops of any ML instance in the cloud
Support for Tensorflow, Pytorch and MXNet
Uses same Neuron SDK as Inferentia
Available as EC2 instances or in Amazon Sagemaker
3. Amazon ECS Anywhere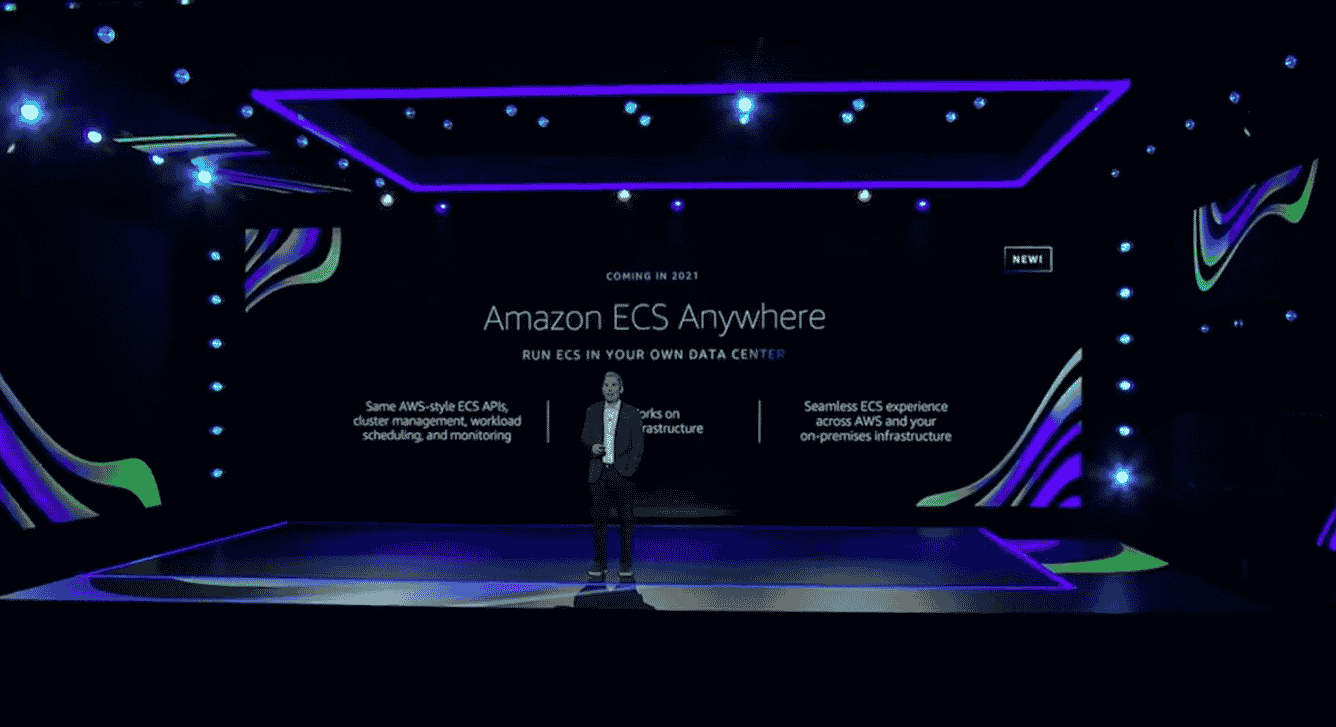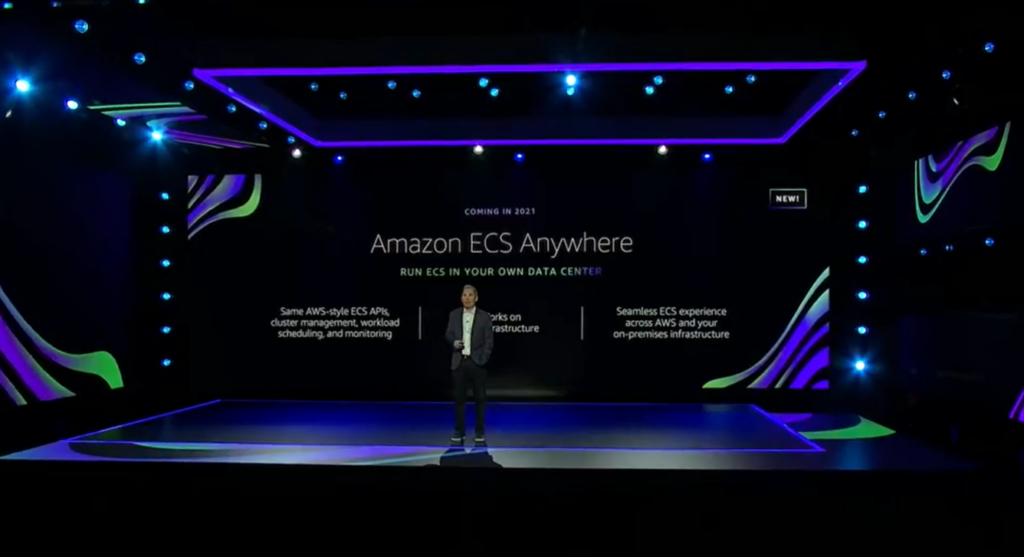 Coming in 2021, Amazon ECS anywhere will offer the same AWS-style ECS APIs, cluster management, workload scheduling and monitoring.
Works on any infrastructure
Seamless ECS experience across AWS and your on-premises infrastucture
4. Amazon EKS Anywhere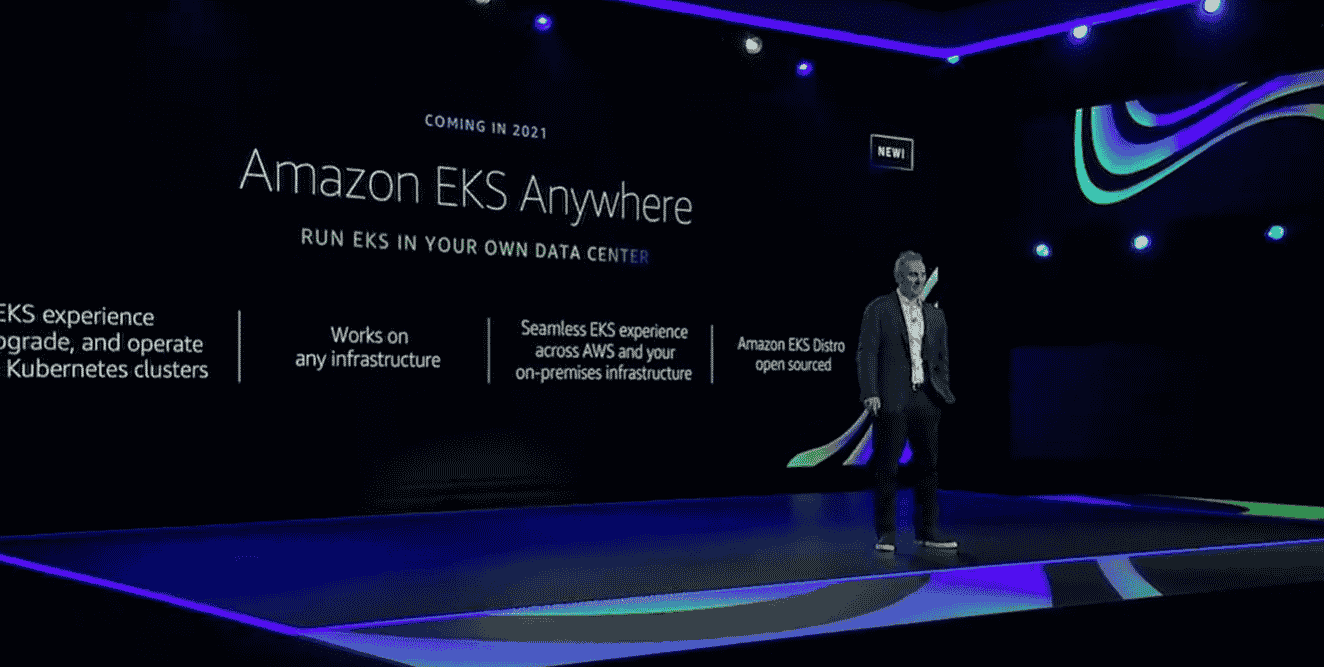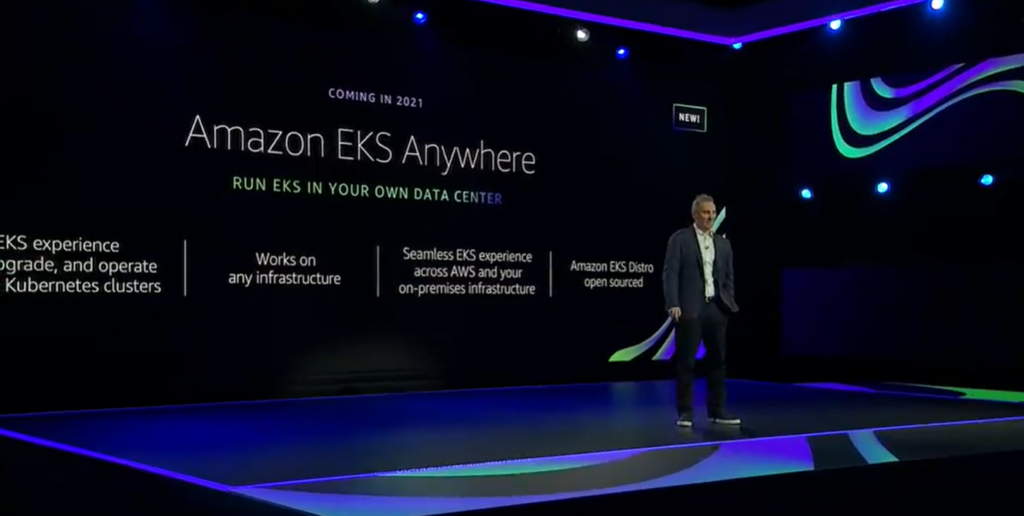 Also coming in 2021, Amazon EKS Anywhere will offer the same EKS Experience to set up, upgrade and operate on-premises Kubernetes clusters.
Works on any infrastructure
Seamless EKS experience across AWS and your on-premises infrastructure
Amazon EKS Distro open sourced
5. Lambda Container Support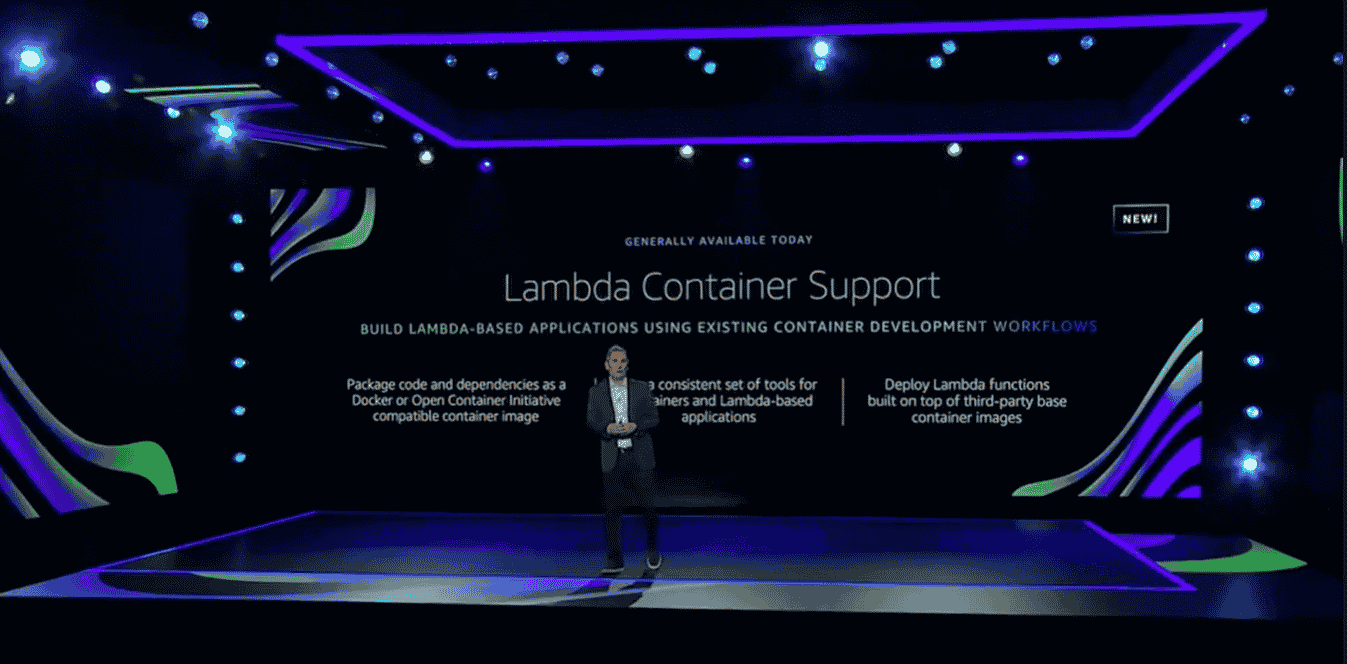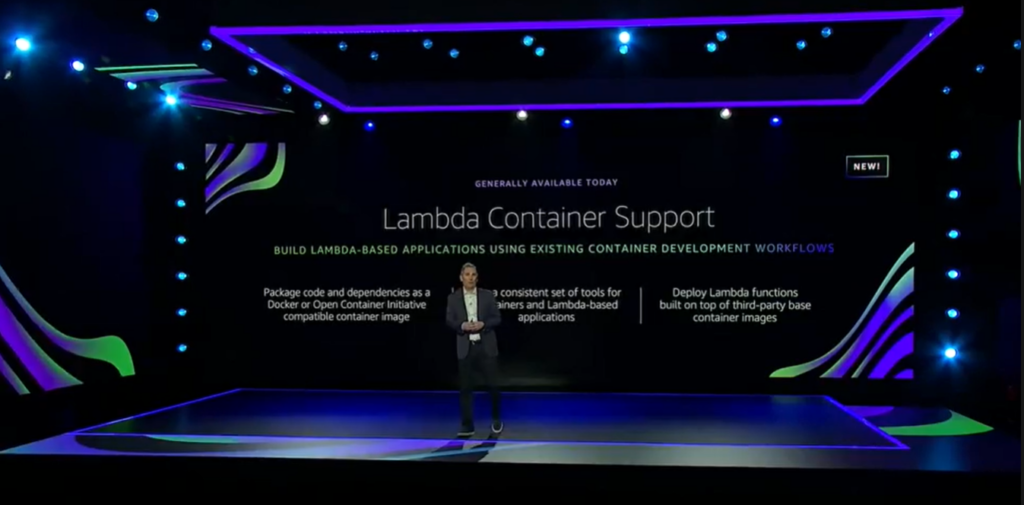 Lambda Container support is Generally Available today.  Lambda Container Support enables AWS customers to build Lamba based applications using existing container development workflows:
Package code and dependencies as a Docker or Open Container Initiative compatible container images.
 A consistent set of tools for containers and Lambda based applications
Deploy Lambda functions built on top of this party base container images
6. AWS Proton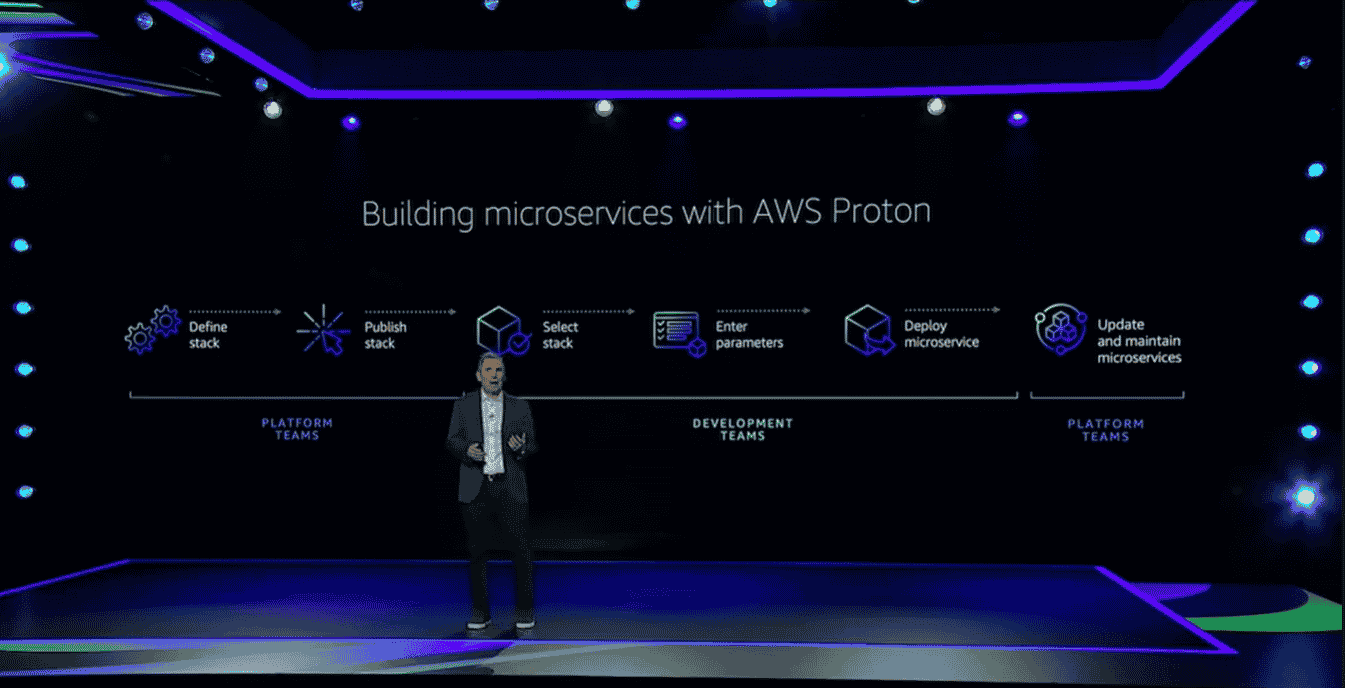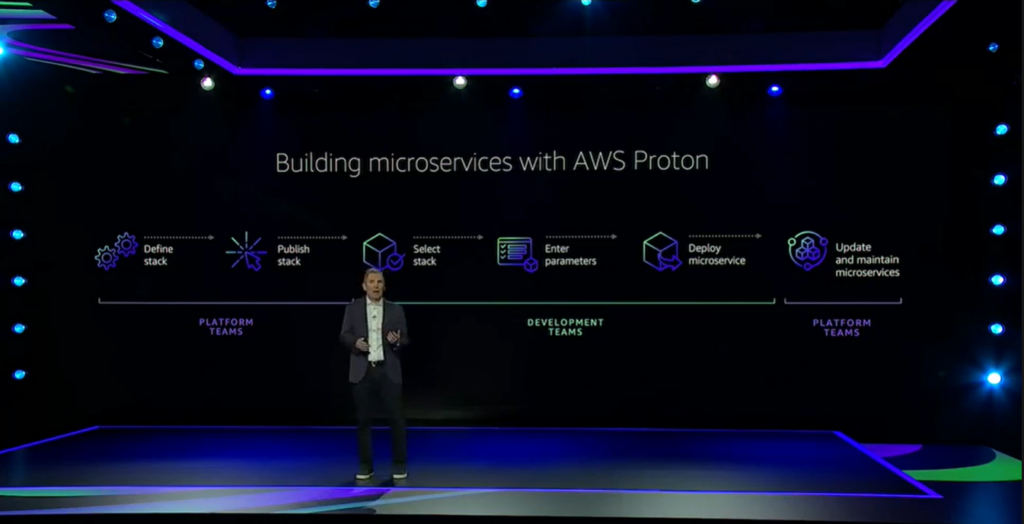 Building Microservices with AWS Proton:
Platform teams can:

Define Stacks
Publish Stacks

Development Teams can:

Select Stacks 
Enter Parameters
Deploy Microservices

Platform Teams can:

Update and maintain microservices
7. gp3 Volumes for EBS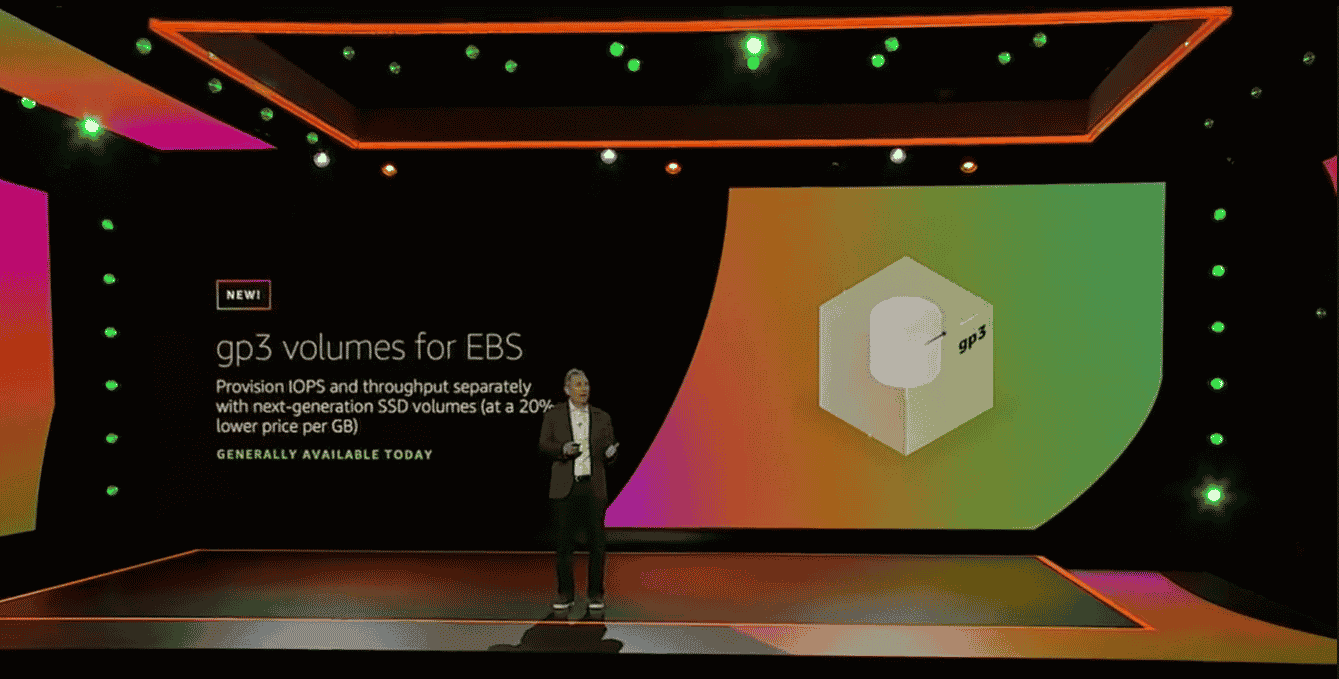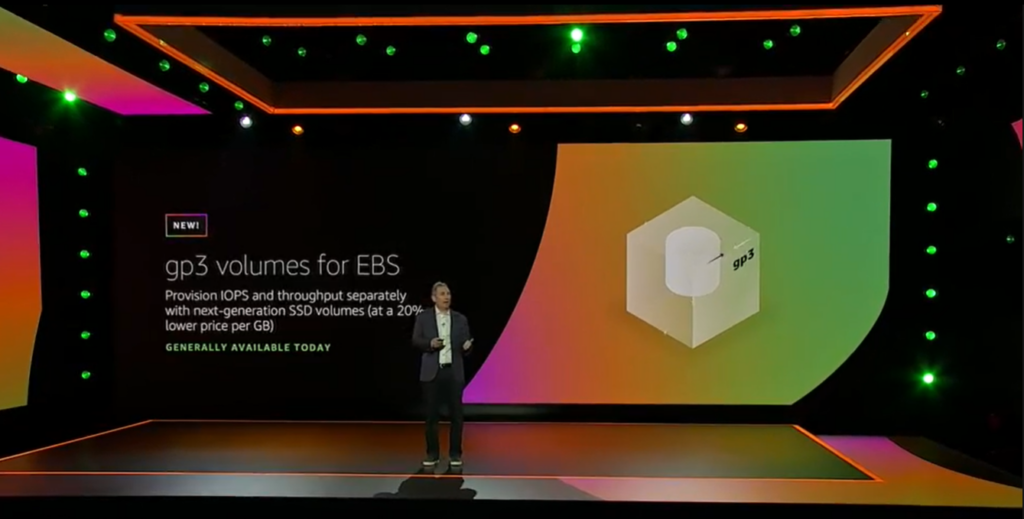 Generally available today – gp3 volumes for EBS will enable users to provision IOPS and throughput separately with next -generation SSD volumes, at a 20% lower price point per GB.
gp3 Volumes for EBS will deliver:
1,000MB/s peak throughput
Sustained baseline performance of 3,000 IOPS per volume and 125MB/s
8. iO2 block Express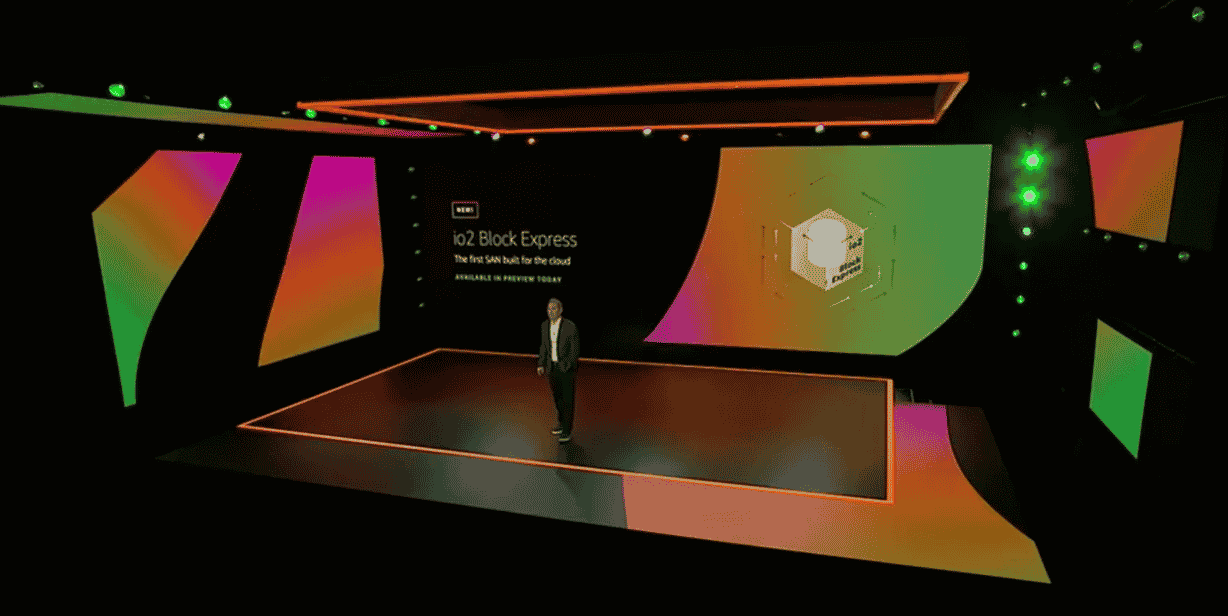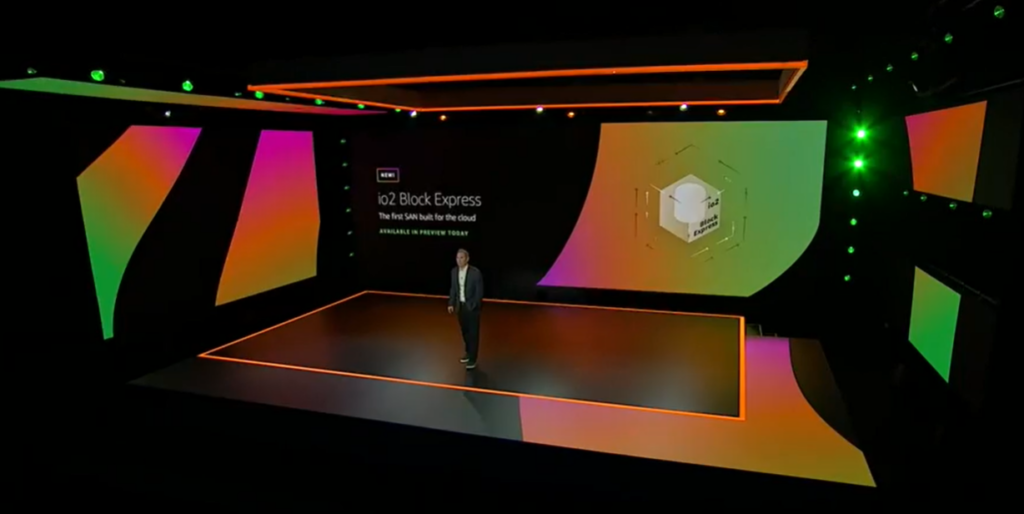 Available in preview today, io2 Block Express is the first SAN built for the cloud, with the highest IOPS in the cloud.
io2 Block Express will deliver:
4 x the IOPS (up to 256,000) throughput (4,000MB/s)and Storage capacity (64TB) of io2
Scale, provision, and pay just for the capacity you need
SAN performance without the headaches
More SAN features coming in 2021: Multi-Attach, I/O Fencing, Fast Snapshot Restore, and Elastic Volumes
9. Amazon Aurora Serverless V2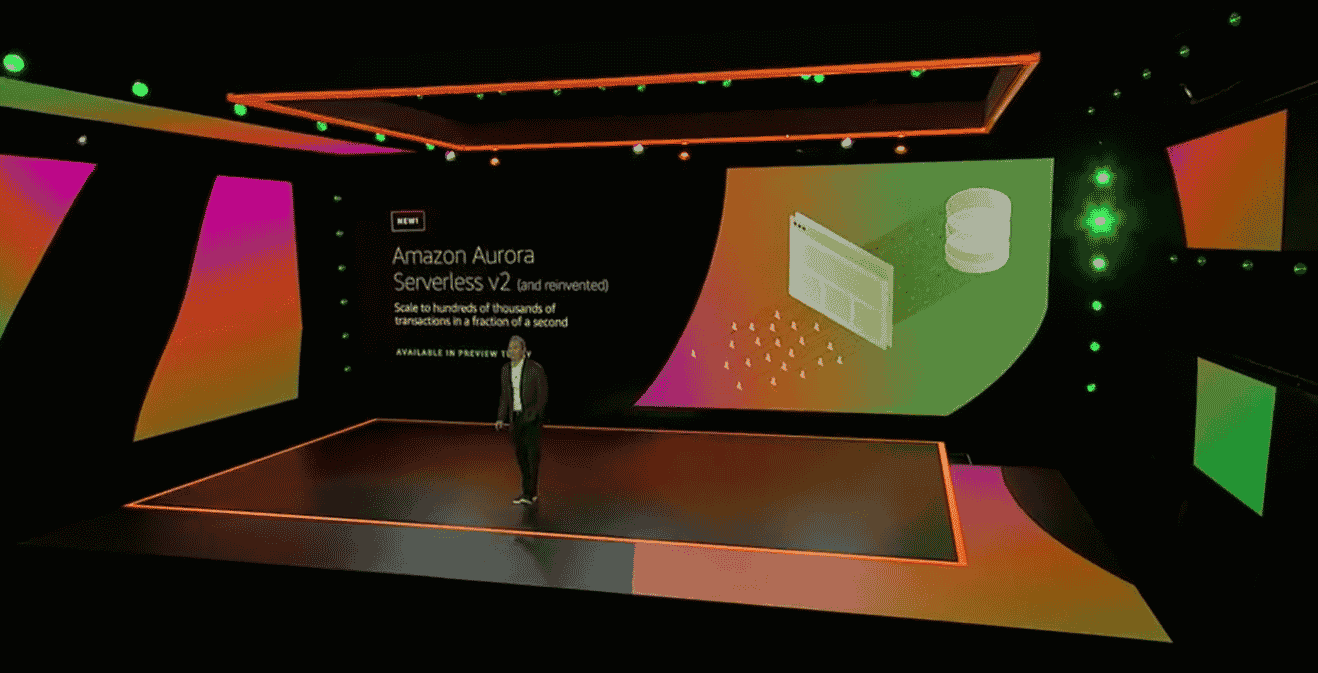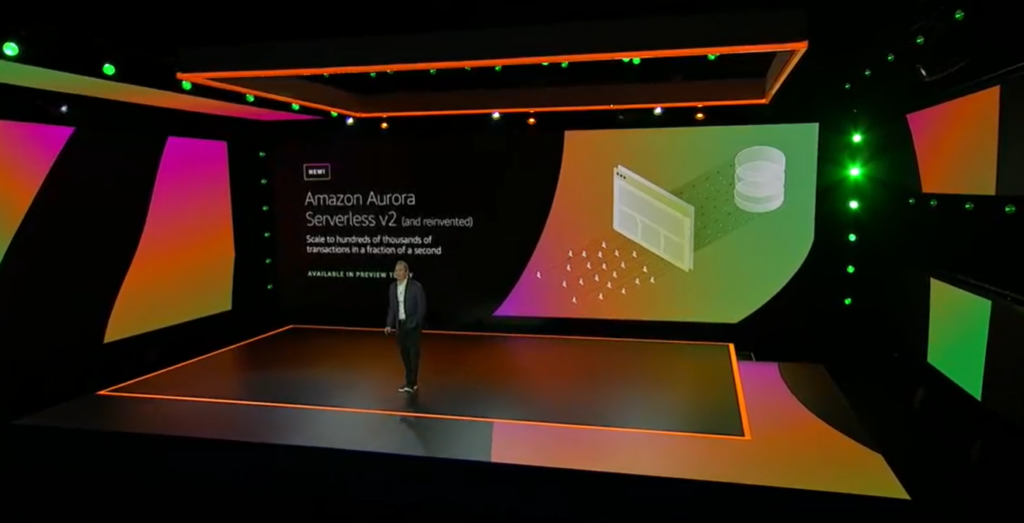 Amazon Aurora Serverless V2, available in preview today, scales to hundreds of thousands of transactions in a fraction of a second:
Scale capacity up and down in fine-grained increments for just the right amount the application requires
Save up to 90% vs provisioning capacity for peak load
Multi AZ support, Global Database, Read Replicas, Backtrack, and Parallel Query
10. Babelfish for Aurora PostgreSQL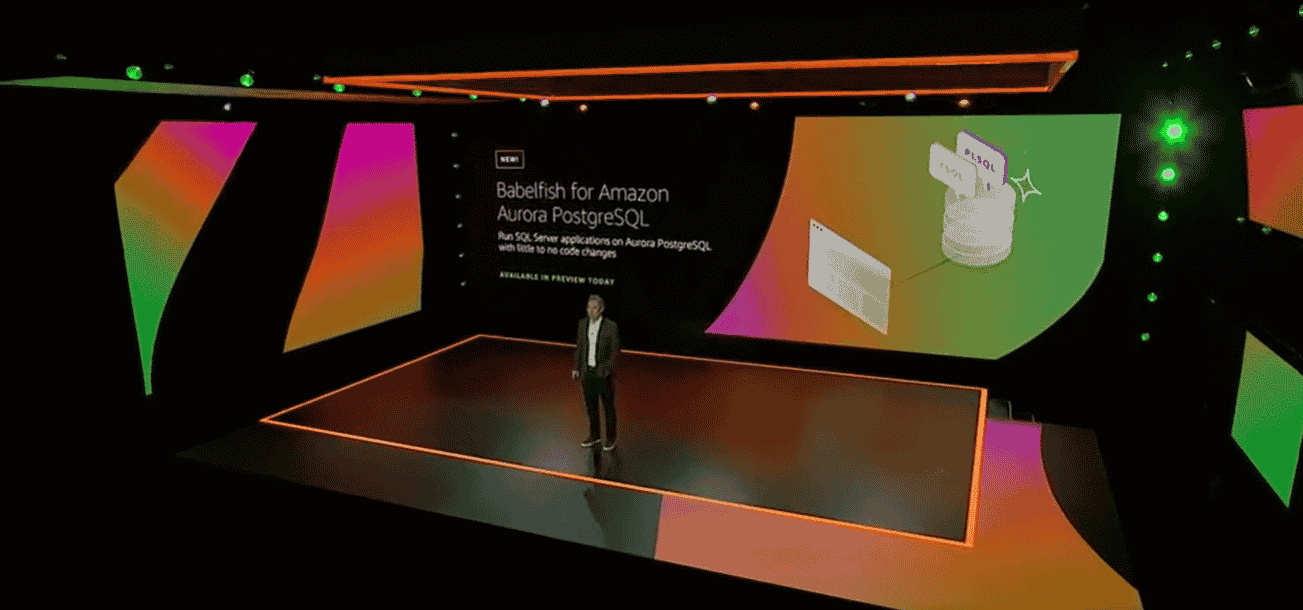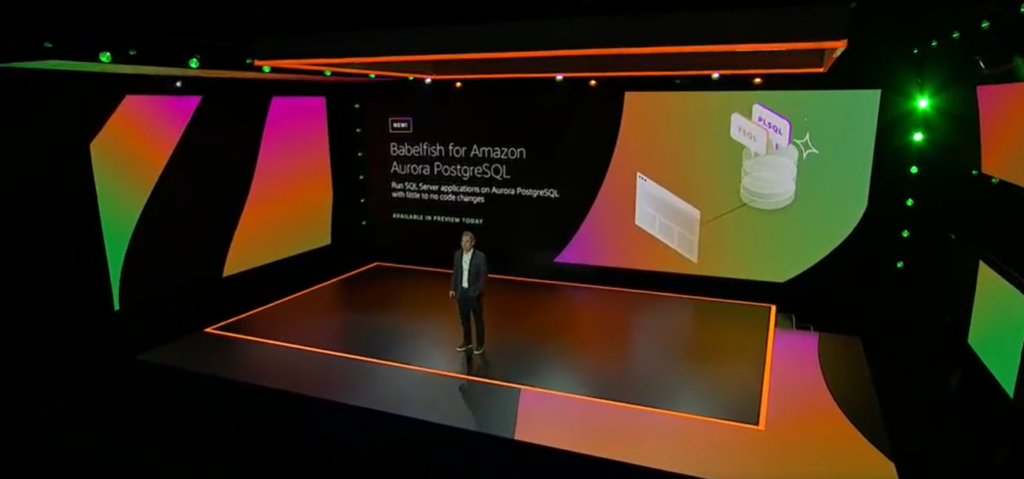 With Babelfish for Amazon Aurora PostgreSQL, you can stop paying for SQL server licenses you don't need.
New translation capability to easily run SQL server applications on Aurora PostgreSQL
Understands SQL Server's proprietary dialect (T-SQL) and communications protocol (TDS)
Migrate the data with DMS, then update your application configuration to point to Aurora instead of SQL Server
11. Babelfish for PostgreSQL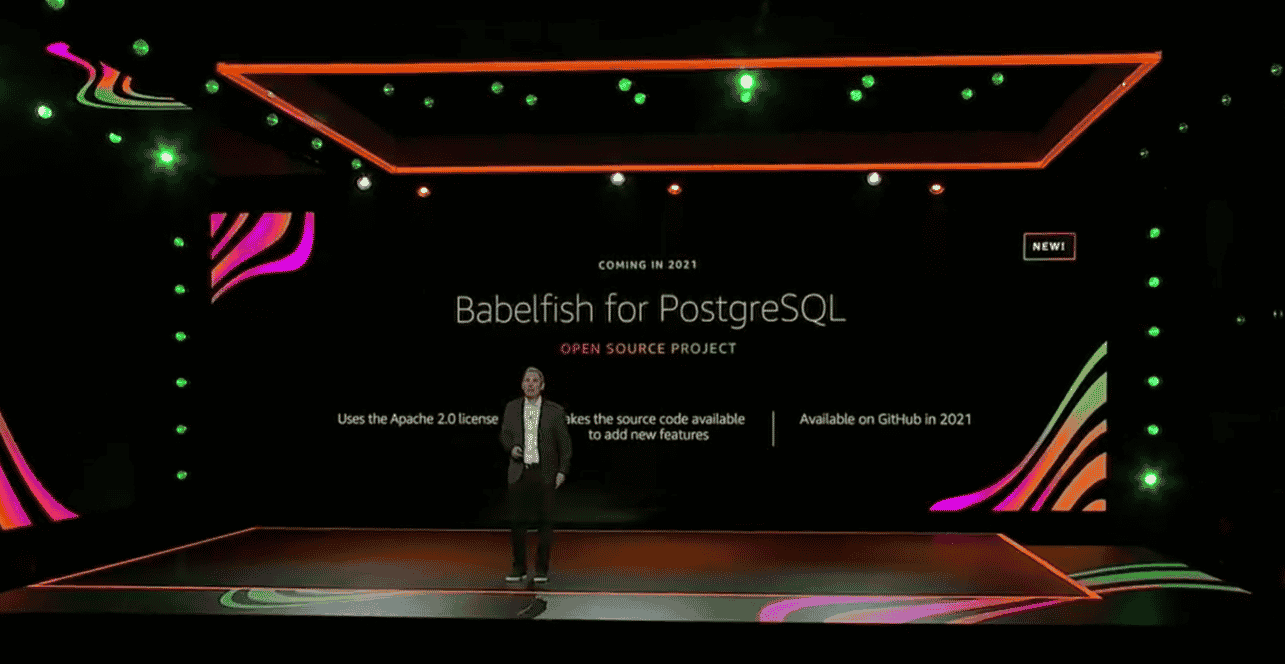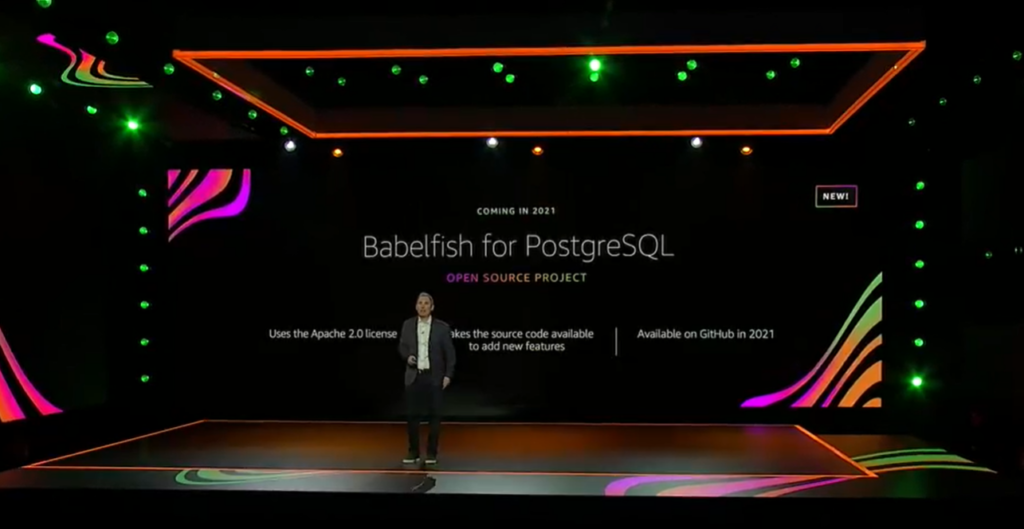 Coming in 2021, Babelfish for PostgreSQL is an open source project, using the Apache 2.0 License.
Makes the source code available to add new features
Available in GitHub in 2021
12. AWS Glue Elastic Views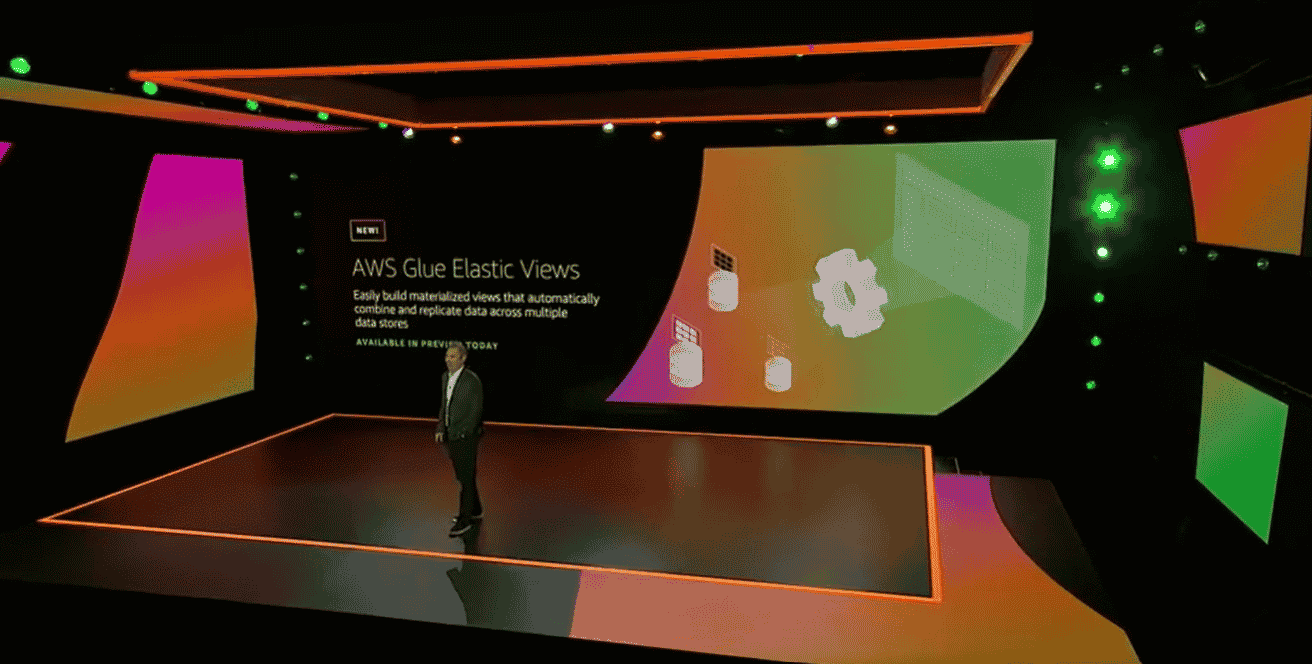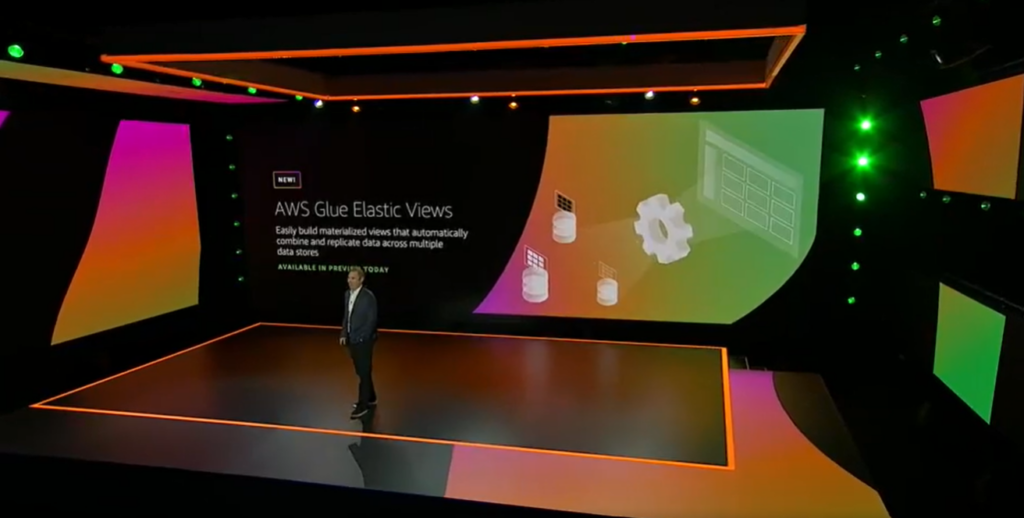 Available in preview today, AWS Glue Elastic Views enables AWS customers to easily combine and replicate data views from different data stores:
 Copies data from each source data store to a target data store

From Aurora, RDS, DynamoDB data stores

Automatically keeps the data in the target data store updated:

Redshift, Elasticsearch Service, S3, DynamoDB, Aurora and RDS Target data stores
13. Amazon SageMaker Data Wrangler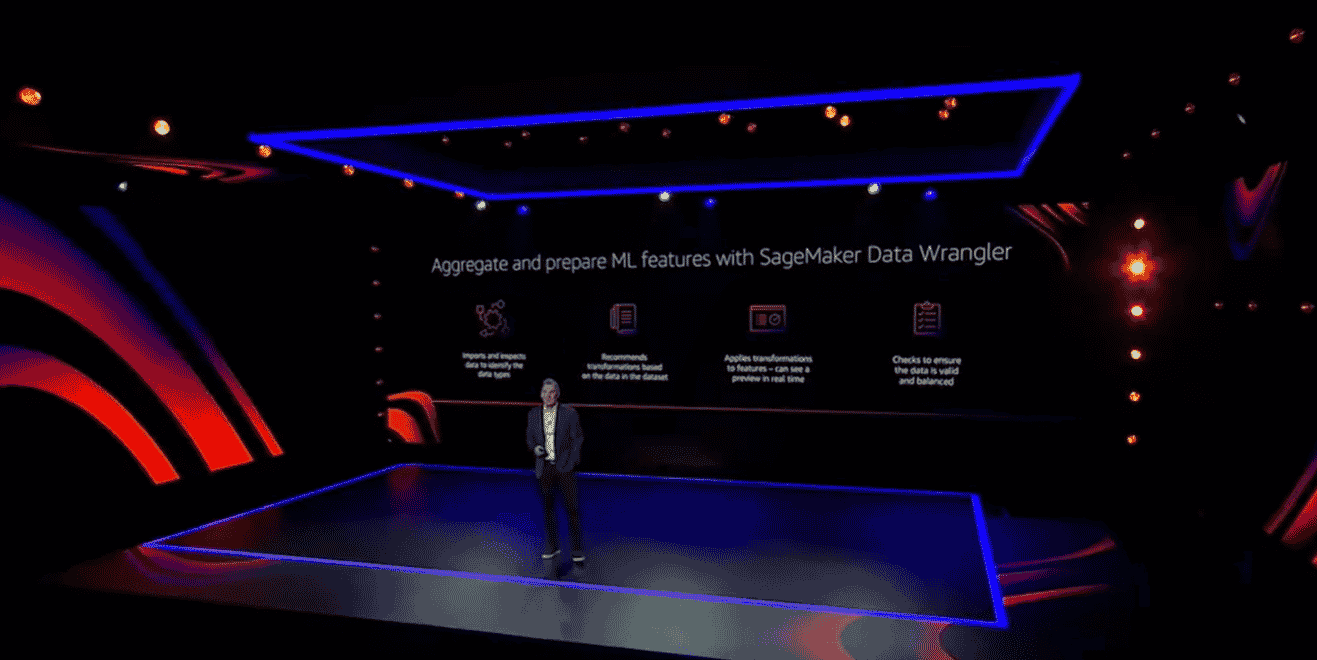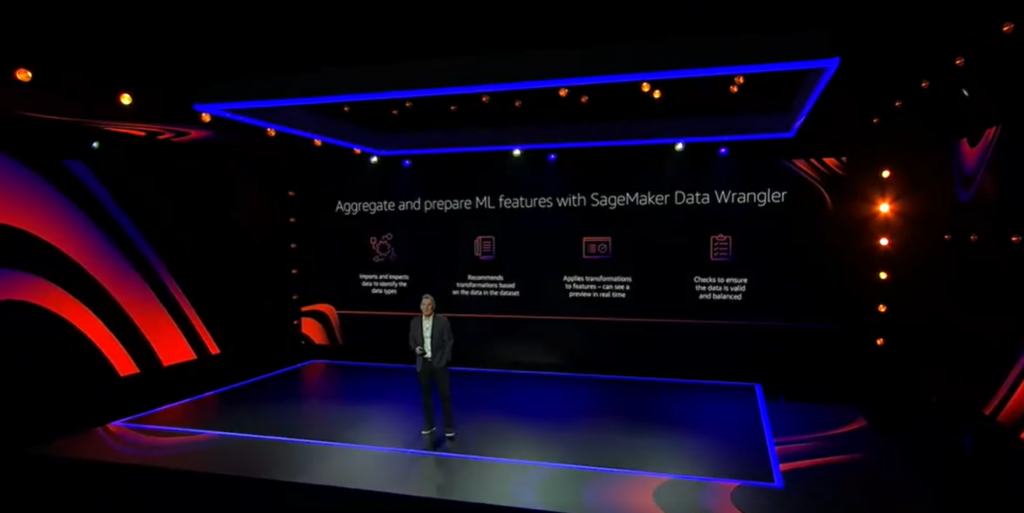 Amazon SageMaker Data Wrangler is the fastest way to prepare machine learning data.  
Amazon SageMaker Data Wrangler:
 Imports and inspects data to identify the data types
Recommends transformations based on the data in the dataset
Applies Transformations to features – can use a preview in real time
Checks to ensure the data is valid and balanced
14. Amazon SageMaker Feature Store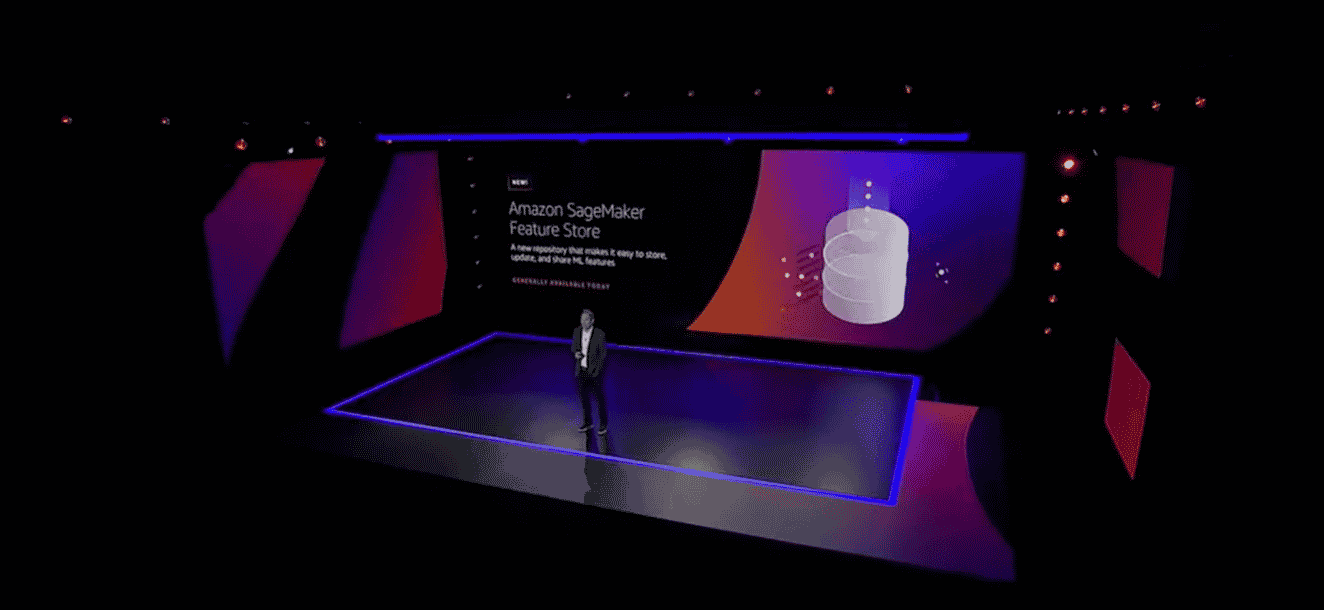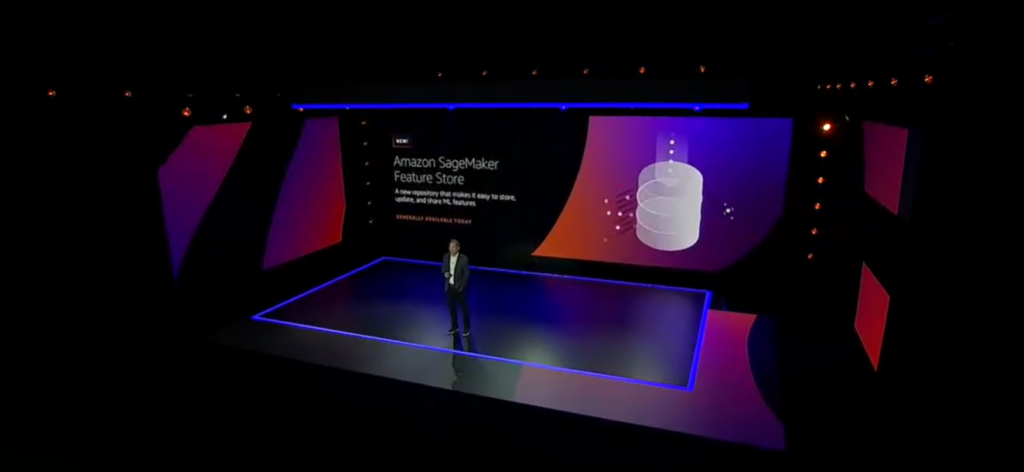 Amazon SageMaker Feature Store is a new repository that makes it easy to store, update and share Machine Learning Features.  Available in preview today, Amazon Sagemaker Feature store is purpose-built and accessible from SageMaker Studio:
Easily name, organize, find and share features
Access features in batches or subsets
Low latency for inference
15. Amazon SageMaker Pipelines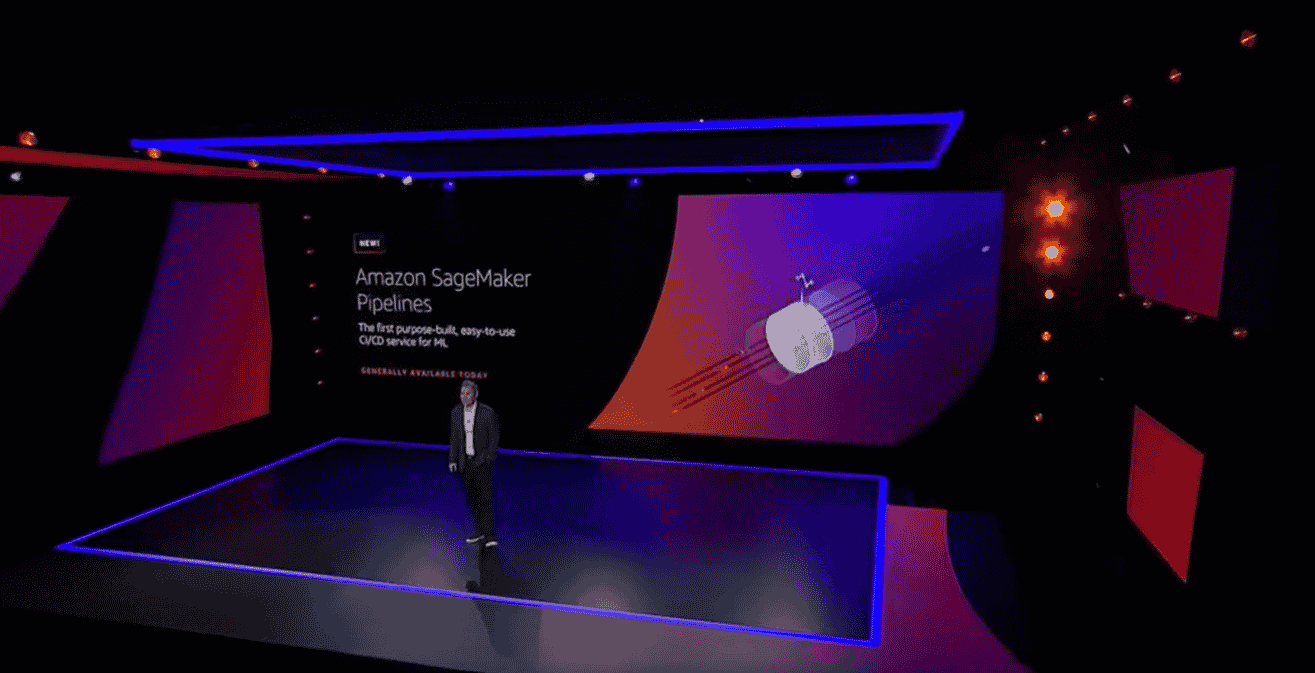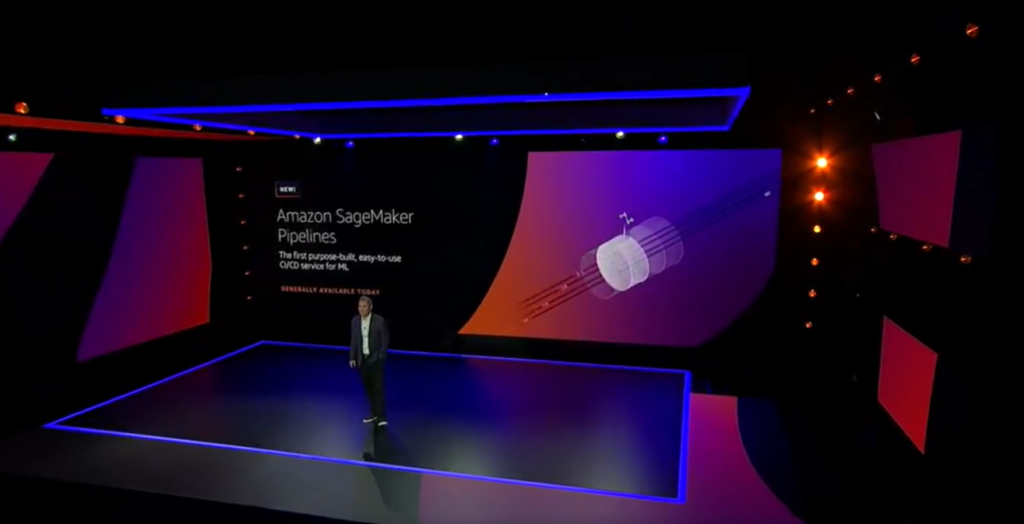 Generally available today, Amazon SageMaker Pipelines is the first purpose built, easy to use CI/CD service for Machine Learning.
Amazon SageMaker Pipelines offers data worflows for ML:
Define each step of your end to end ML workflow
Pre-configured, customizable workflow templates
Logs each step in SageMaker Experiments
Workflows can be shared and reused
16. Amazon DevOps Guru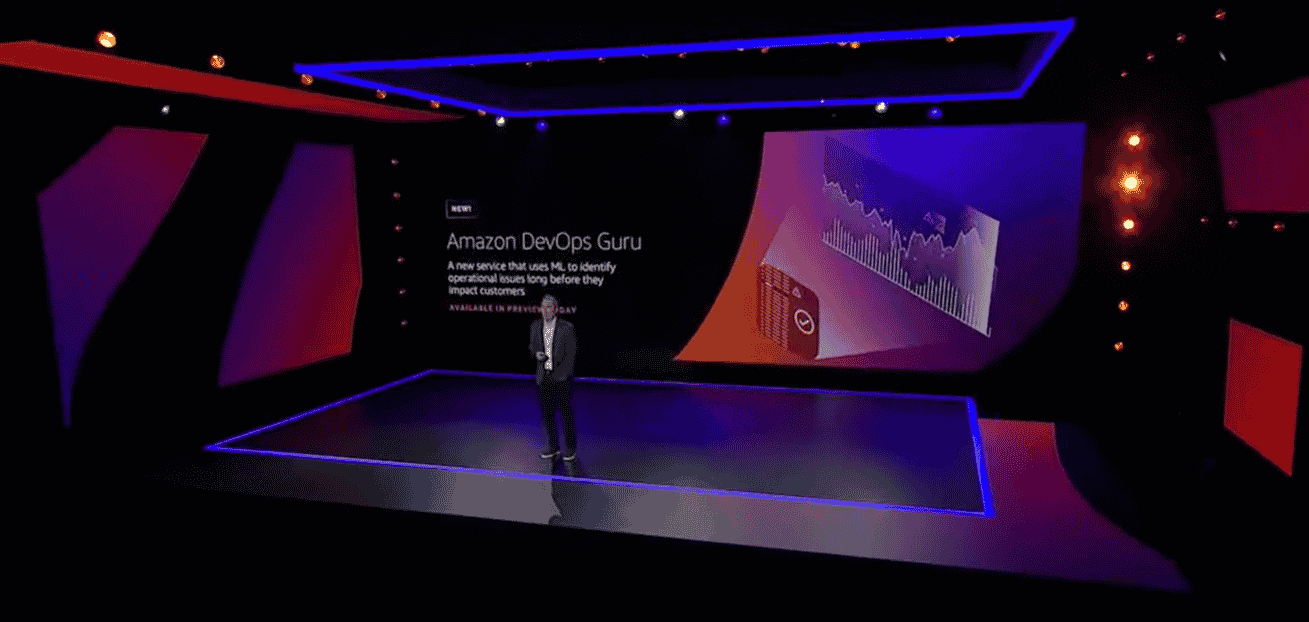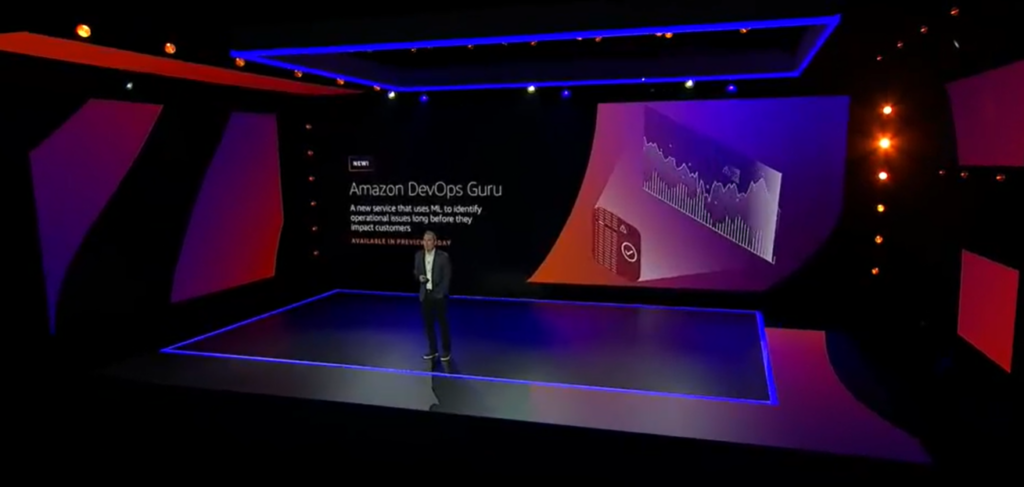 Amazon DevOps Guru is available in preview today.  DevOps Guru is a new service that uses ML to identify operational issues long before they impact customers.
Amazon DevOps Guru can automatically detect issues and recommend actions:
Missing or misconfigured alarms
Early warning of approaching resource limits
Code and config changes that may cause outages
Under-provisioned compute capacity
Database I/O overutilization
Memory leaks
17. Amazon QuickSight Q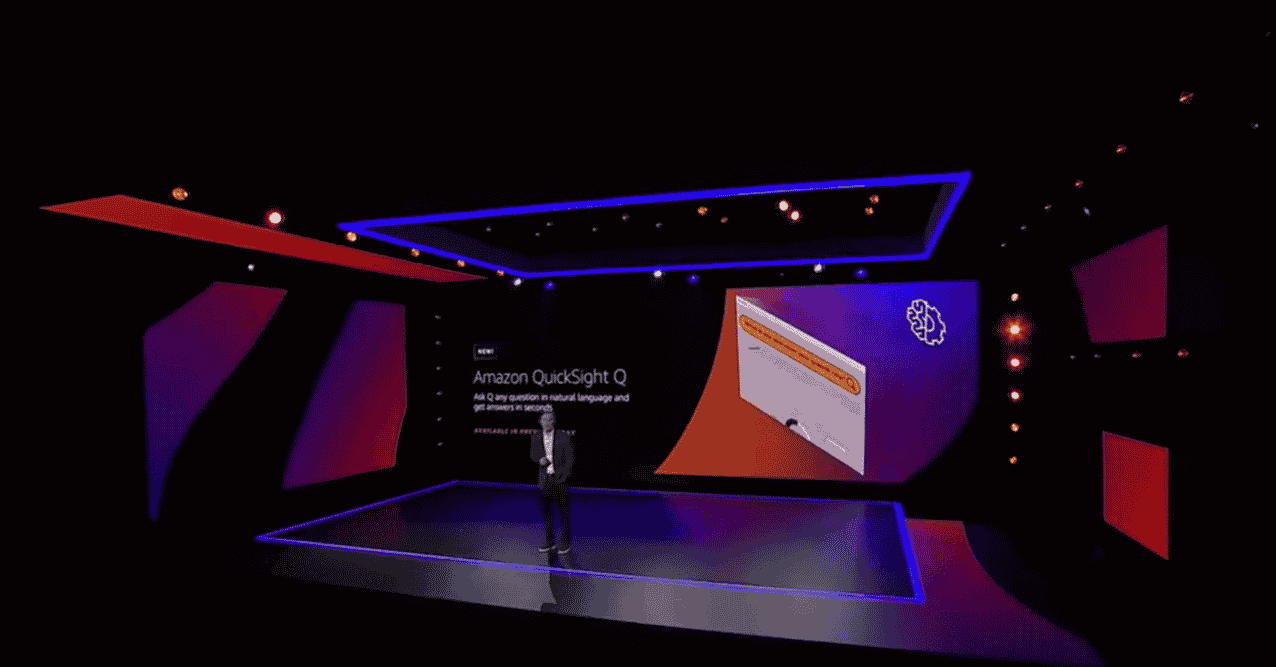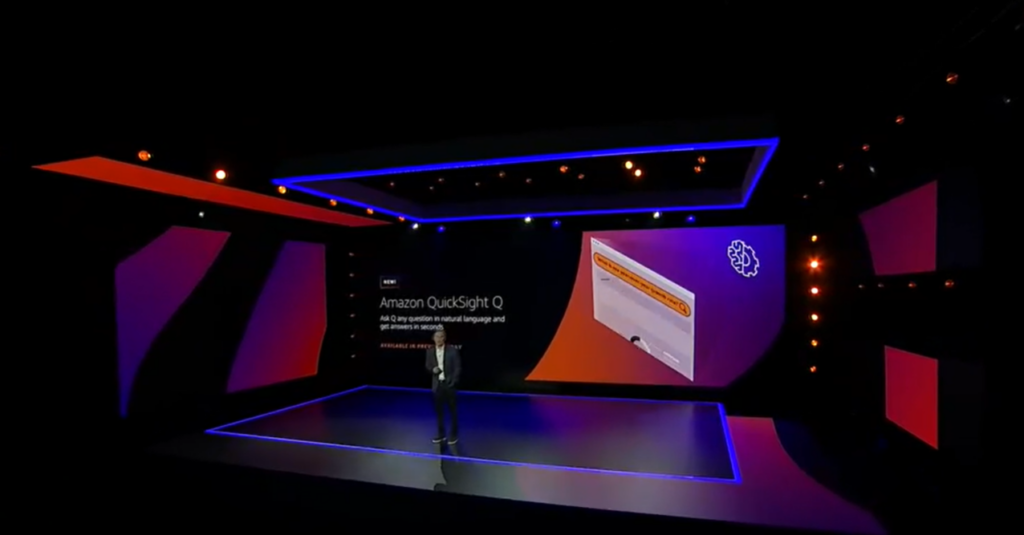 With Amazon QuickSight Q, available in preview today, AWS customers can ask Q any question in natural language and get an answer in seconds!
With Amazon QuickSight Q:
Enter questions in search bar
Use NLP to understand domain specific business language
Automatically generate data models that understand meanings and relationships of data 
Not limited to a single set of questions
18. Amazon Connect Wisdom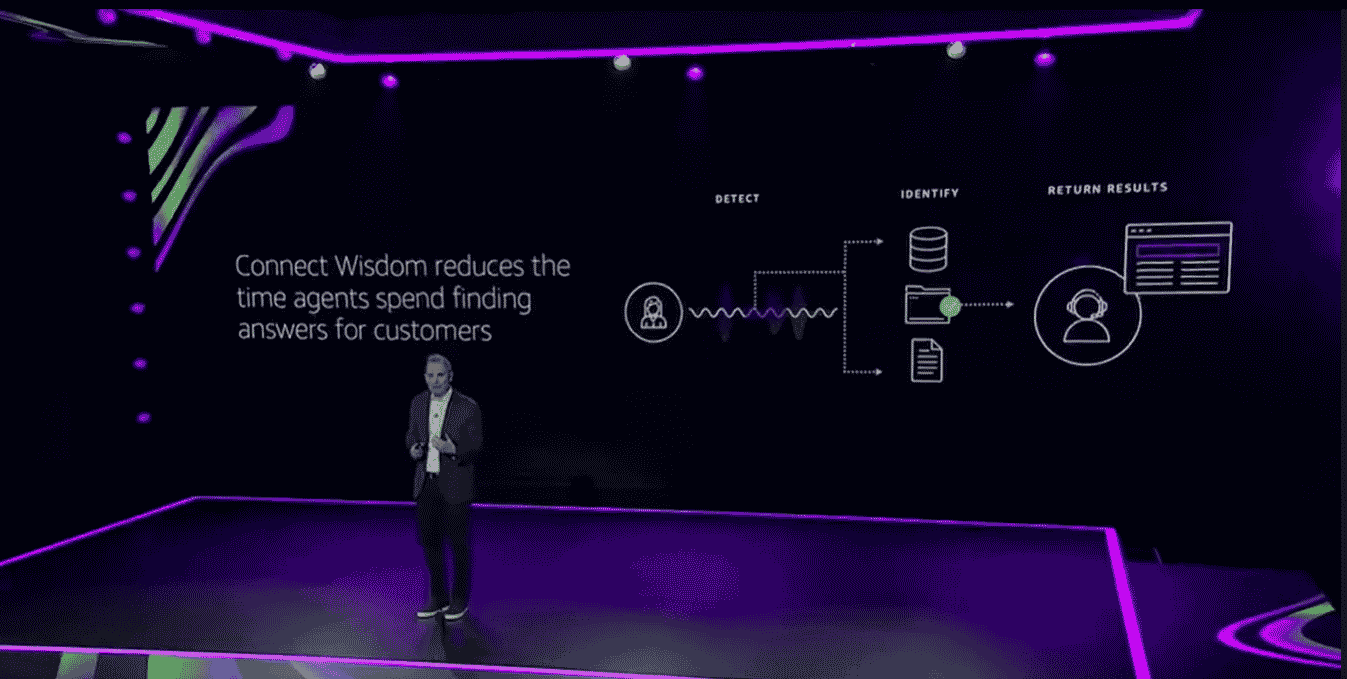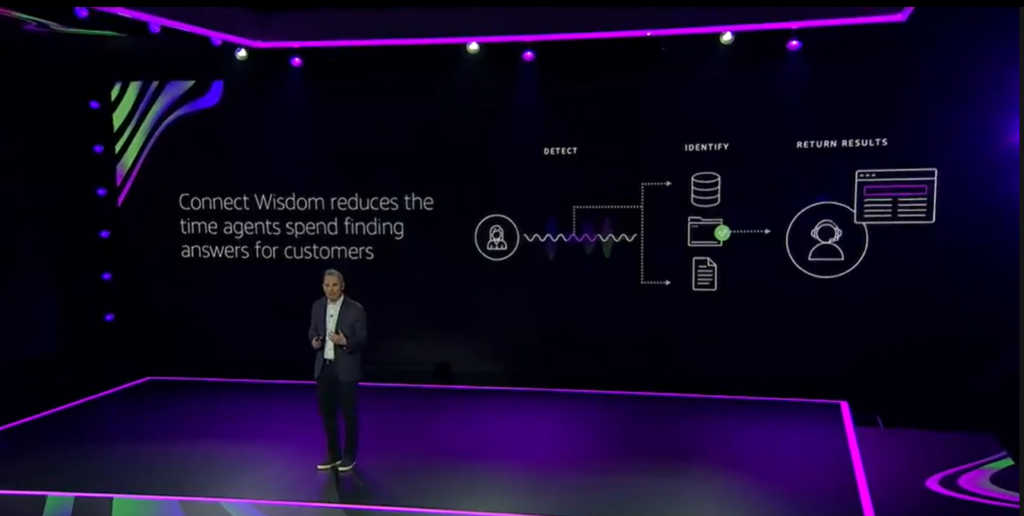 Amazon Connect Wisdom reduces the time contact center agents spend finding answers for customers.
Amazon Connect Wisdom is a new capability that users machine learning to deliver agents the product and service information they need to solve issues in real time.
Amazon Connect Wisdom is available in preview today.
19. Amazon Connect Customer Profiles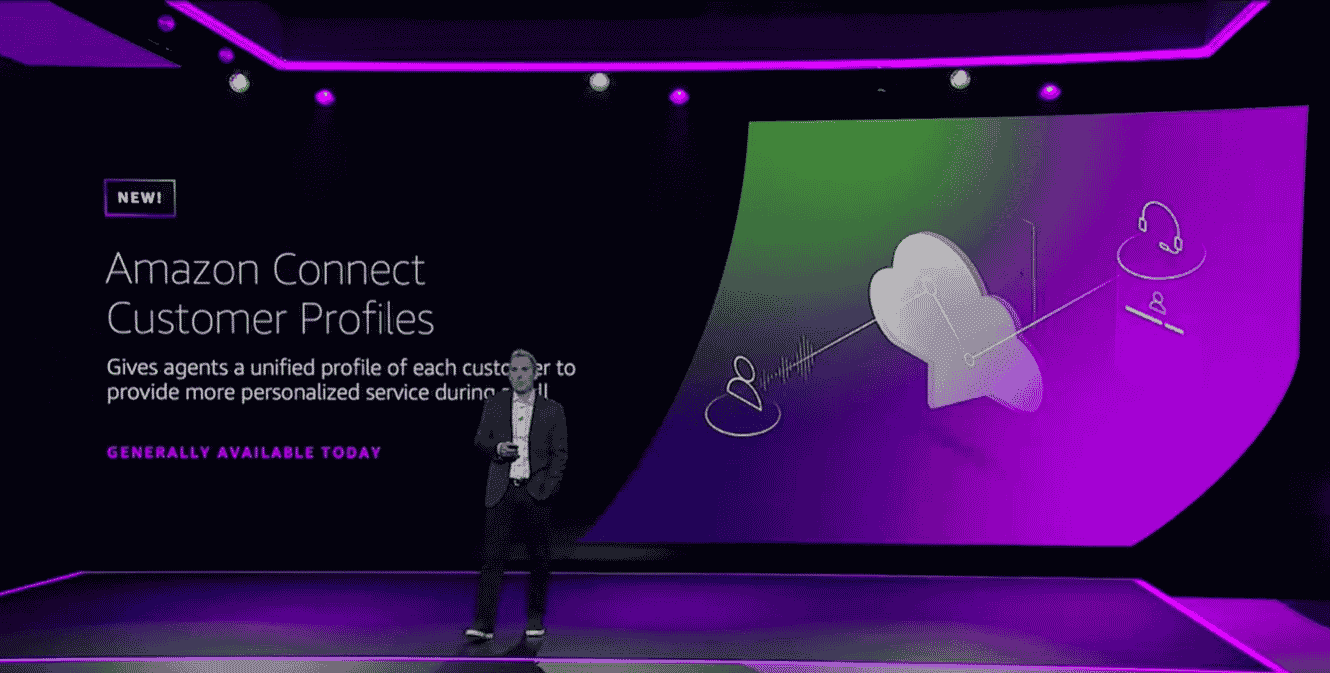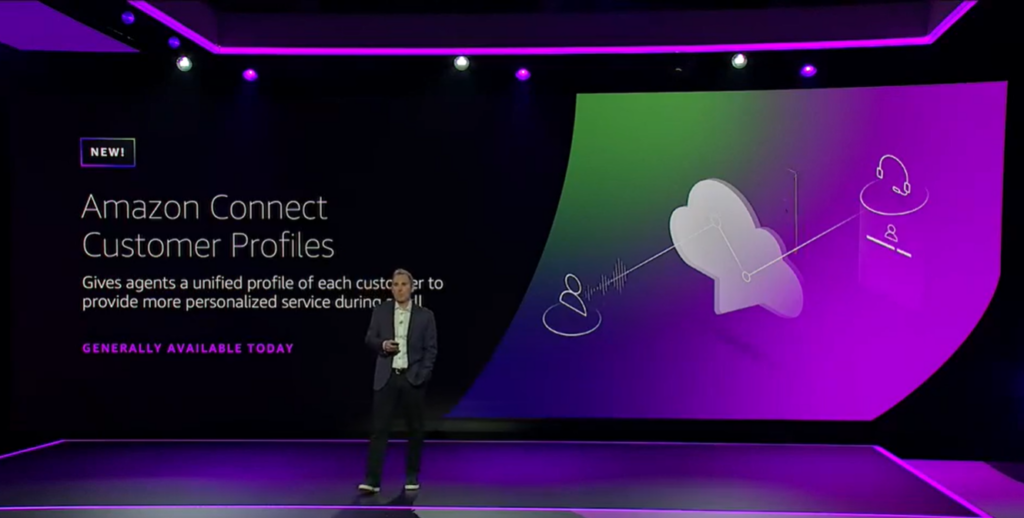 Generally available today, Amazon Connect Customer Profiles enables call center agents to deliver faster, more personalized customer service.
By combining insights from CRM, E-commerce and Order Management systems, Amazon Connect customer profiles adds data from call transcripts, sentiment analysis and call history to give call center agents a unified profile of each customer.
20. Real-Time Contact Lens for Amazon Connect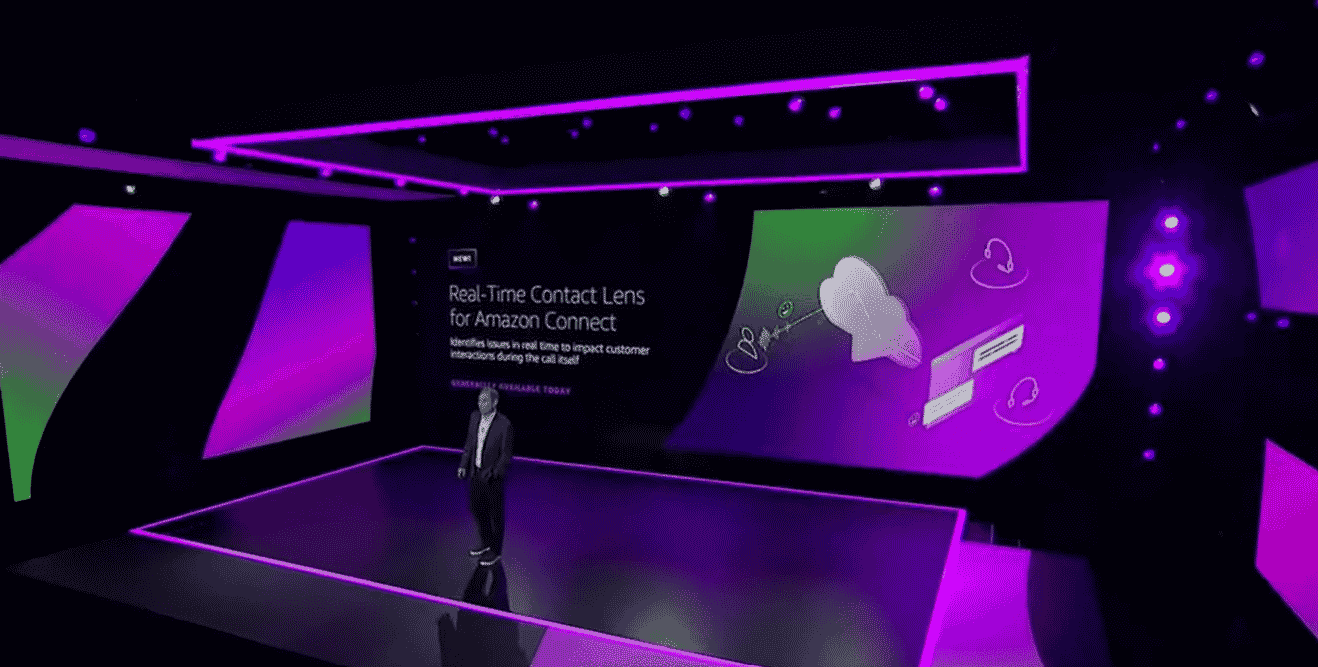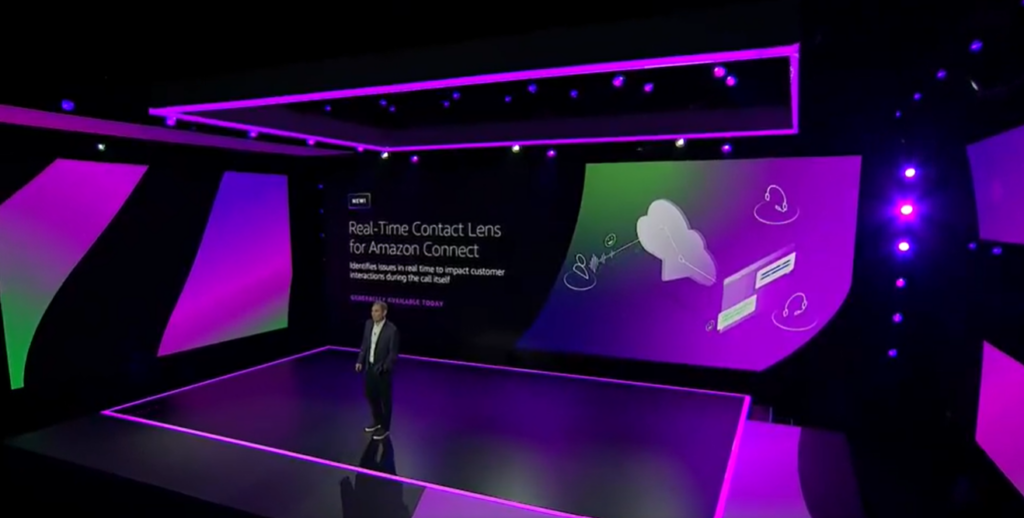 Real-Time Contact Lens for Amazon Connect uses machine learning to detect customer experience issues during live calls.  It is generally available today.
21. Amazon Connect Tasks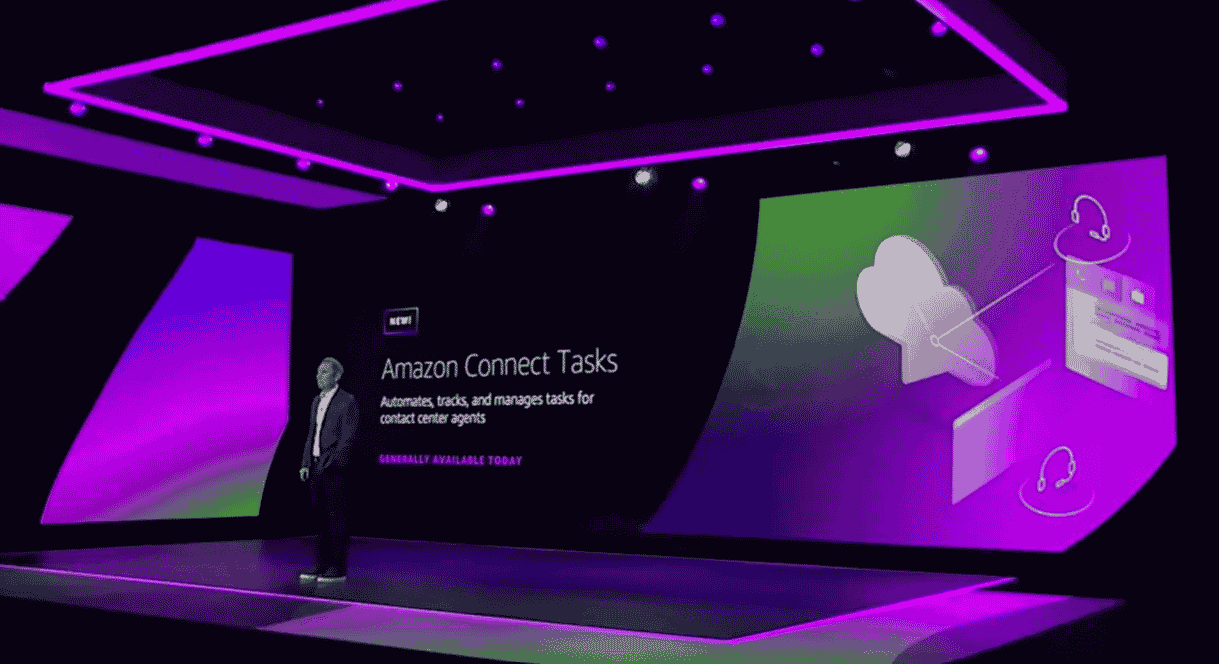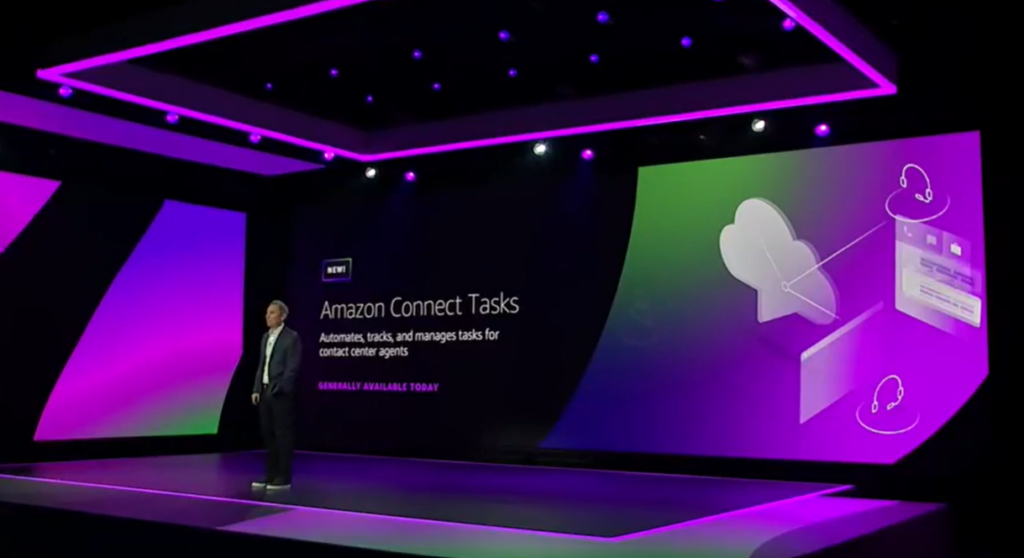 Amazon Connect Tasks makes follow up tasks easier for agents and enables call center managers to automate some tasks entirely.  Amazon Connect Tasks is generally available today.
22. Amazon Connect Voice ID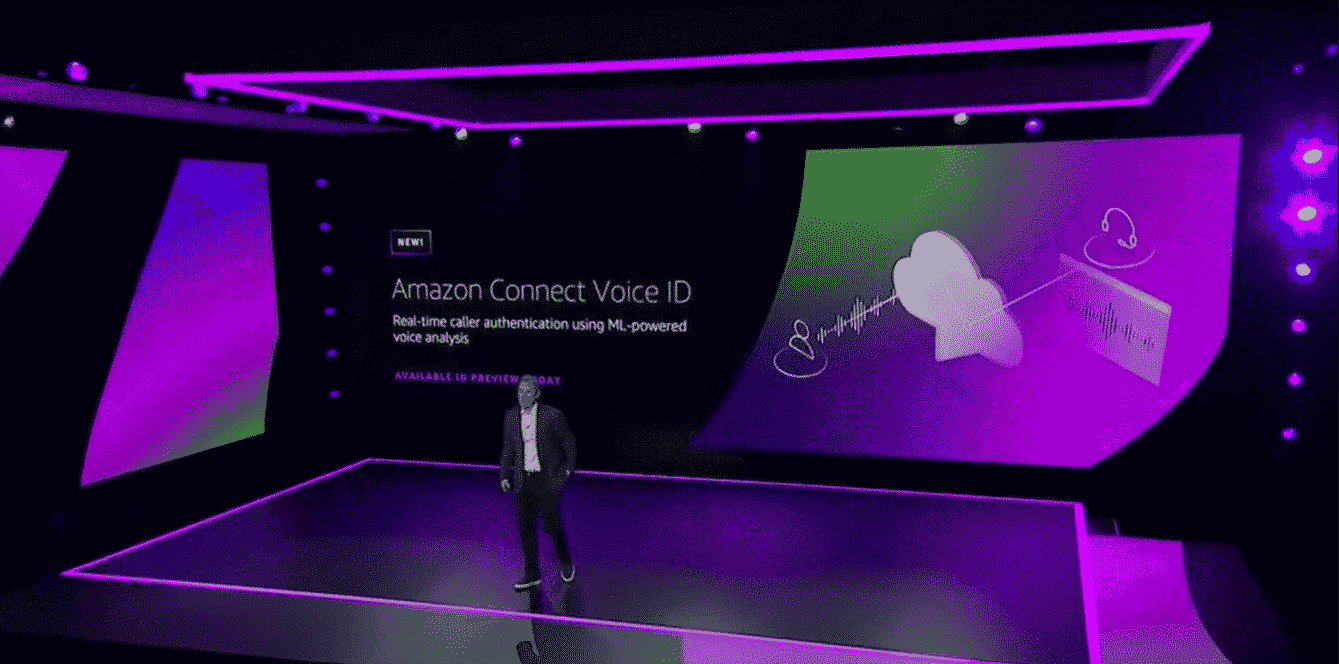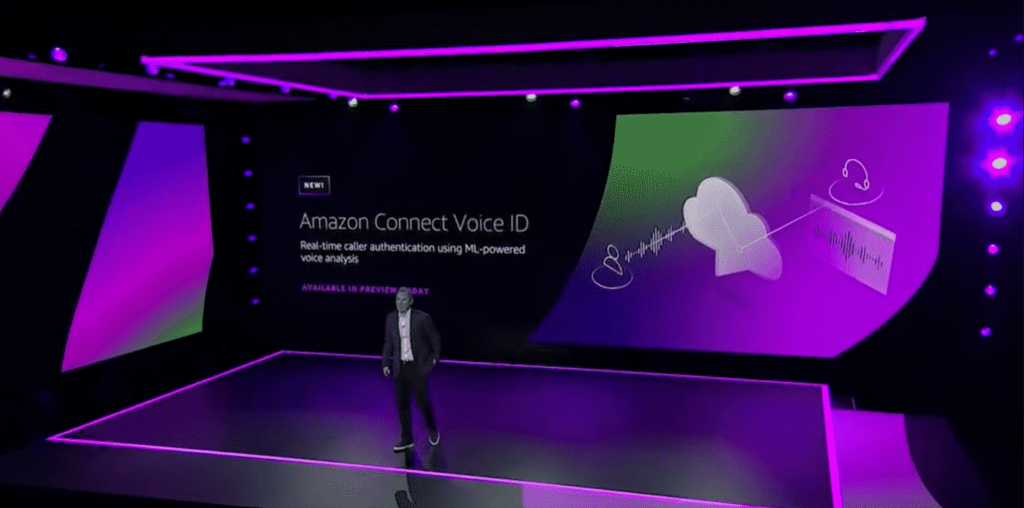 Amazon Connect Voice ID provides real time caller authentication using ML powered voice analysis without disrupting natural conversation.  The feature is available in preview today.
23. Amazon Monitron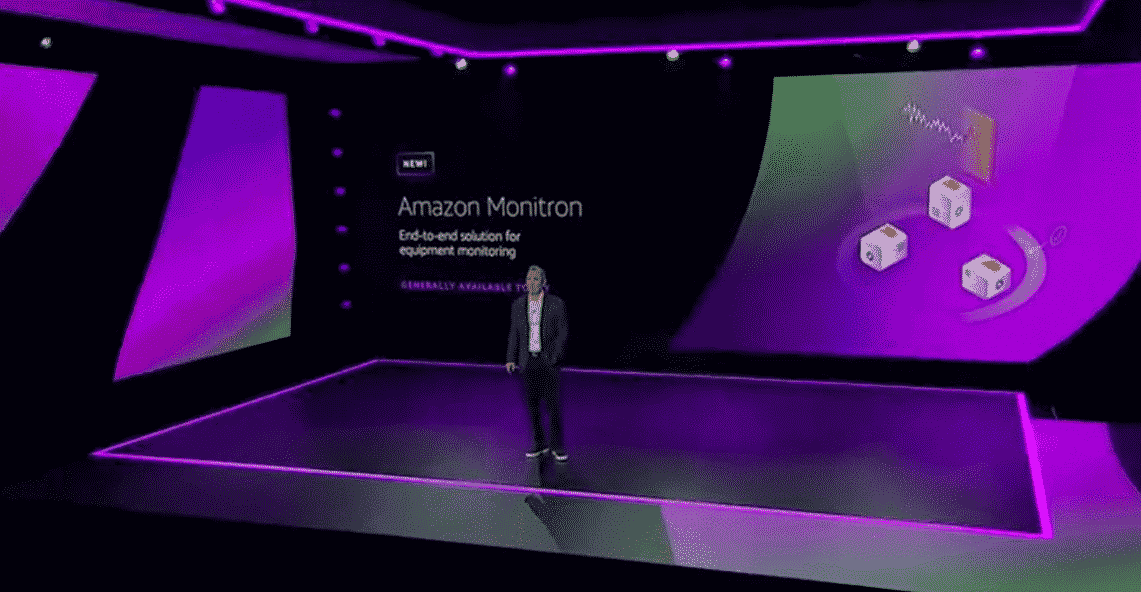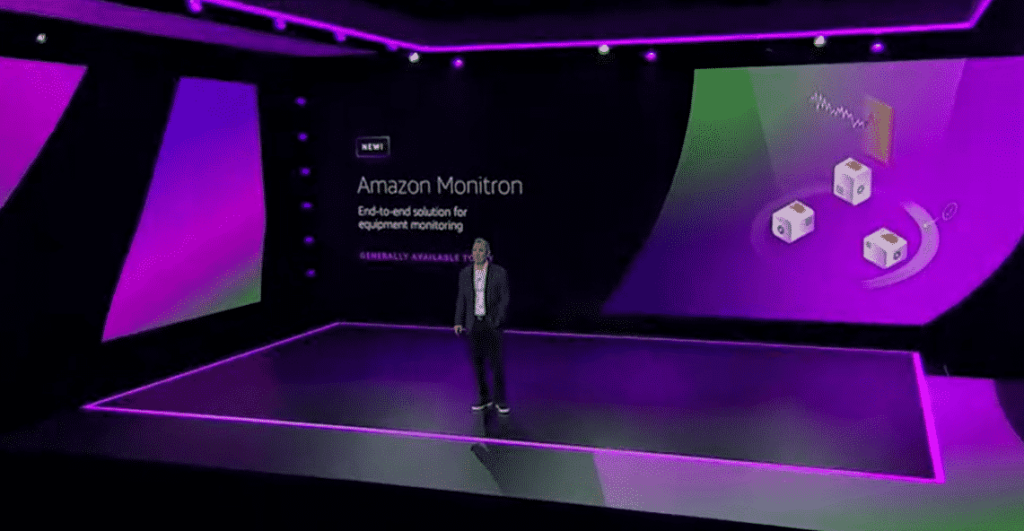 Amazon Monitron is generally available today.  Amazon Monitron is an end to end solution for the monitoring of industrial equipment to enable predictive maintenance. Data from seonsors is sent via a gateway to the AWS cloud and users can view maintenance requirements in the Monitron app.
24. Amazon Lookout for Equipment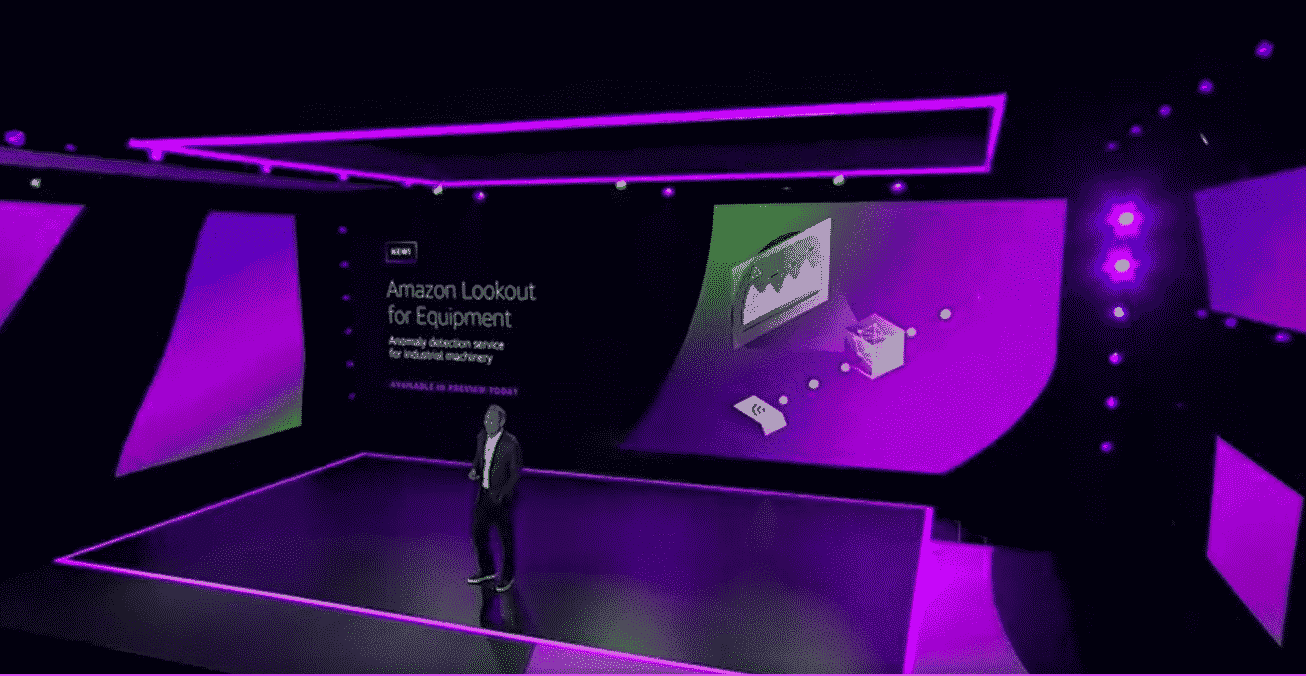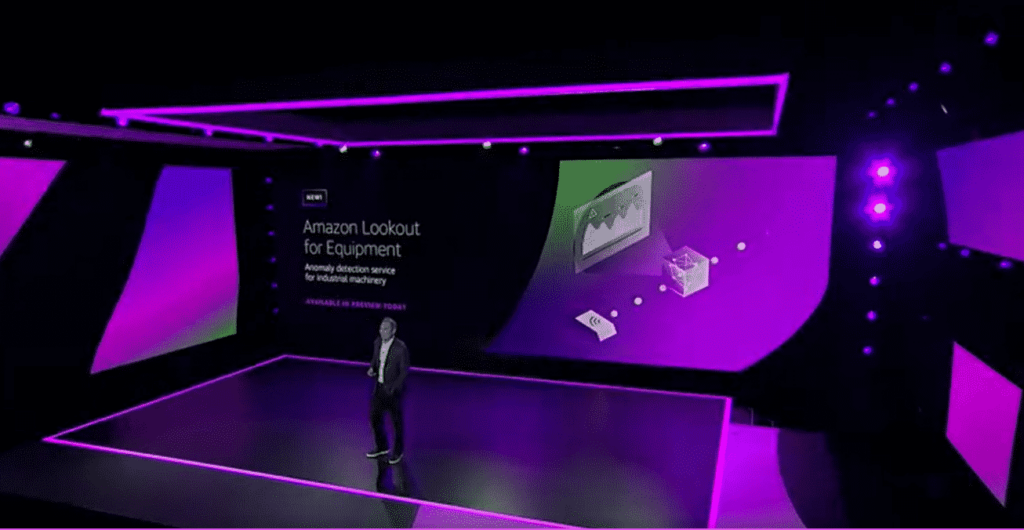 Available in preview today, Amazon Lookout for Equipment is an anomaly detection service for industrial machinery.  Amazon Lookout for Equipment uses machine data to predict when equipment will require maintenance, and uses computer vision to improve processes, identify bottlenecks and detect anomalies.
25. AWS Panorama Appliance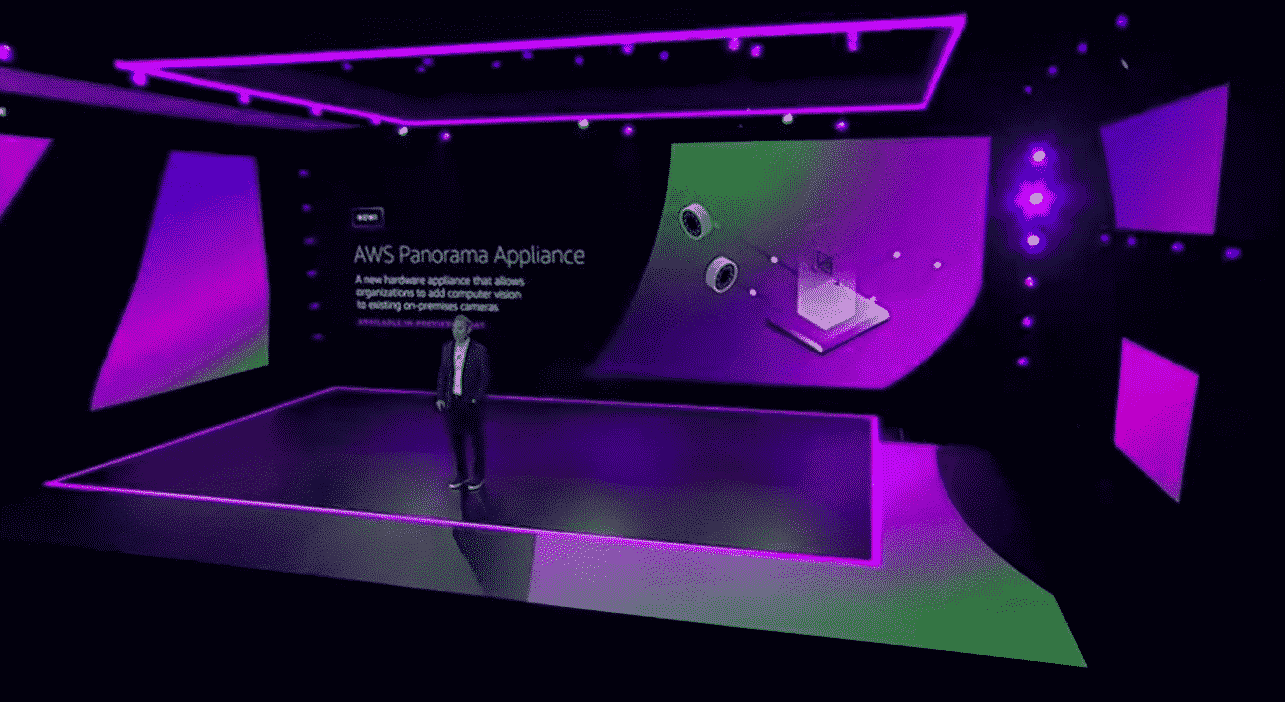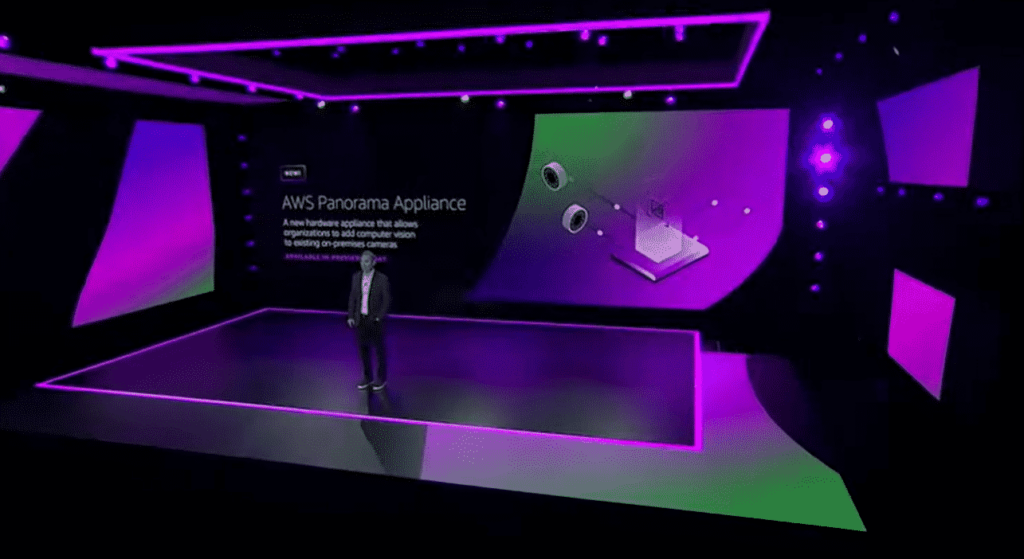 AWS Panorama Appliance is a new hardware appliance that allows organizations to add computer vision to existing on premise cameras.
Plug in appliance, connects to network, and starts to identify video streams from existing cameras
Pre-built computer vision models in manufacturing, retail, construction, and other industries
Can also build models in SageMaker and deploy to Panorama
Integrates with AWS IoT services, including SiteWise, to send data for broader analysis
26. AWS Panorama SDK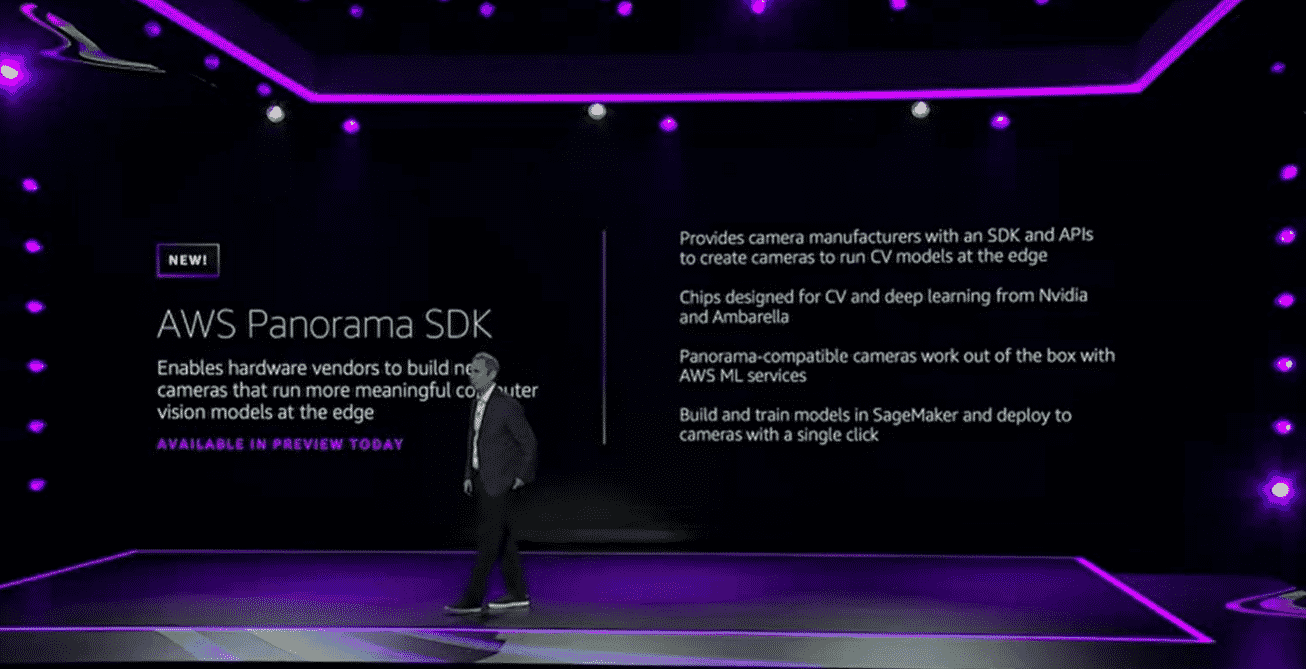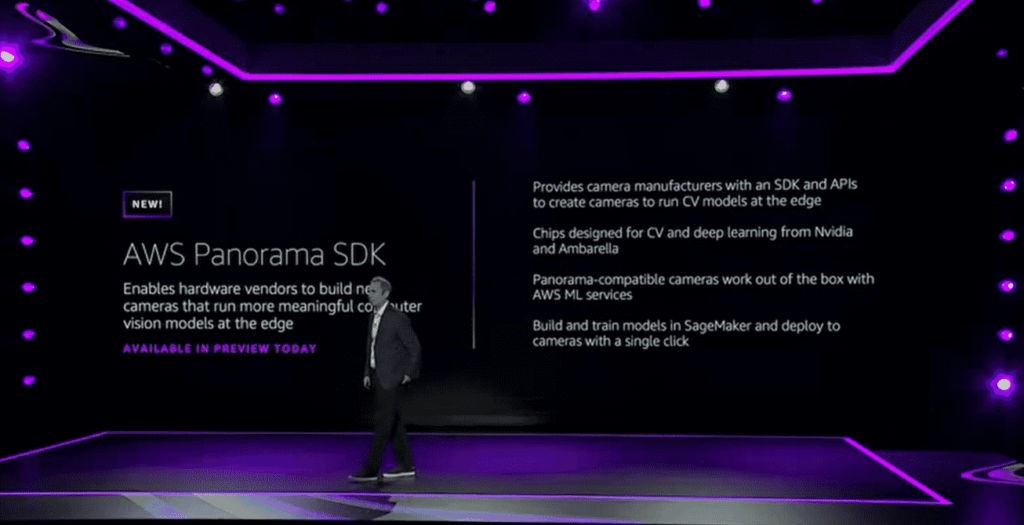 AWS Panorama SDK enables hardware vendors to build new cameras that run more meaningful computer vision models at the edge.
Provides camera manufacturers with an SDK and APIs to create cameras to run CV models at the edge
Chips designed for CV and deep learning from Nvidia and Ambarella
Panorama compatible cameras work out of the box with AWS ML services
Build and train models in SageMaker and deploy to cameras with a single click
27. AWS Outposts for any Location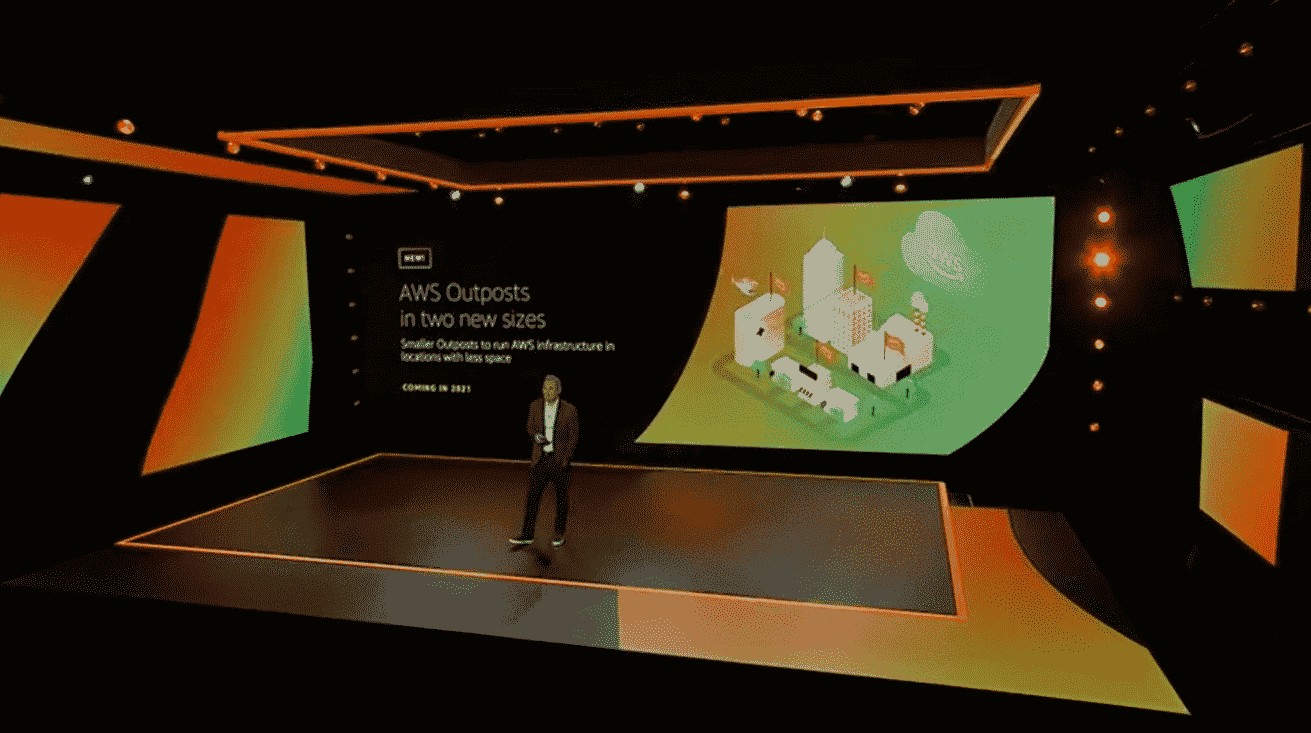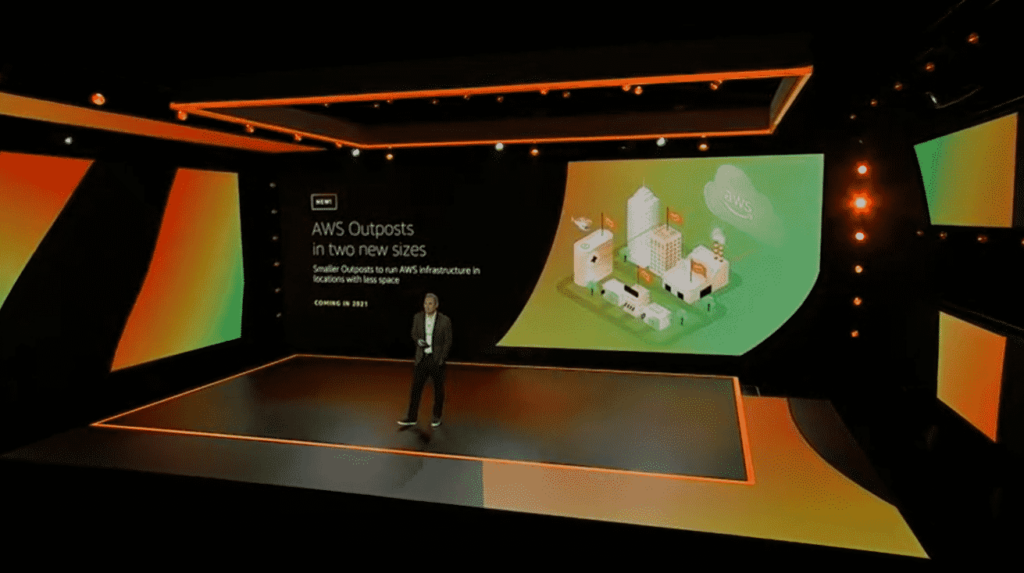 Coming in 2021, AWS Outposts will be launched in 2 new form factors.  No longer will AWS customers need to purchase entire racks of AWS kit to run Outposts – it will now be offered in 1U and 2U form factors – essentially servers running AWS.
 Run AWS compute and storage on premises at any facility
Two sizes to fit locations with limited space
Provide 64 vCPU, 128GB memory, 4TB local NVMe storage
Fully managed by AWS
28. New AWS Local Zones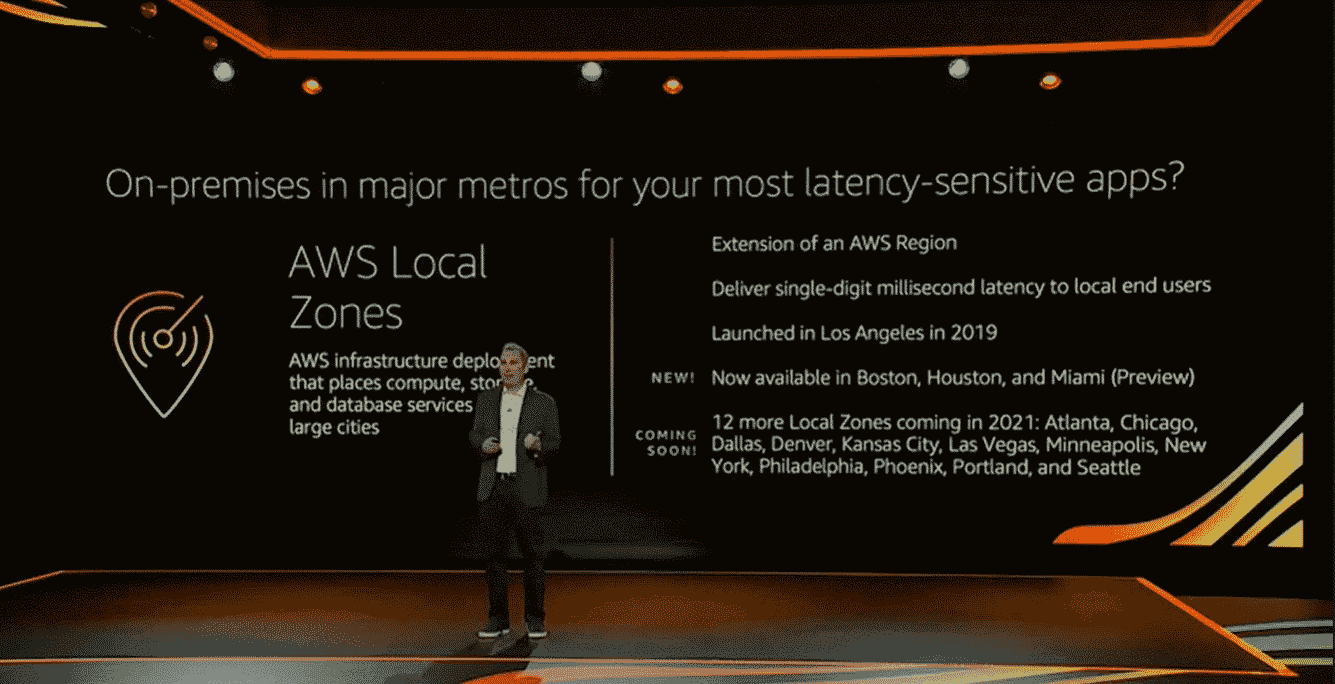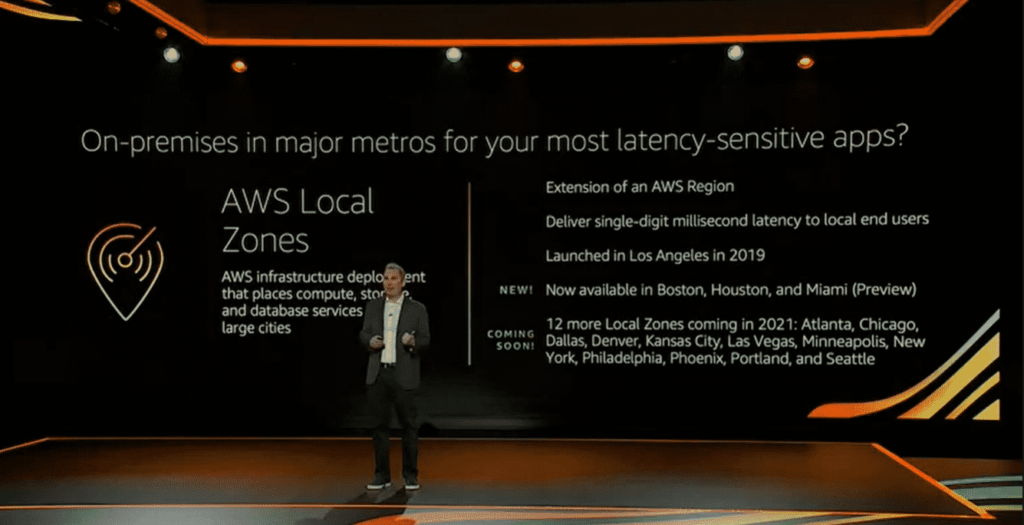 Lauched at re:Invent 2019, AWS local zones will be expanding to more US locations.
AWS Local Zones is an extension of a region offering single digit millisecond latency to local end users.
AWS Local Zones are already available in :
LA, Boston, Houston and Miami
12 more Local Zones are coming soon in:
Atlanta, Chicago, Dallas, Denver, Kansas City, Las Vegas, Minneapolis, New York, Philadelphia, Phoenix, Portland and Seattle
And that's a wrap…
So there you have it.  28 new services announced over 2 hours 30 minutes of AWS re:Invent keynote, live streamed from Seattle.   What a marathon!  
AWS have been very busy re:Inventing many of their services, what will you use them to re:Invent in your business? 
If you enjoyed this post and found it useful, please sign up for my AWS Weekly News Roundup to get regular AWS insights direct to your inbox.