Today marked the first general session day of the 2022 AWS reInvent conference in Las Vegas.  The opening keynote was delivered by CEO Adam Selipsky.  Unfortunately, I could not be in Vegas this year, so I live streamed the keynote and prepared this list of announcements to save you from having to watch or fast-forward through the entire 2-hour session!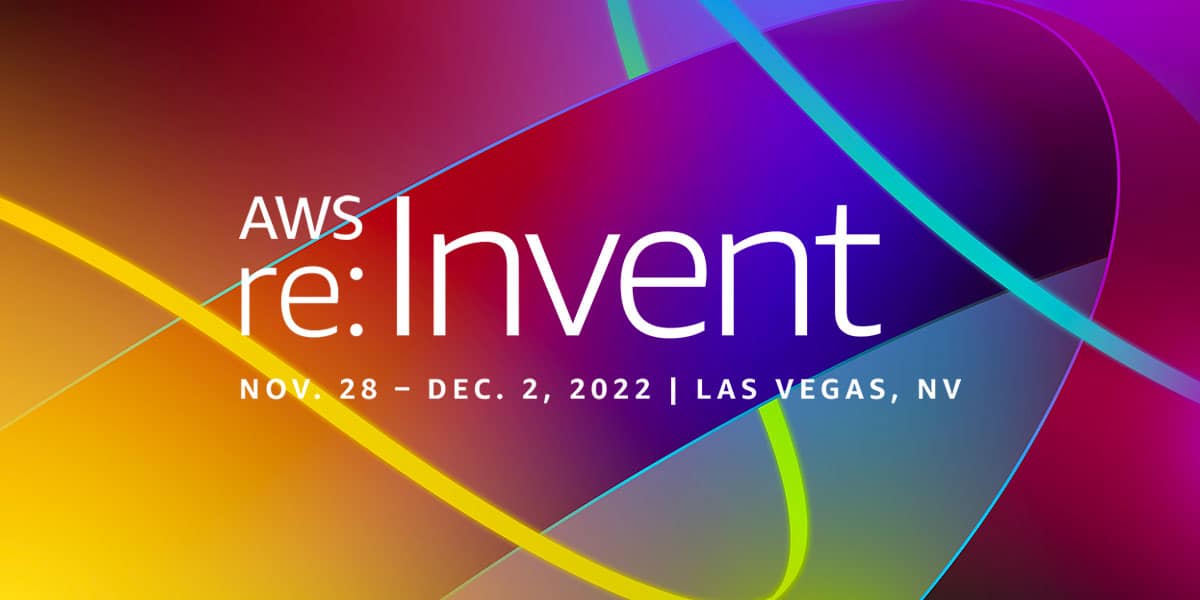 After walking through some customer case studies, including Privatbank, Nasdaq, and a whole host of unicorn startups, he talked about sustainability, stating that Amazon is now the world's largest purchaser of renewable energy with a target to be 100% renewable by 2025. He also mentioned Amazon's commitment to be water positive by 2030 – returning more water into the system than they consume.
He touched on the global issues of inflation, war, and supply chain issues, and then went on to say that despite these issues, many customers are still investing in the cloud because of the significant savings that can be made by leveraging cloud technology.  He cited the example of AirBnB who were able to reduce cloud spending by 27% during the pandemic, then recover quickly by switching on more resources as their market recovered.  A later case study presented by Engie claimed that they have reduced run costs by 60% using the AWS cloud.
After a fascinating insight into space exploration, Adam went on to describe how AWS is helping with the space exploration effort, which was a nice segue into data, and the data explosion.  Analysts predict that in the next 5 years, we will produce double the amount of data that has been produced previously.  And, of course, AWS has the tools to help businesses exploit this data.
After describing the AWS data portfolio at a high level, Adam went on to announce the launch of these new features:
1. Preview of OpenSearch Serverless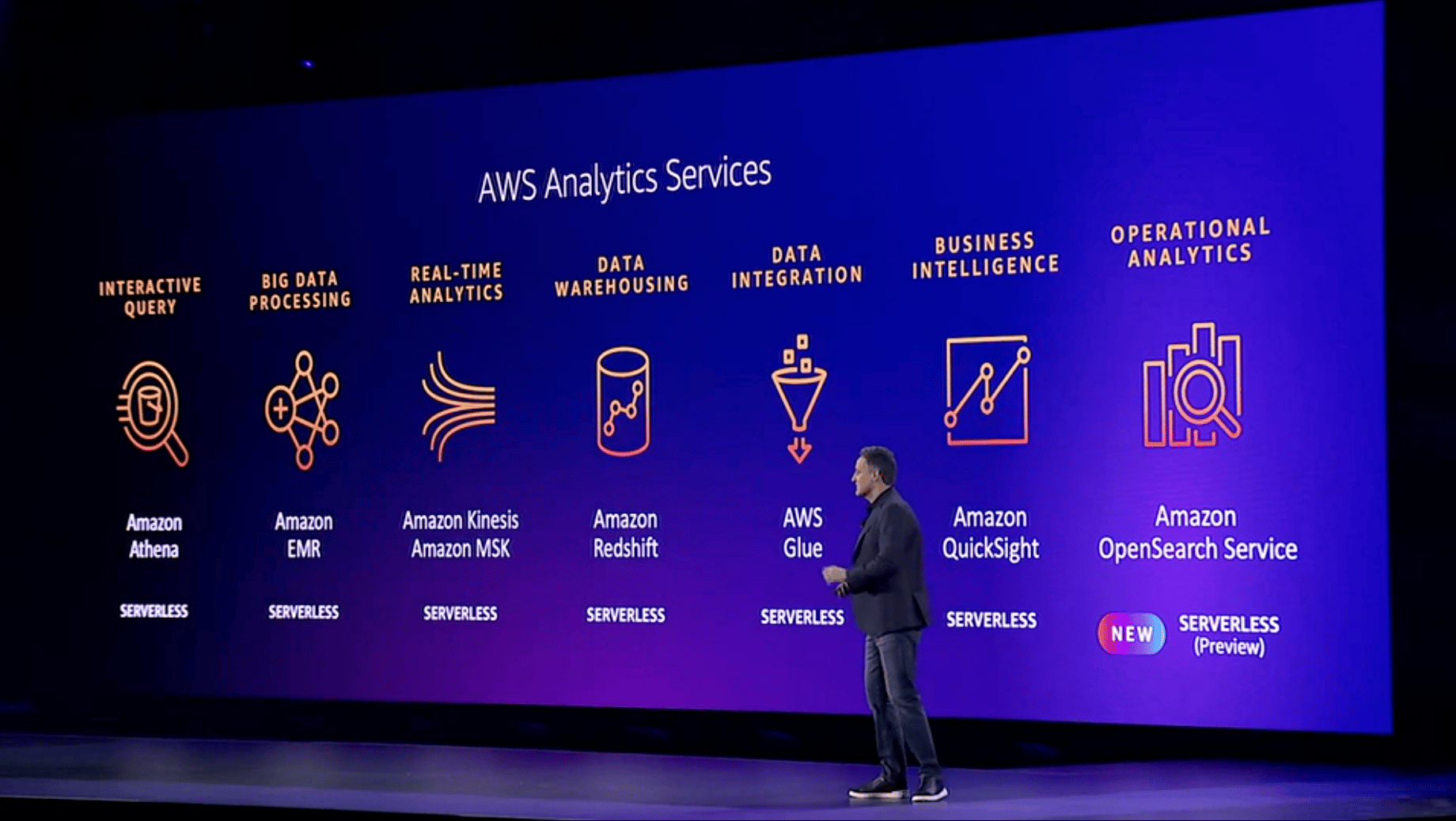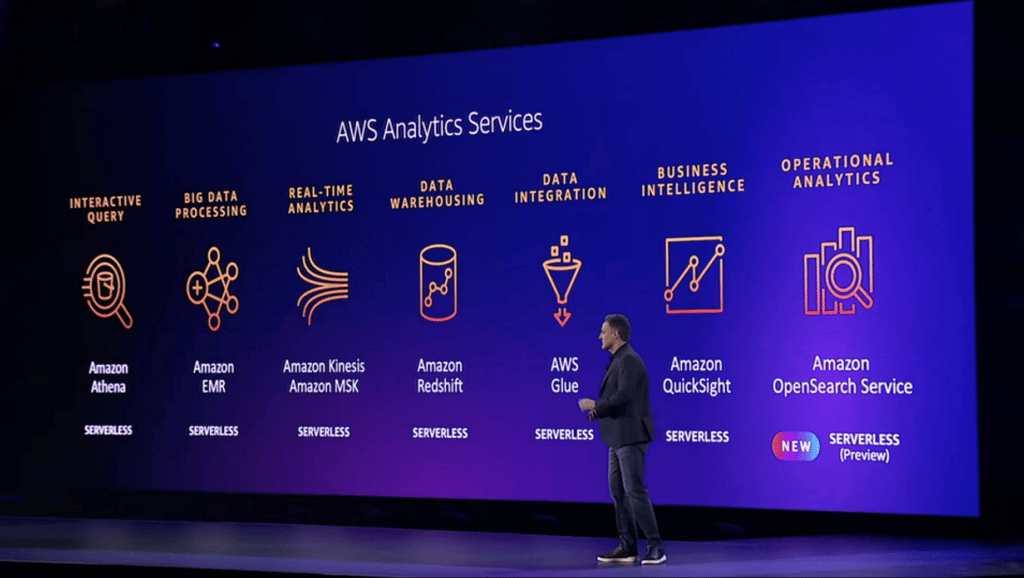 The first new feature announced in preview today was a new serverless capability for Amazon OpenSearch Service.  This service enables developers to run petabyte scale workloads on OpenSearch service without having to manage clusters of servers, enabling faster project initiation, automated scaling and reduced costs.
2. Amazon Aurora zero-ETL integration with Amazon Redshift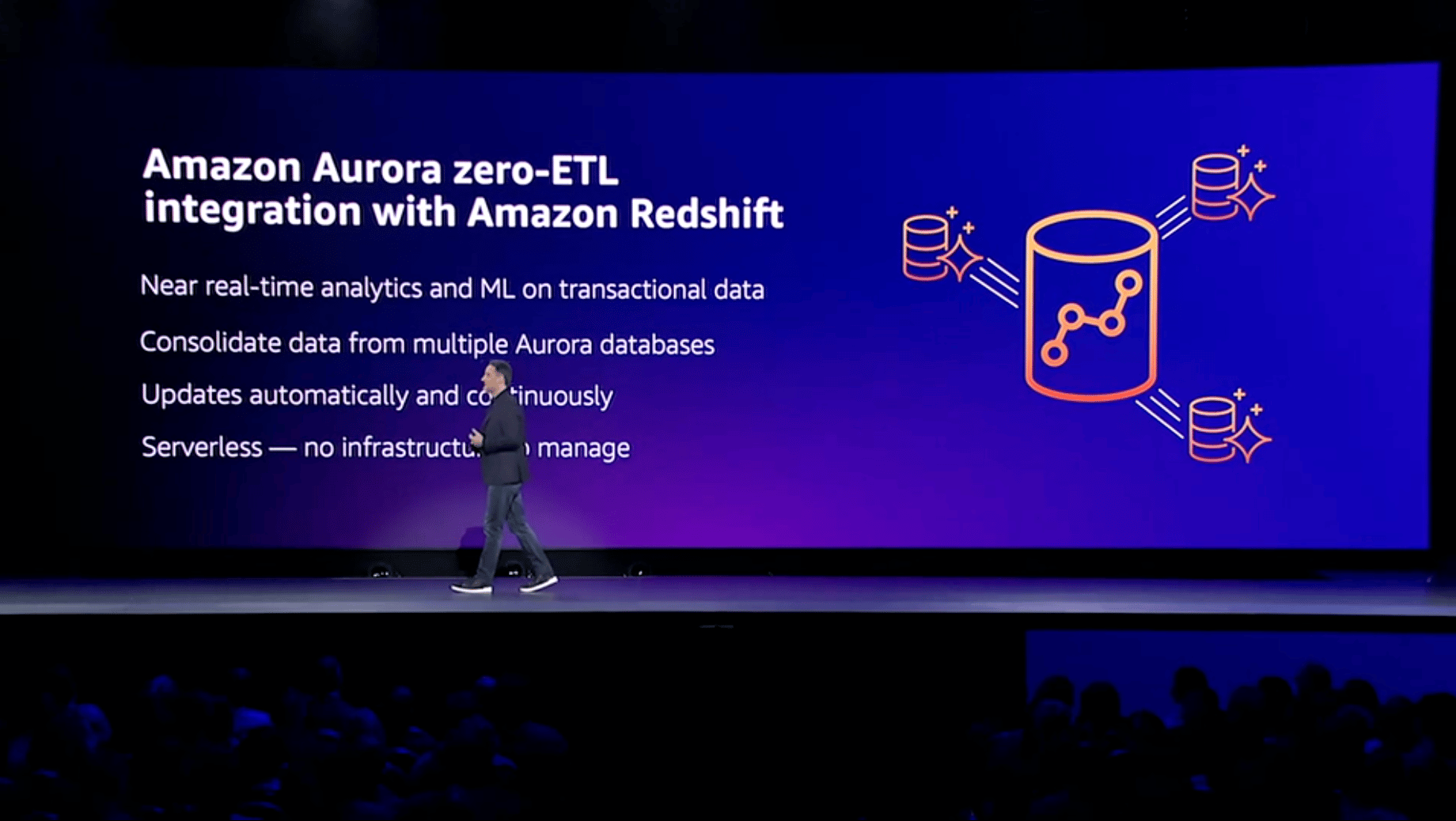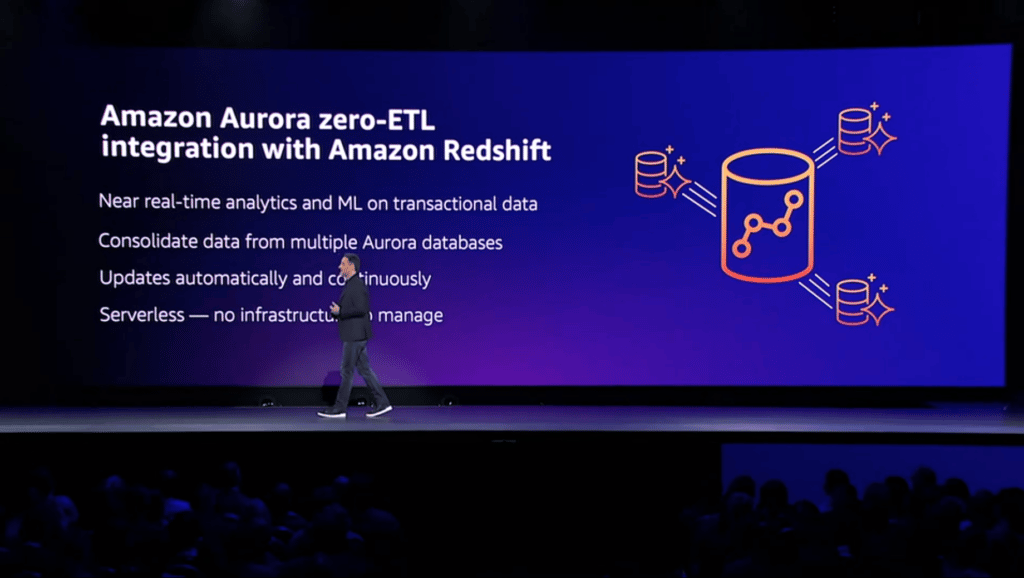 Amazon Aurora zero-ETL integration with Amazon Redshift enables near-real-time analytics and Machine Learning on transaction data.  It helps to consolidate data from multiple Aurora databases, updates automatically and continuously, and is serverless, with no infrastructure to manage.
3. Amazon Redshift Integration for Apache Spark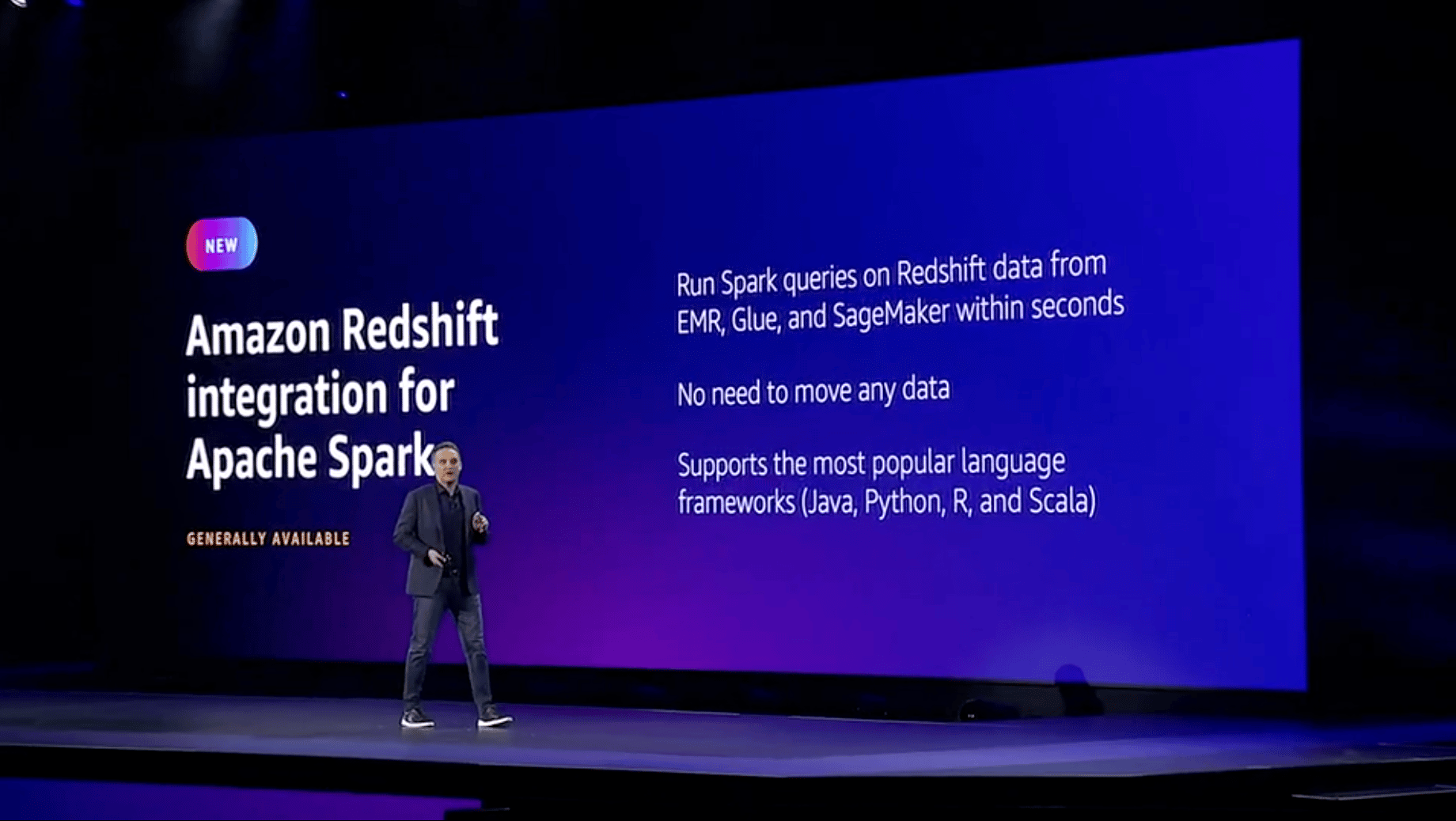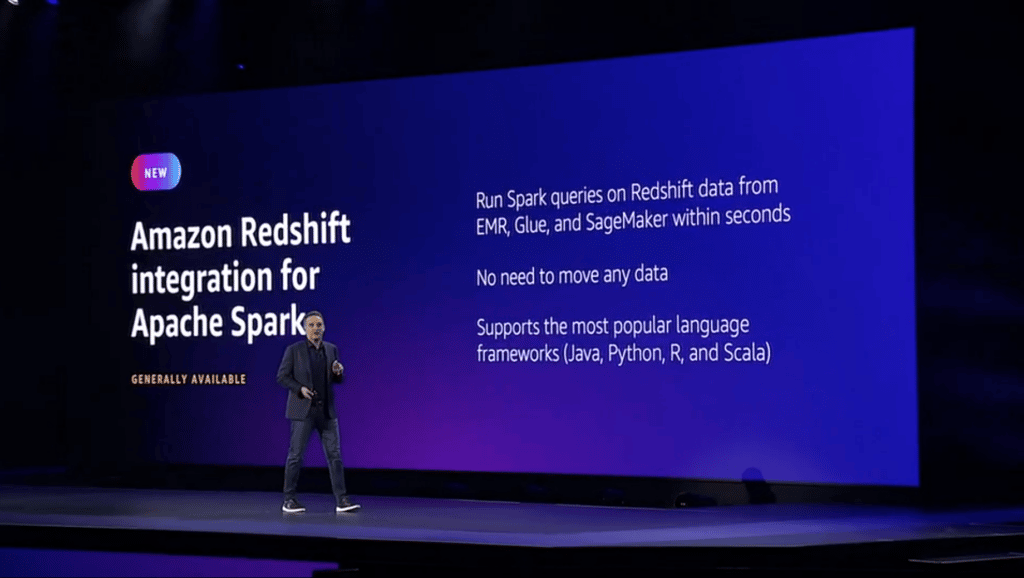 Amazon Redshift integration for Apache Spark is now generally available. Now you can run Spark queries on Redshift data from EMR, Glue and SageMaker within seconds, without the need to move any data.  Amazon Redshift Integration for Apache Spark supports the most popular language frameworks (Java, Python, R and Scala)
4. Amazon DataZone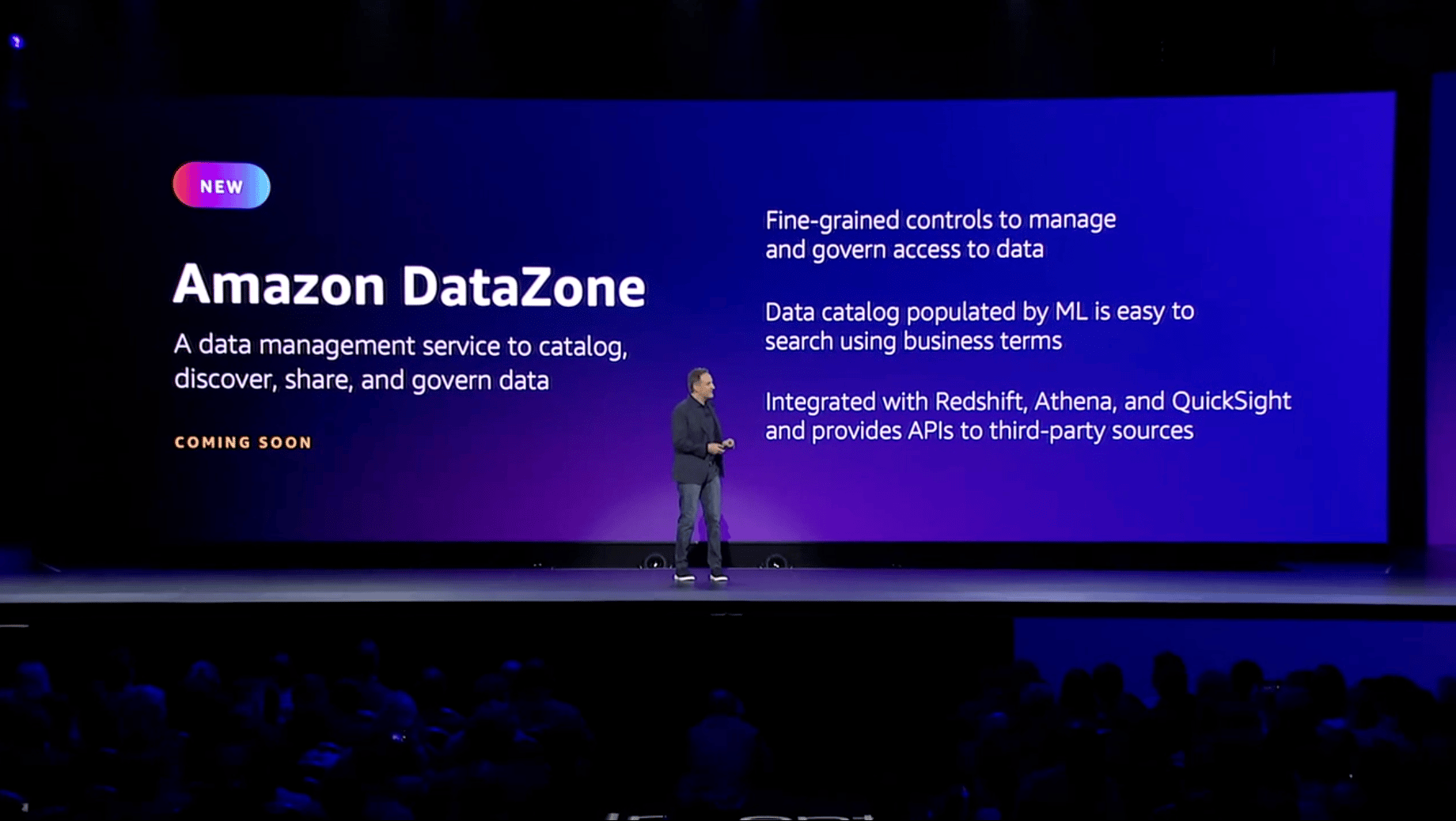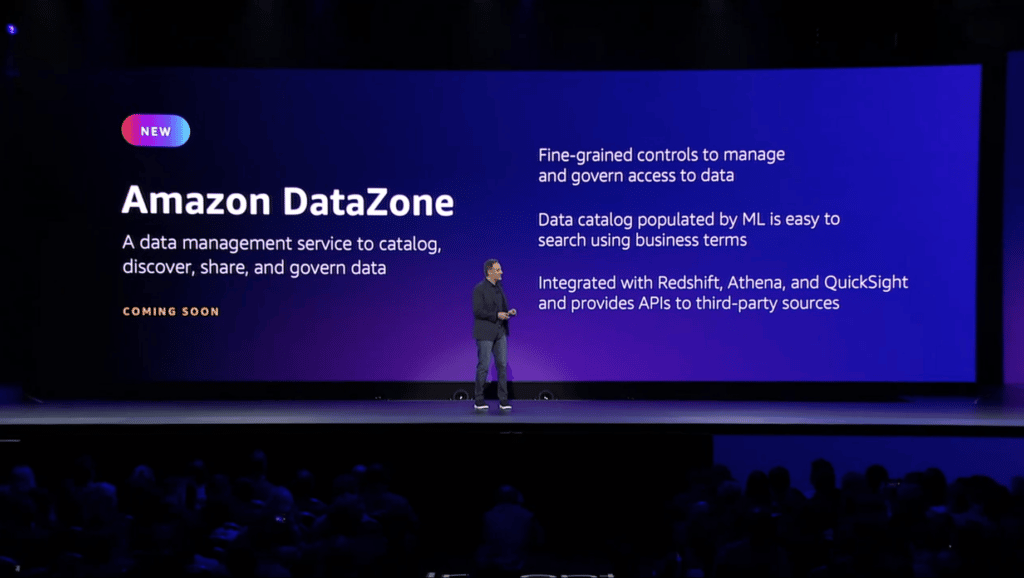 Amazon DataZone is a data management service to catalog, discover, share and govern data.  It gives fine-grained controls to manage and govern access to data.  A data catalog populated by ML is easy to search using business terms, and DataZone integrates with Redshift, Athena, and QuickSight, and provides APIs to third-party sources.
5. ML Powered forecasting with Q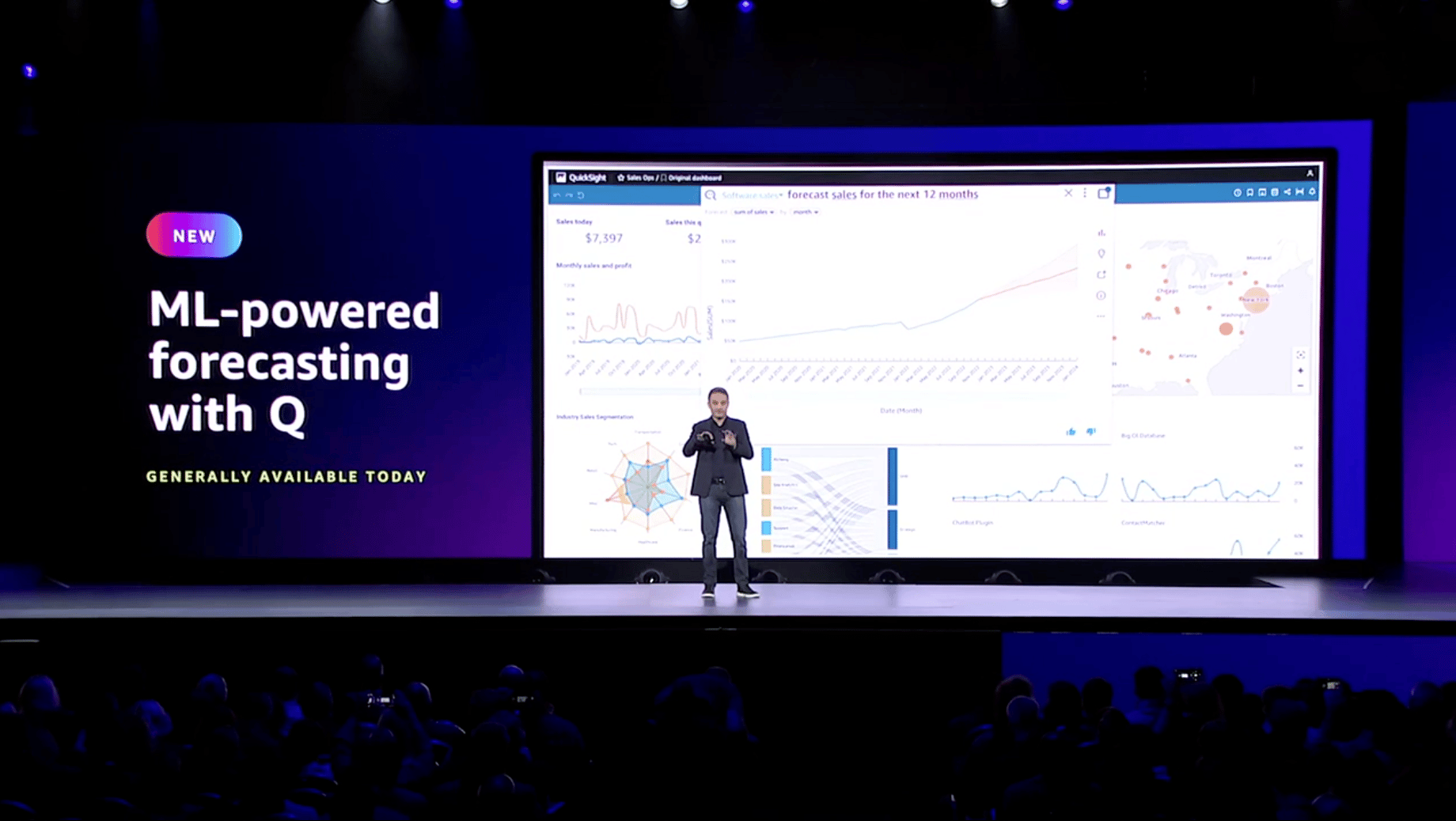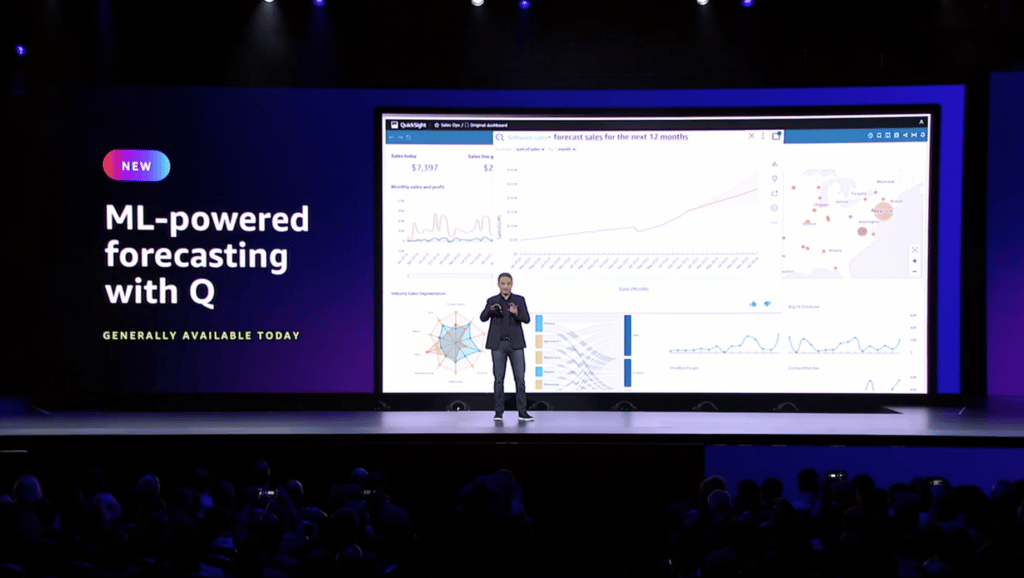 ML Forecasting with Q was launched into general availability today.  This feature supports natural language forecasting queries in Amazon Quicksight Q.   This allows business users to view business performance forecasts without needing to rely on data scientists to help.
Moving on from data to security, Adam made the following announcements:
6. Container Runtime Threat Detection for GuardDuty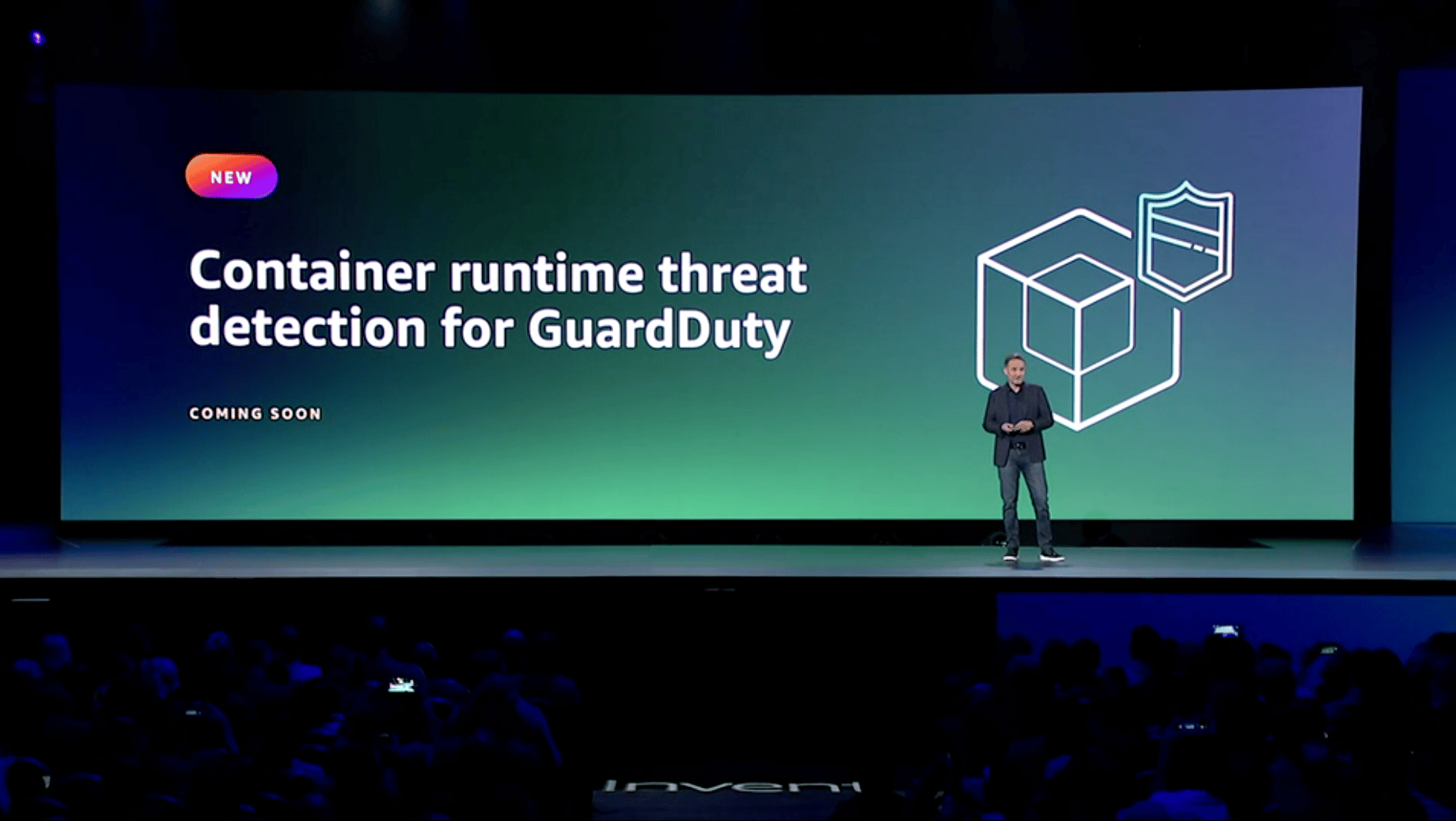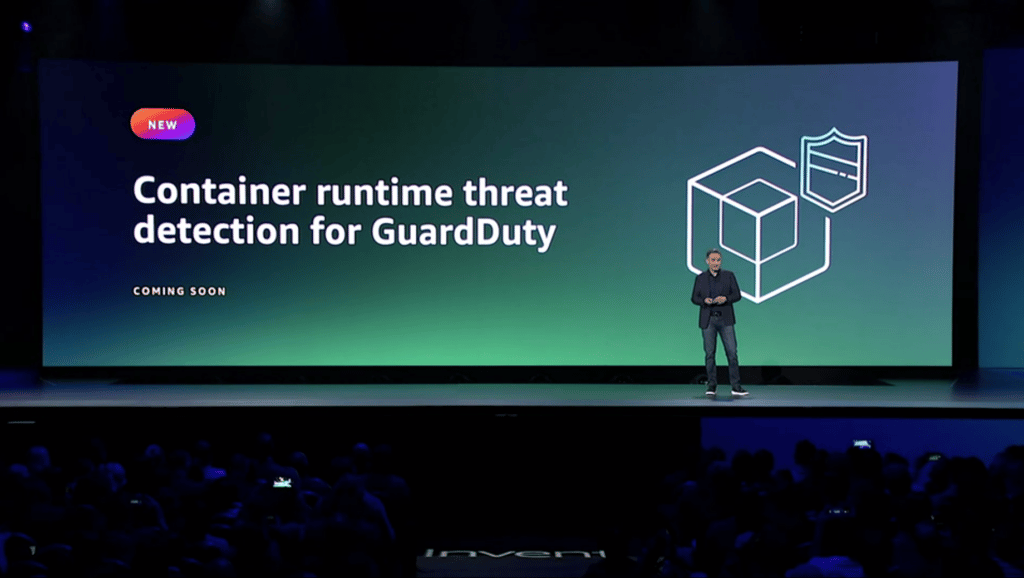 Announced as 'coming soon', container runtime threat detection for GuardDuty will enable the detection of threats running inside containers, attempts to access host nodes and is integrated with Amazon EKS.
7. Amazon Security Lake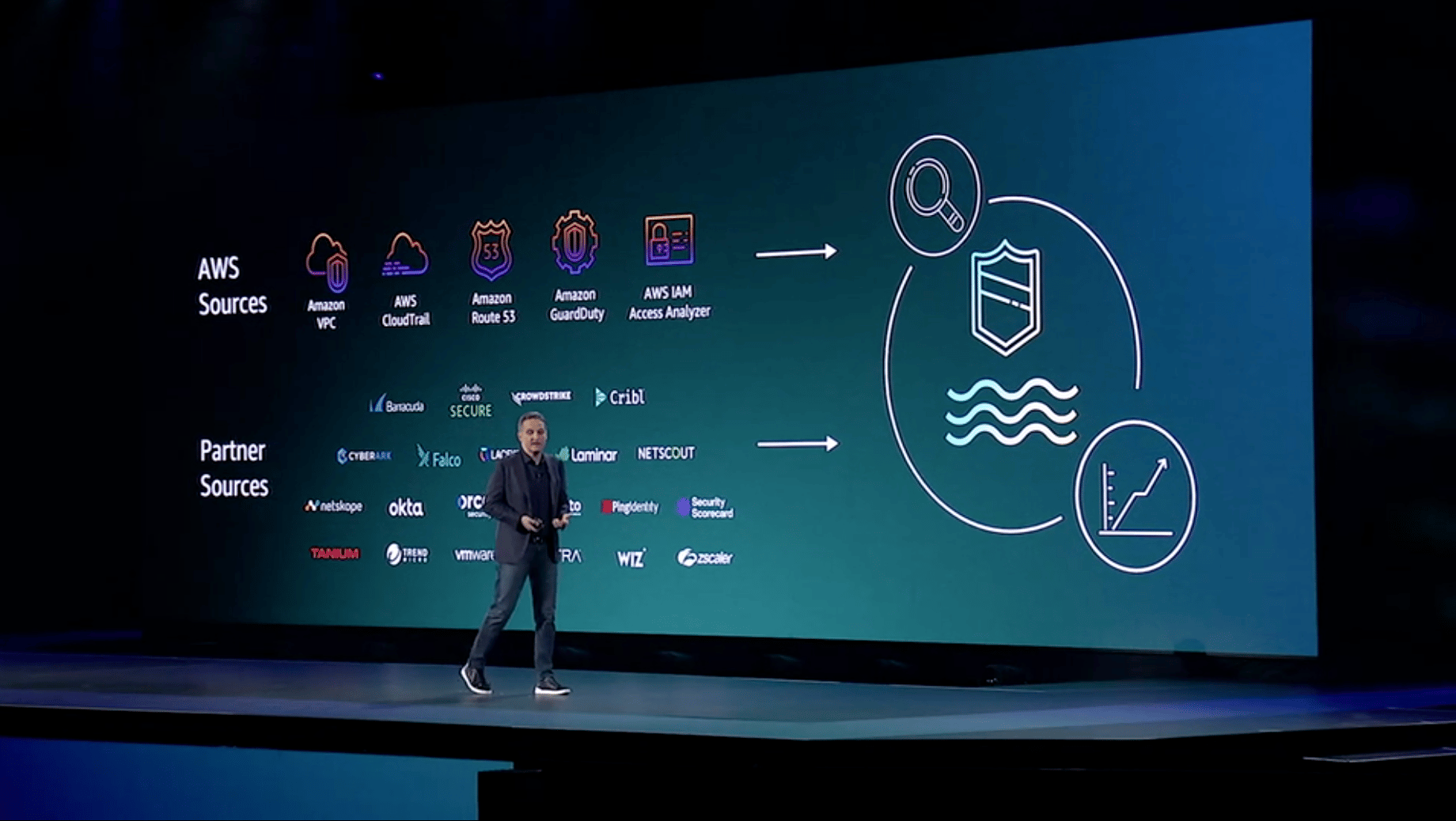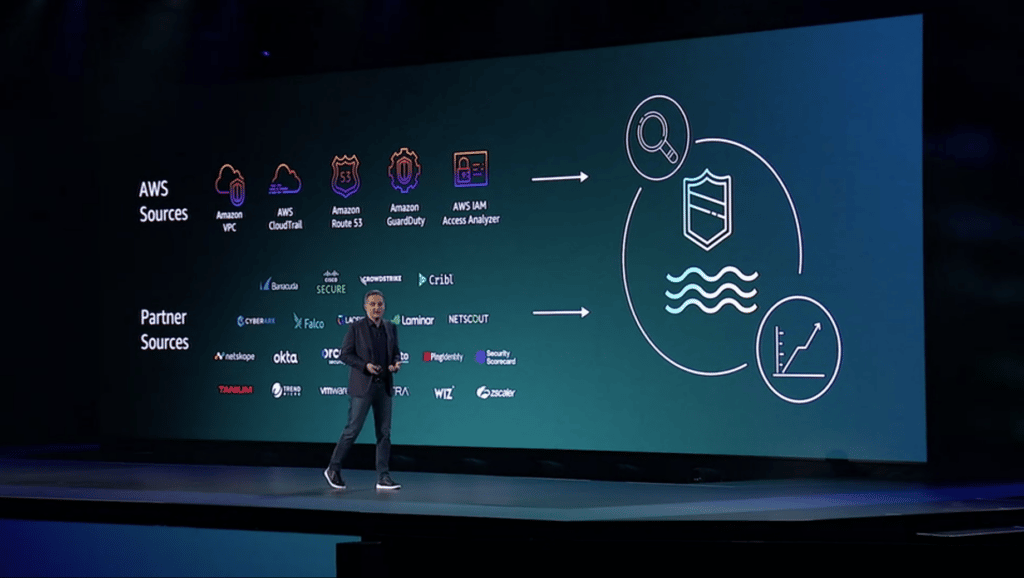 Amazon Security Lake launched into preview today. Amazon Security Lake aggregates data from AWS sources such as VPC, CloudTrail, Route53, GuardDuty and IAM Access Analyzer.  It can also bring in data from many partner systems including  Crowdstrike, Cisco and Trend Micro, and is the first data lake that supports the Open Cybersecurity Schema Framework (OCSF) security standard which provides an open framework for security telemetry data.
On to Infrasructure, where a number of announcements were made about AWS silicon powered EC2 instances:
8. C7gn Instances for EC2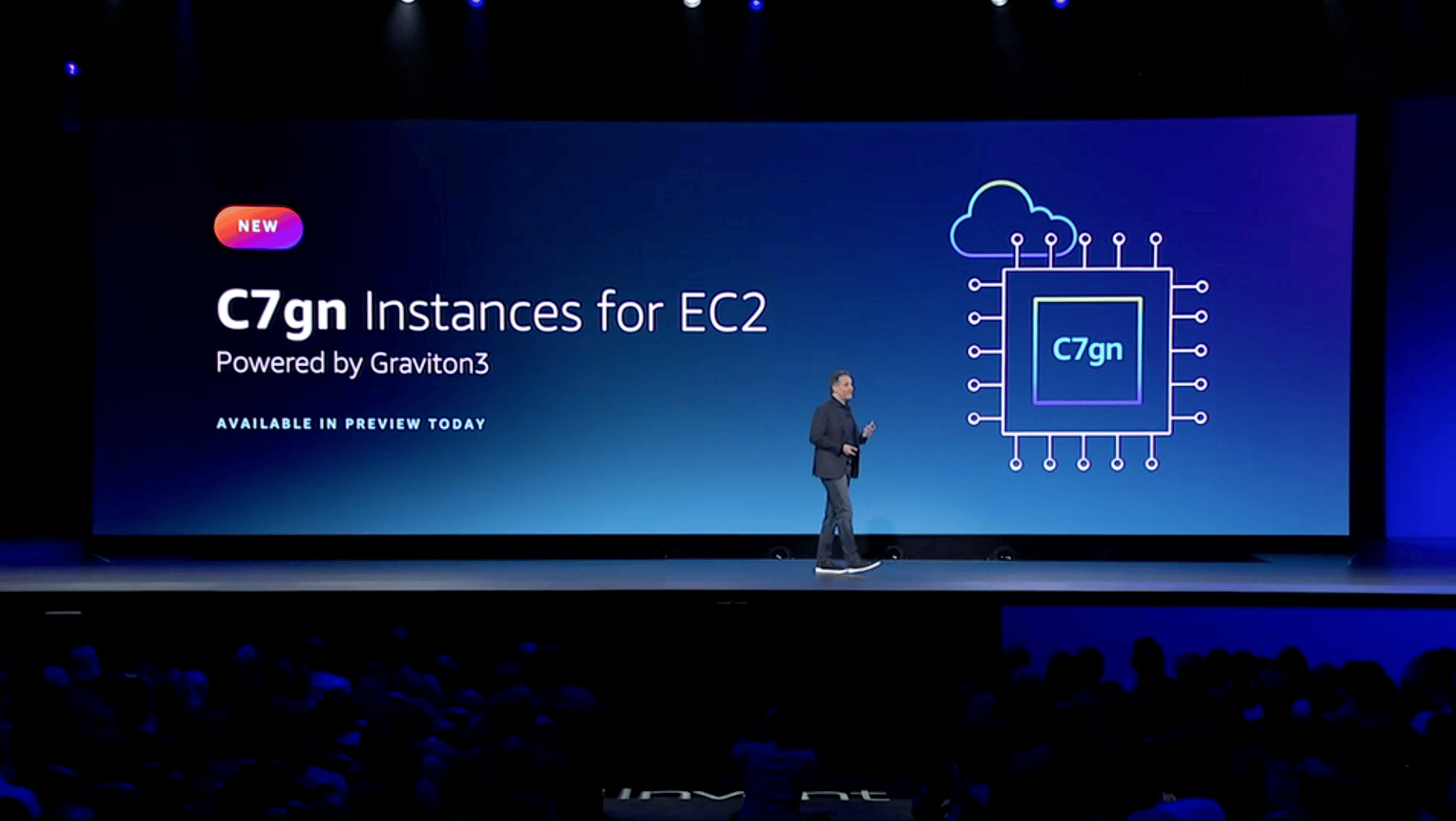 Announced yesterday, the C7gn Instances for EC2 are powered by AWS Graviton3 silicon, which gives a 25% better performance than Graviton 2.  The instances feature the new AWS Nitro Cards with enhanced networking, and offer the highest network bandwidth and packet rate performance across Amazon EC2 network-optimized instances.
9. Inf2 Instances for EC2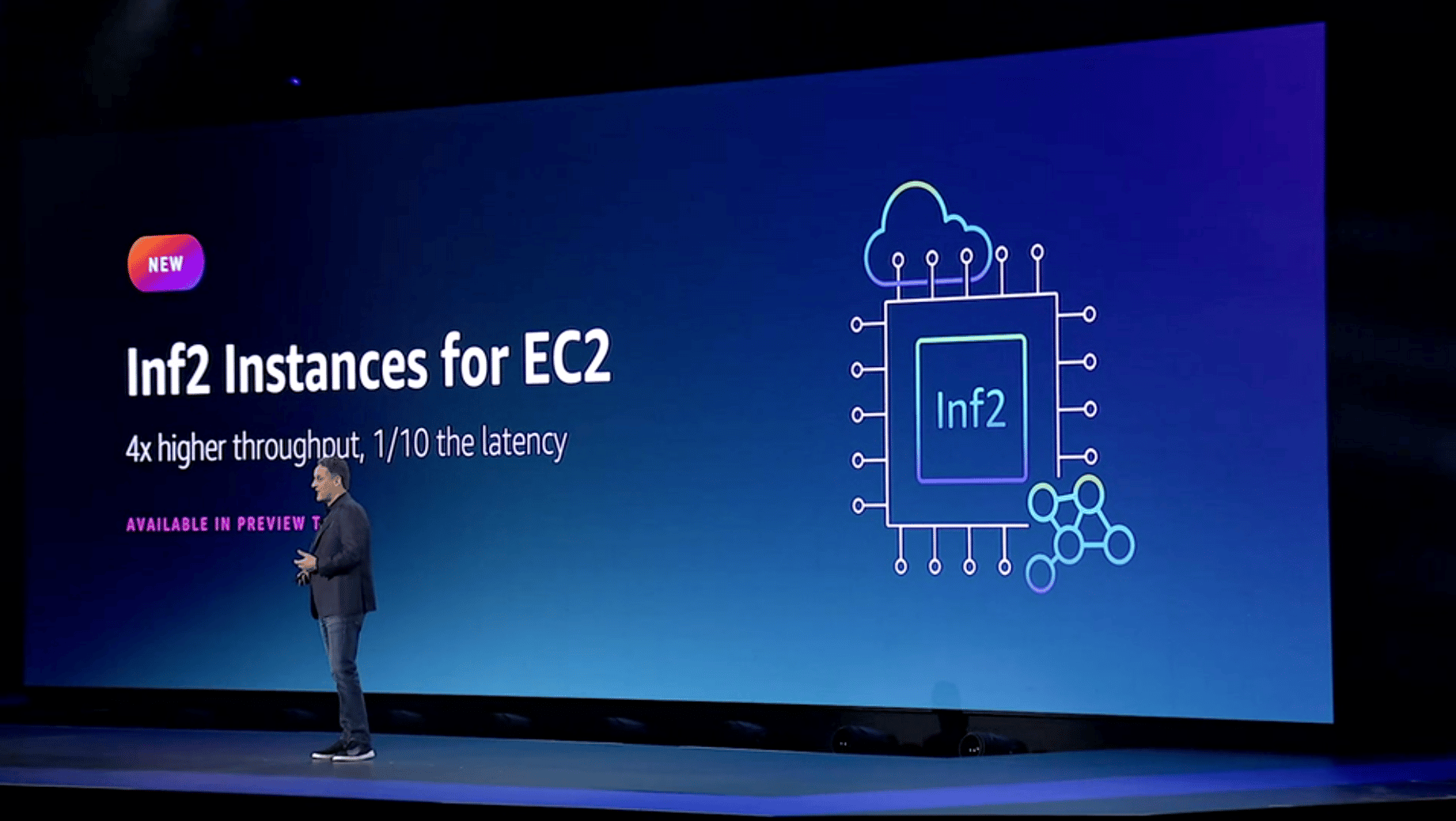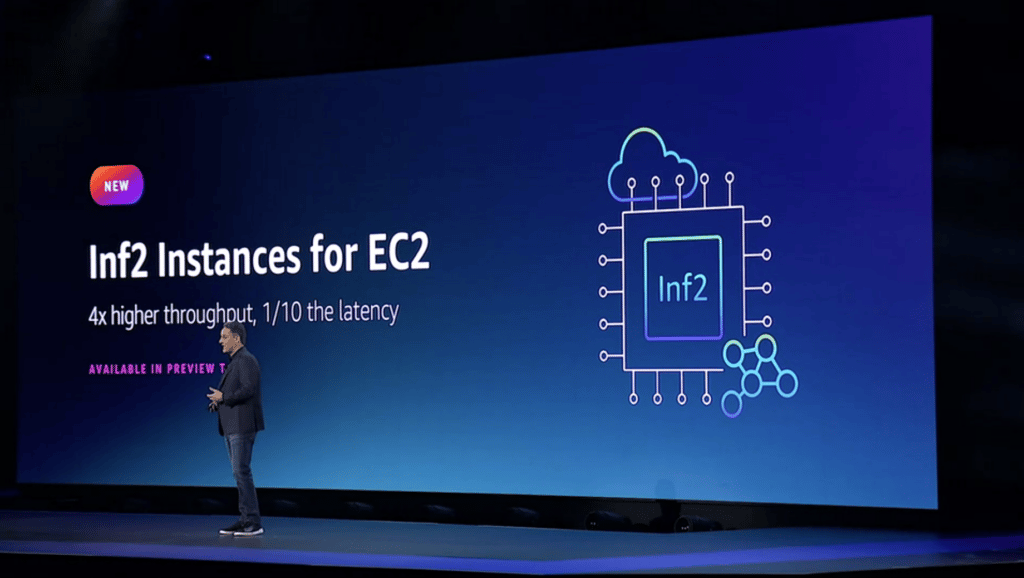 Inf2 instances for EC2 were announced in preview today.  Based on the new Inferentia 2 chip, Inf2 instances offer 4 x higher throughput with 1/10th of the latency.  Inf2 instances are optimized for running the largest deep learning models at scale.
10. Hpc6id Instances for EC2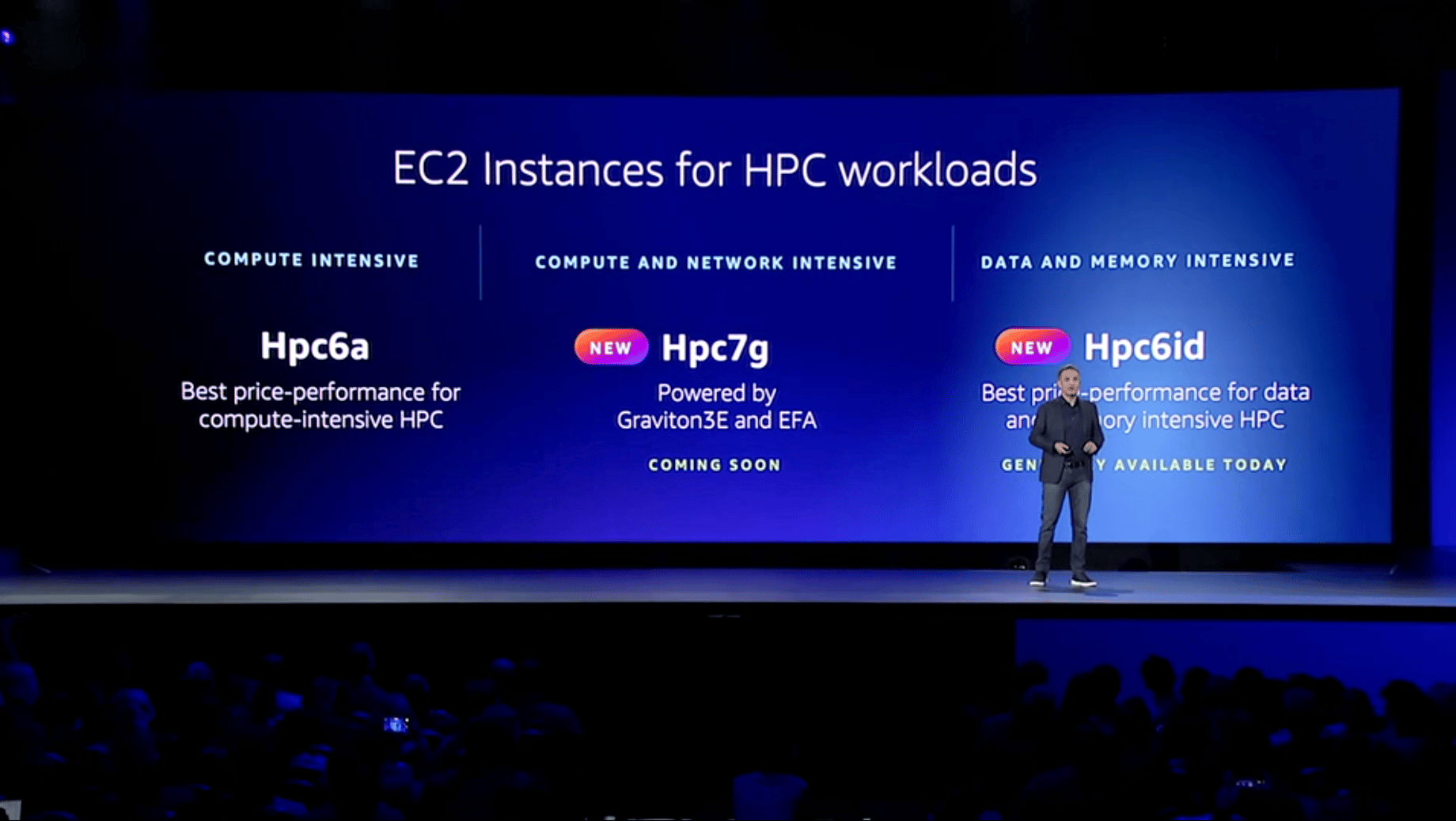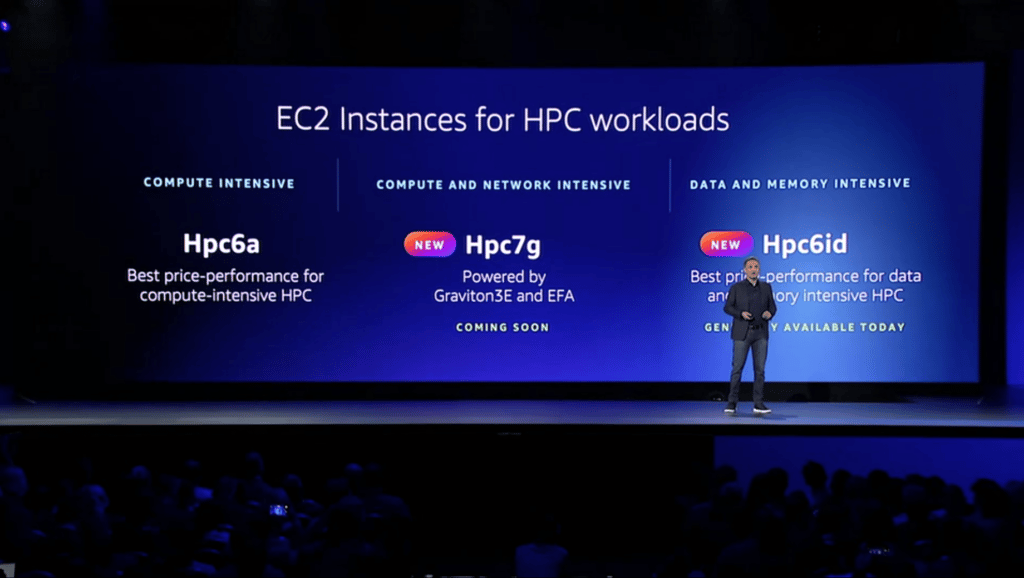 Hpc6id Instances went into general availability today, offering the best price/performance for data and memory intensive high-performance computing (HPC) applications.
11. AWS SimSpace Weaver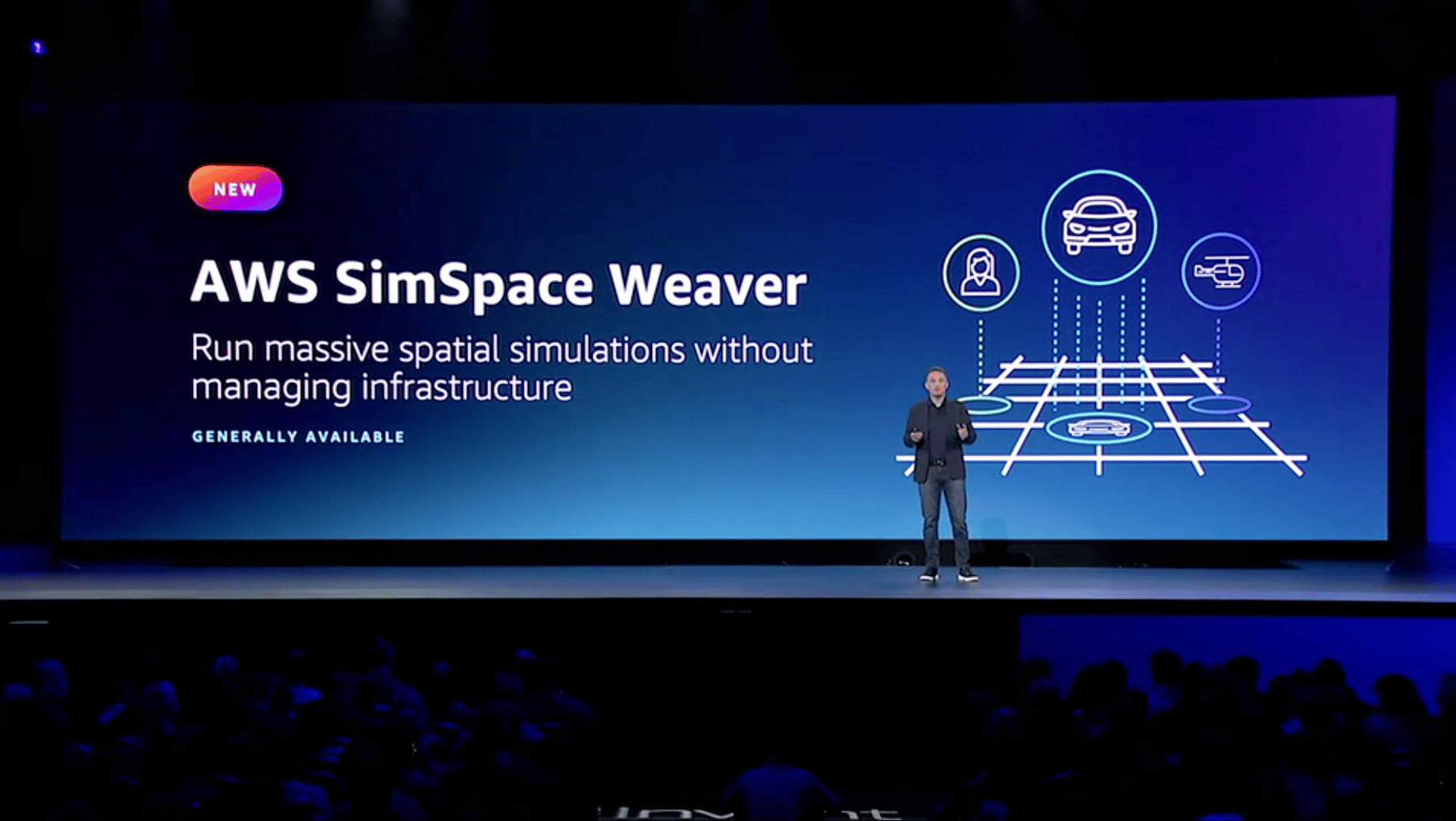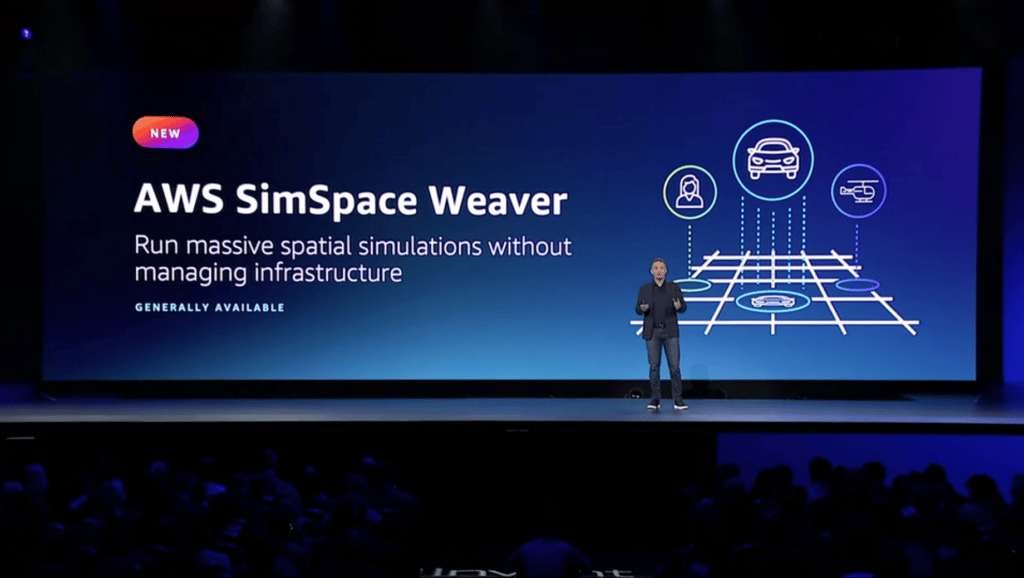 AWS SimSpace Weaver enables customers to run massive spatial simulations without managing infrastructure.  Users can configure a job in a few clicks, and the spatial simulation automatically scales across instances.  SimSpace Weaver integrated with popular 3D engines including Unreal Engine and Unity.  AWS SimSpace Weaver enables customers to create massive simulations of, for example, cities where pedestrian or traffic flow can be simulated to assist with city planning.
12. Amazon Connect ML driven forecasting, capacity planning and scheduling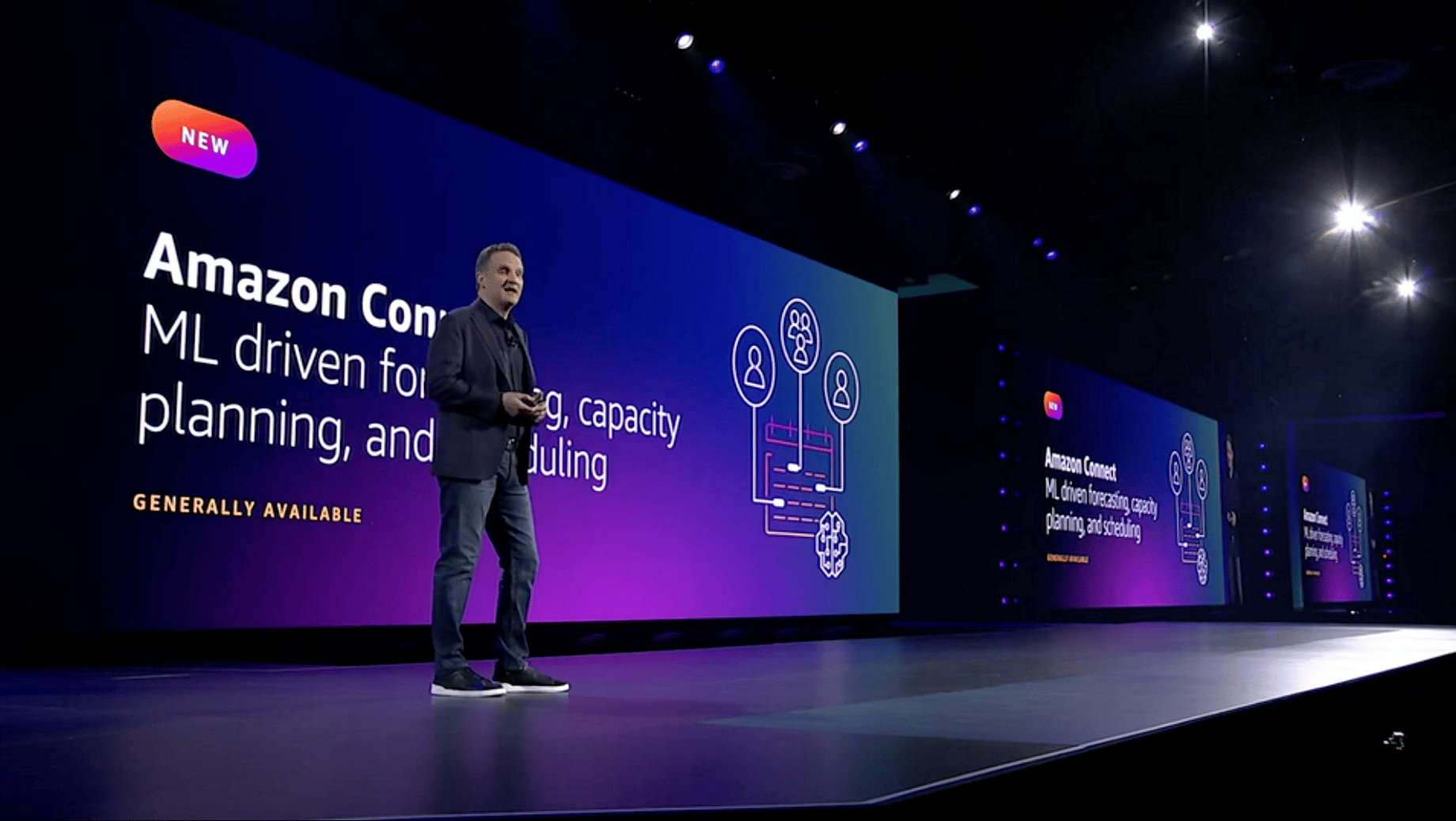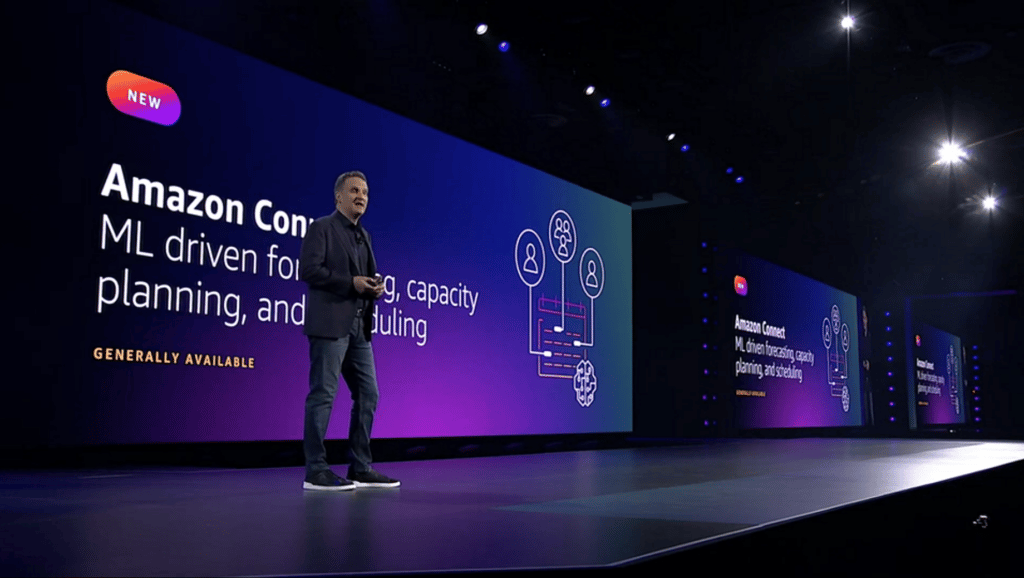 After launching into preview in March 2022, Amazon Connect MLdriven forecasting, capacity planning, and scheduling is now generally available. This feature enables contact center operators to respond quickly to changes in demand and workforce, ensuring the right number of agents are scheduled to be working at the right times.
13. Amazon Connect Contact Lens with Agent Performance Management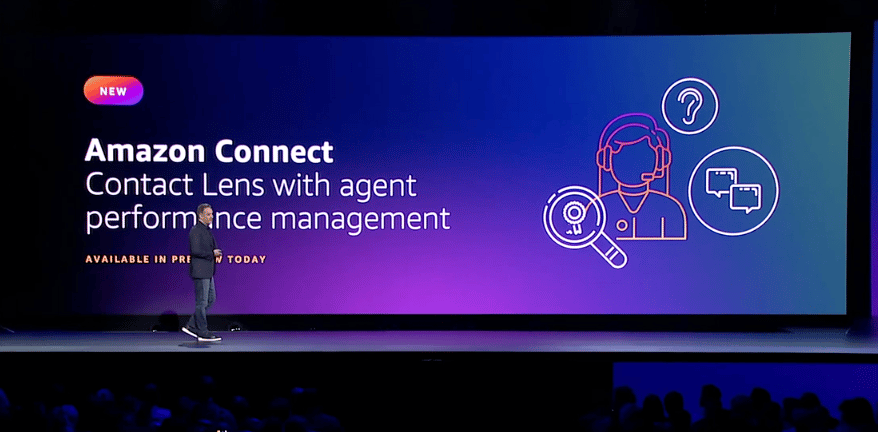 Contact Lens for Amazon Connect with agent performance management launched into preview today.  This new feature enables contact center managers to easily create agent evaluation forms that can be automatically scored using machine learning powered conversation analytics.
14. Amazon Connect Agent Workspace with step-by-step guided actions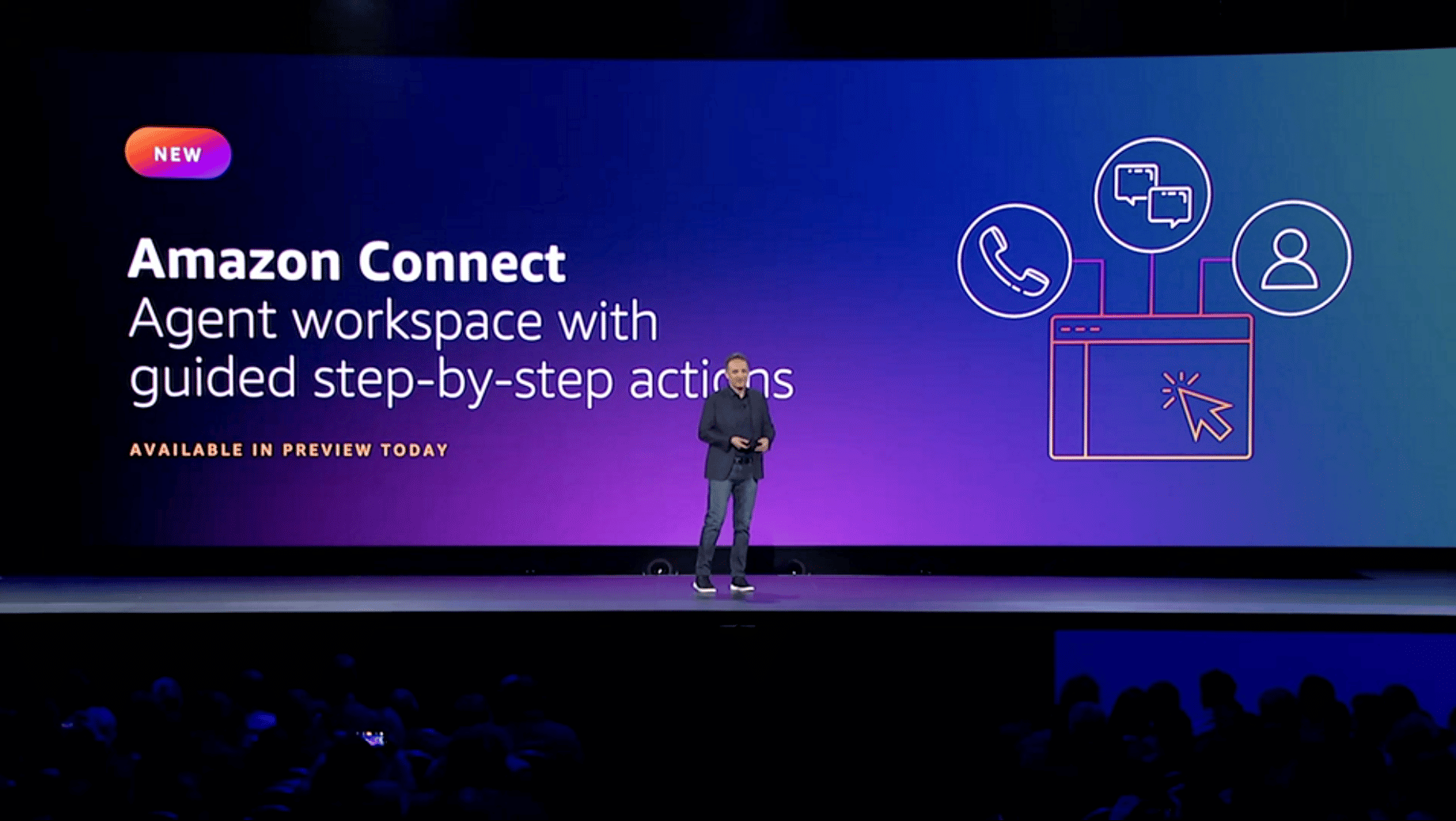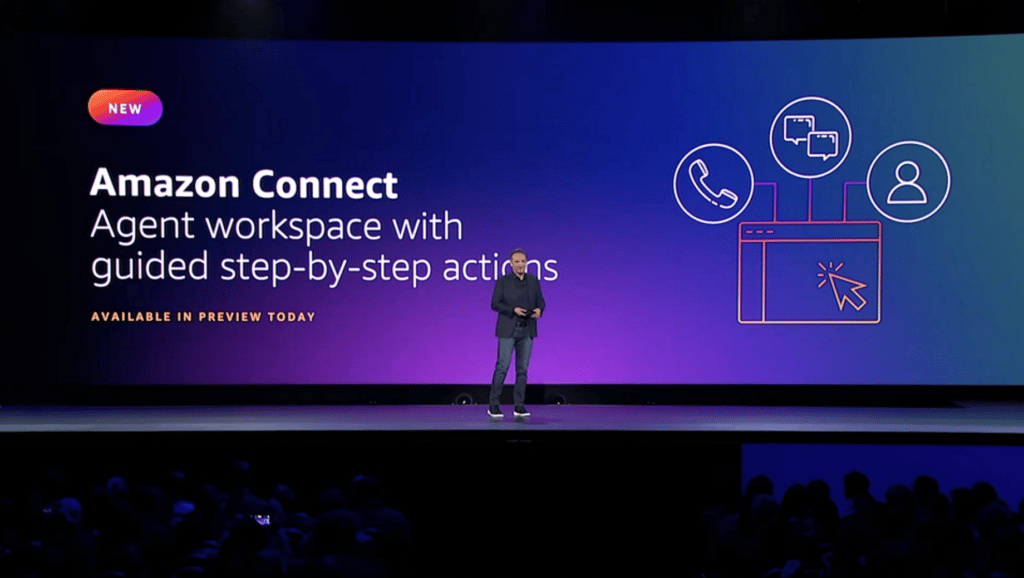 Amazon Connect Agent Workspace with step-by-step guided actions was launched into preview today.  This new feature helps guide contact center agents to resolve customer issues.
15. AWS Supply Chain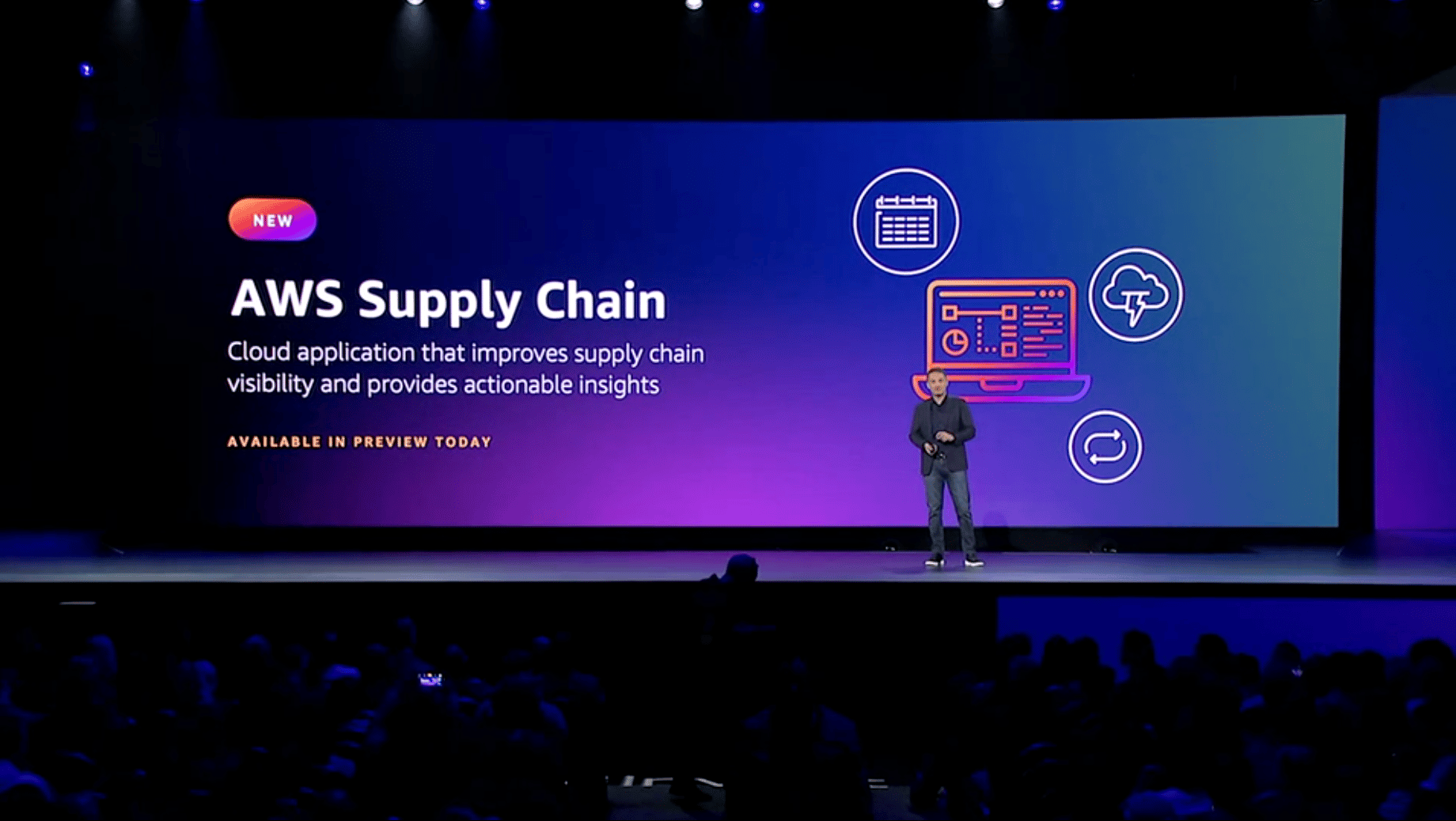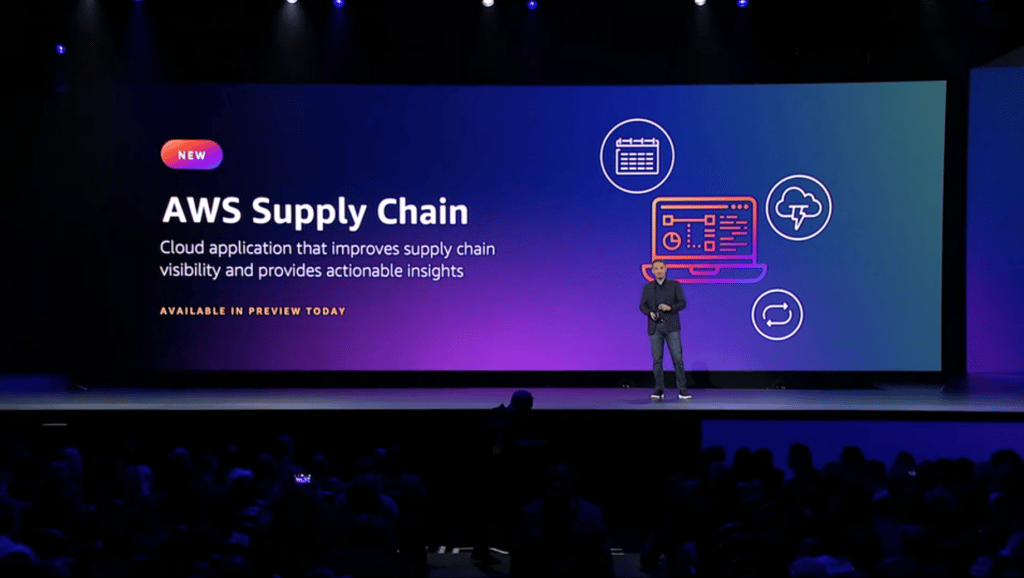 AWS Supply Chain launched into preview today.  AWS Supply Chain is a cloud application that provides supply chain visibility and actionable insights to help customers mitigate supply chain risks and lower costs.  Given all the supply chain issues we've seen in the post-pandemic world, I would expect this to be well received.
16. AWS Clean Rooms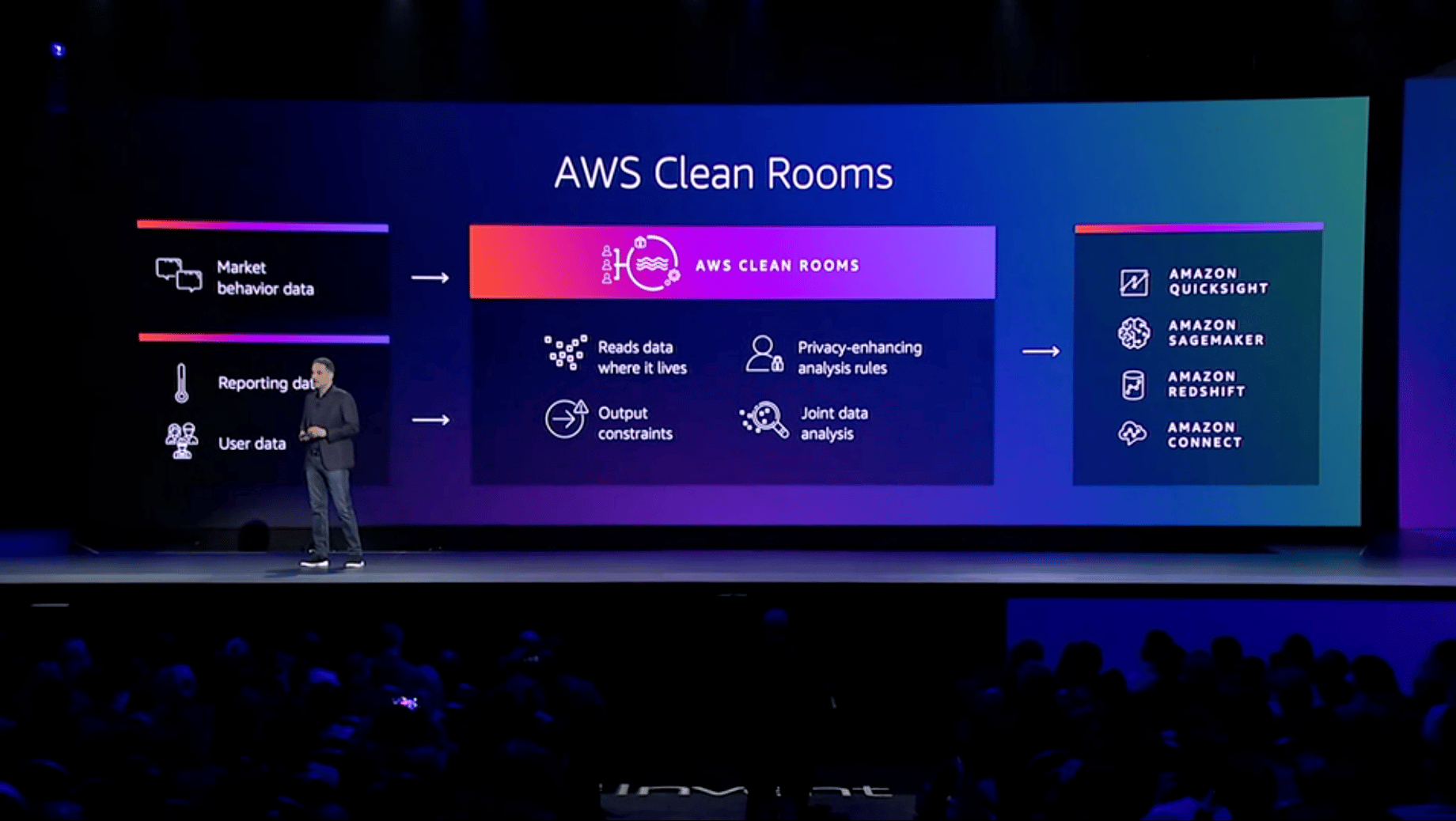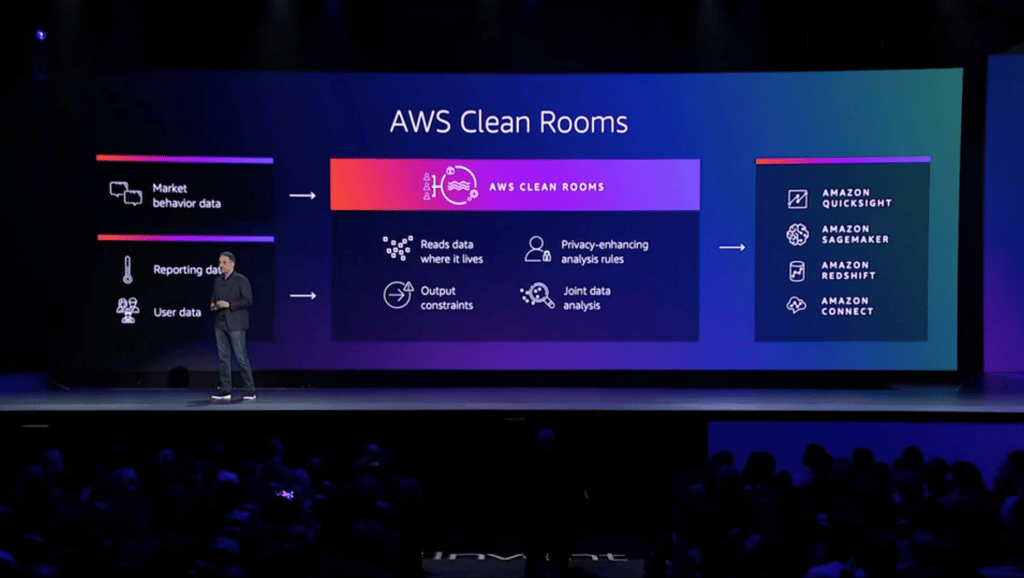 AWS Clean Rooms was announced in preview today.  AWS Clean Rooms aggregate market behaviour data, reporting data and user data to provide insight into, for example, advertising campaign effectiveness while protecting consumer privacy.  AWS Clean Rooms reads data where it lives, offers privacy-enhancing analysis rules, and enables joint data analysis.
17. Amazon Omics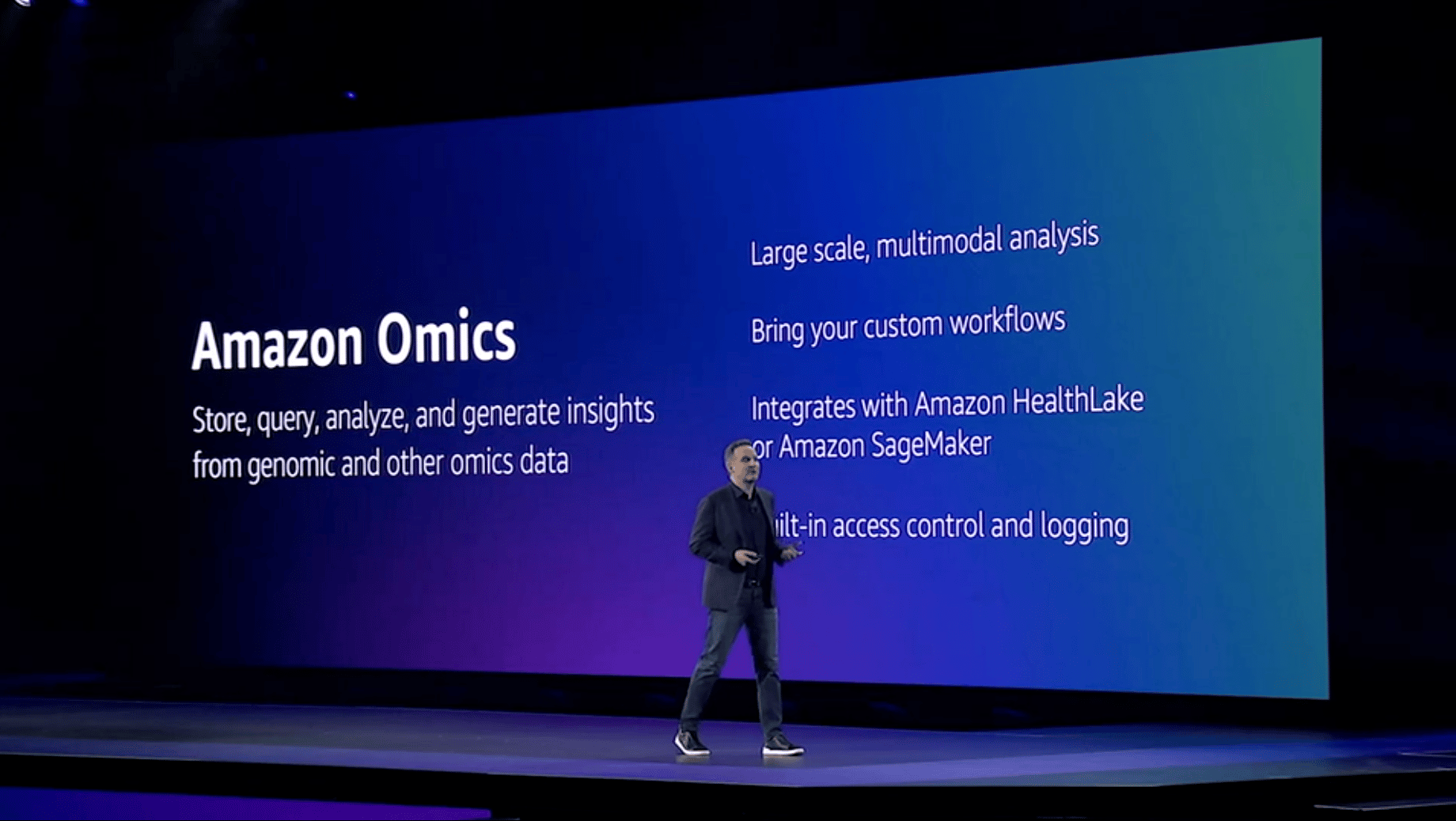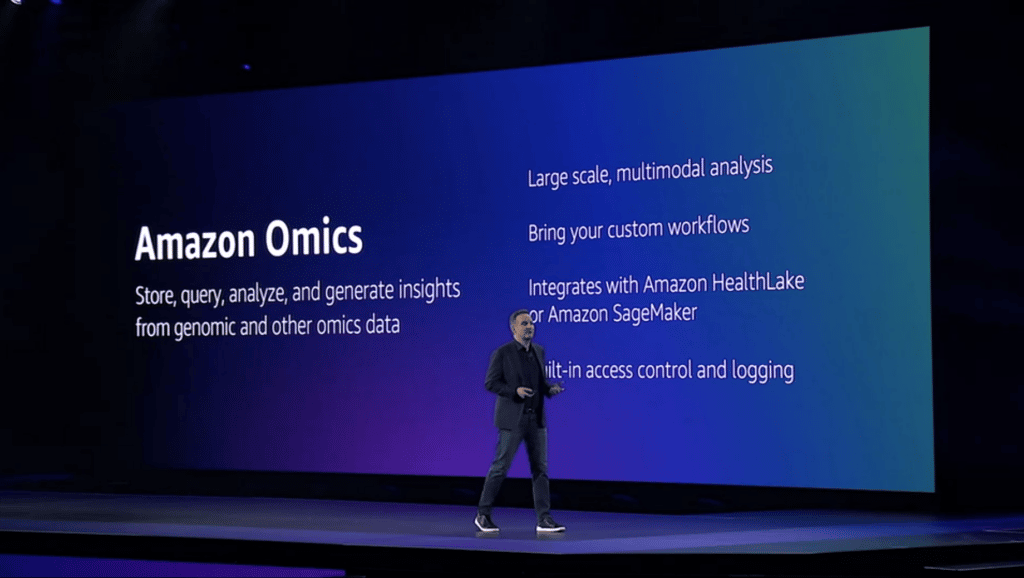 Amazon Omics was launched into general availability today.  Amazon Omics helps to advance genomic research by enabling users to store, analyze and generate insights from genomics and other omics data.  Amazon Omics enables large-scale multimodal analysis and integrates with Amazon Healthlake or Sagemaker.
So there you have it – 17 new services announced by Adam Selipsky in his reInvent 2022 keynote.  It was super inspiring to hear how cloud technology is advancing space and ocean exploration, eradicating cancer, and helping to produce clean energy.